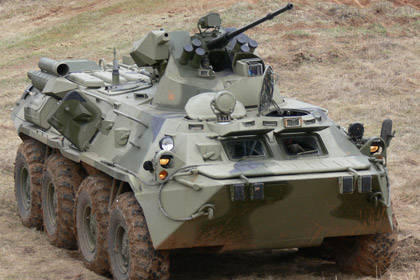 The Russian BTR-82A and the Ukrainian BTR-4 entered the top 10 of the best armored personnel carriers in the world in terms of protection of firepower and mobility, according to the influential international magazine Army Technology.
The top ten also included Finnish Patria, German Boxer, Swiss Piranha V, Austrian Pandur II, American Stryker, Turkish ARMA and AV8, Singapore-based Terrex (developed by the Irish company Timoney), reports Ukraine Industrial.
BTR-4 is an armored personnel carrier developed by the state enterprise Kharkov Design Bureau of Mechanical Engineering named after O.O. Morozov.
The armored personnel carrier can carry three crew members and seven paratroopers. The design features of the BTR-4 armored personnel carrier make it possible to create on its base a family of combat vehicles of different purposes: commander, command and staff, reconnaissance, repair and evacuation, sanitary and evacuation, fire support vehicles and others.
The diesel engine of the STA with 500 horsepower provides the armored vehicle with a maximum speed of up to 110 – 120 km / h with a power reserve of up to 700 km.
BTR-4 has enhanced armor protection. You can also install additional protection against automatic small-caliber guns.
In October of this year, the Chief of Staff of the Indonesian Navy, Admiral Marceti, said that the Indonesian Navy would receive five Ukrainian BTR-4. They will get to the troops along with the 37 Russian BMP-3F, which were ordered by contract in May 2012.
BTR-82A only in February officially adopted by the Russian army. It is a deep modernization of the armed BTR-80A and surpasses its predecessor in almost all indicators.
The mass of the BTR-82A is 16 tons. The machine is equipped with a 300 horsepower turbocharged diesel engine. Armored personnel carriers also have auxiliary diesel generators, which allow the on-board equipment to operate even when the main engine is off.
The BTR-82A is armed with a 30mm 2A72 automatic cannon and
tank
machine gun PKTM caliber 7,62 mm.