According to reports, on December 25, 2013, the ceremony of bringing into service the recently formed 15th Army Brigade took place
aviation
Western military district at the island of Ostrov (Veretye, Pskov region) a batch of new helicopters manufactured by the holding company Russian Helicopters. Six Mi-28N combat helicopters (with white board numbers from 01 to 06), one Mi-35M combat helicopter (board number 16 white), four transport and combat Mi-8MTV-5 helicopters were shown at the ceremony (white tail numbers from "21" to "24") and two heavy transport helicopters Mi-26 (white tail numbers "53" and "54"). All these helicopters were built in 2013, and apparently arrived in Ostrov in November - with the exception of the first two Mi-28Ns with white tail numbers "01" and "02", which arrived in September 2013.
In addition, another Mi-28H helicopter with the onboard number "49 yellow" (serial number 05-09), which was built in 2011, was "lit up" at the ceremony in the Island, and is regularly located in the Combat Operational and Retraining Center in Torzhok.
It is also known that Mi-35M of the new construction has already received two units on the island (presumably, these are the first helicopters manufactured by Rostvertol under the second 2011 contract of the year for the supply of Mi-35М to the Russian Ministry of Defense in the amount of 27 units).
At the same time, as the press service of the Western Military District reported to 25 on December 4, "specialists from the Air Force and Air Defense" took the new party in Rostov-on-Don, consisting of "around 10 units of the latest aviation technology", which includes Mi helicopters -28Н and Mi-35М, as well as one military transport helicopter Mi-26. "At the moment, the crews of helicopters are preparing cars for relocation to the airfield of permanent dislocation." It is known that in the middle of December Rostvertol had at least two more ready-made Mi-28H combat helicopters, judging by the on-board numbers (white 09 and 10), also intended for delivery to the 15 Brigade, as well as one The new Mi-26 with the white side number "56".
It was also reported that by the end of 2013, six more Mi-8MTV-5 helicopters produced by JSC Kazan Helicopter should arrive at the Island.
According to reports from the December 25 ceremony in Ostrov, the 1 Squadron of the 15 Brigade of Army Aviation is equipped with Mi-28H (and, apparently, Mi-35M) helicopters, 2-I - with Mi-8MTV-5-, XNMX, 3, 52-, 12-, 52-15 helicopters. - Ka-25 helicopters. The ceremony of transferring X-NUMX aircrafts from Ka-41s destined for the 52 Brigade took place in Arsenyev on the same day on December 52 - the helicopters have white tailgate numbers from 2014 to XNUMX. Received Ka-XNUMX must enter the brigade at the start of XNUMX.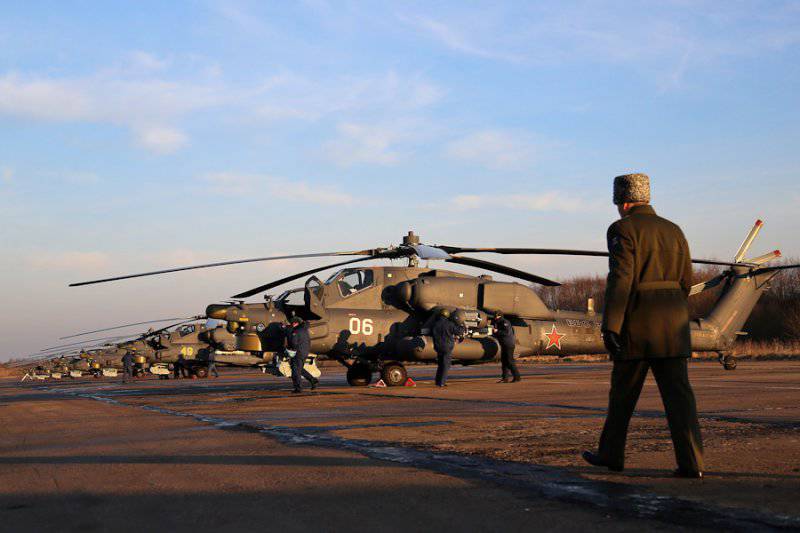 The line of Mi-28H helicopters of the 15 th brigade of army aviation of the Western Military District at the Ostrov airfield (Veretie, Pskov Region). 25.12.2013 (c) Russian Ministry of Defense
At the ceremony of receipt of the new Mi-28Н, Mi-35М, Mi-8МТВ-5 and Mi-26 helicopters as part of the 15 brigade of the Army Aviation of the Western Military District at the Ostrov airfield (Veretye, Pskov region). 25.12.2013 (c) Russian Ministry of Defense