The newest VAB Mk3 from Renault Trucks Defense, equipped with hinged armor and turret from BAE Systems Land Systems South Africa
Both tracked and wheeled armored vehicles (Combat armored vehicles) have their advantages and disadvantages. However, the operation of both types of machines leads to a better operational interaction and allows troops to meet a larger range of requirements.
The debate over whether the BBM should be tracked or wheeled should go on for many years and it is unlikely that it will be resolved at all.
Each type of machine has advantages and disadvantages, but ultimately, the decision is made on the basis of operational requirements and the terrain on which the platforms will be deployed.
In general, tracked vehicles have better off-road maneuverability compared to wheeled counterparts, while low specific ground pressure allows to have significant advantages in all types of terrain.
In addition, tracked vehicles usually have higher booking levels, and a low profile means that they are harder to detect on the battlefield.
Noise levels
However, tracked BBM initially cost more. They require more maintenance and hours of training. They are also much noisier due to the vibration of the undercarriage and the tracks.
The noise level can be reduced by rubber tracks, which are already installed on M113 series machines in several countries. They were also installed on the heavier CVNNXX 35-ton tracked vehicles from BAE Systems Hägglunds.
Rubber tracks are also lighter than steel tracks and have a reduced vibration level, thus they increase crew comfort and reliability of on-board electronic systems.
Meanwhile, the cost of operating and maintaining wheeled vehicles is less than the cost of tracked counterparts. They also have better strategic mobility, since they do not need specialized vehicles to transport heavy military equipment over long distances.
There is a clear trend in the deployment of an increasing number of wheeled machines 8x8, since they have an increased capacity and internal volume compared to platforms 6x6. 8x8 wheel formula machines can perform a wider range of tasks and adopt more weapon systems. However, the 6x6 machines are more compact, which makes them suitable for use in a confined space common for urban operations. In addition to all-wheel drive, some 6xXNNXX and 6x8 configurations have single-axle power steering.
An increasing number of wheeled vehicles is equipped with a centralized wheel inflation system, allowing the driver to adjust the pressure depending on the type of terrain. Also, anti-puncture inserts are installed in the wheels as standard. This allows the machine to "return home" in case of severely damaged wheels.
However, there are restrictions on the total mass of wheeled platforms, since with its increase the mobility and the possibility of their deployment are significantly reduced. Machines typically have a lifespan of approximately 30 years and must have some growth potential in order to accept future changes in requirements and the addition of new technologies.
Danish design
The Danish army still operates a large fleet of tracked armored vehicles, the M113, but has begun a competition to replace them. Within its framework, five cars passed intensive tests, which ended at the end of September 2013.
The needs of the country range from 206 to 450 machines, the signing of a contract for the supply of new platforms is expected in February 2014 year. The Danish army has not yet decided which vehicle it needs, tracked or wheeled, and has tested both types of vehicles.
Three tracked vehicles participated in the competition: a modified version of the CV90 Armadillo from BAE Systems Hägglunds, the Protected Mission Module Carrier G5 from FFG and ASCOD 2 from the company General Dynamics European Land Systems - Santa Bárbara Sistemas.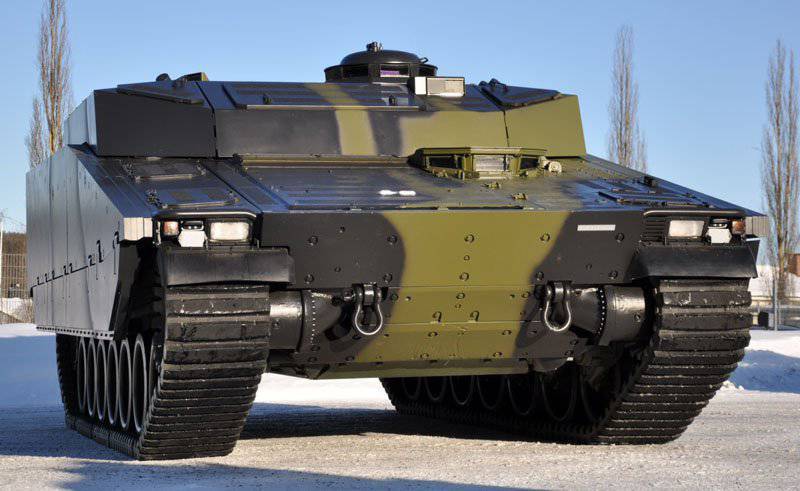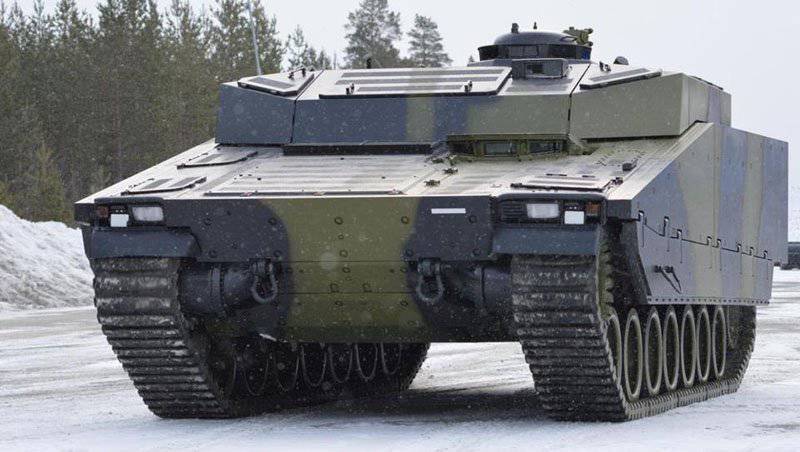 Further development of the CV90 Armadillo resulted in a larger internal volume variant in order to meet the potential requirements of the Danish army as part of its M113 fleet replacement program.
Two "wheel" participants who took part in the competition were in 8x8 configuration. These are Piranha 5 from General Dynamics European Land Systems Mowag and Véhicule Blindé de Combat d'Infanterie (VBCI) from the French company Nexter.
A brief video review of the project on the family of armored combat vehicles ASCOD with Russian subtitles
The production of the Piranha 5 was launched with great fanfare in the 2010 year, but this machine has not yet received a solid contract, while the VBCI machine is mass-produced for the French army and has already participated in the hostilities in Afghanistan, Lebanon and Mali.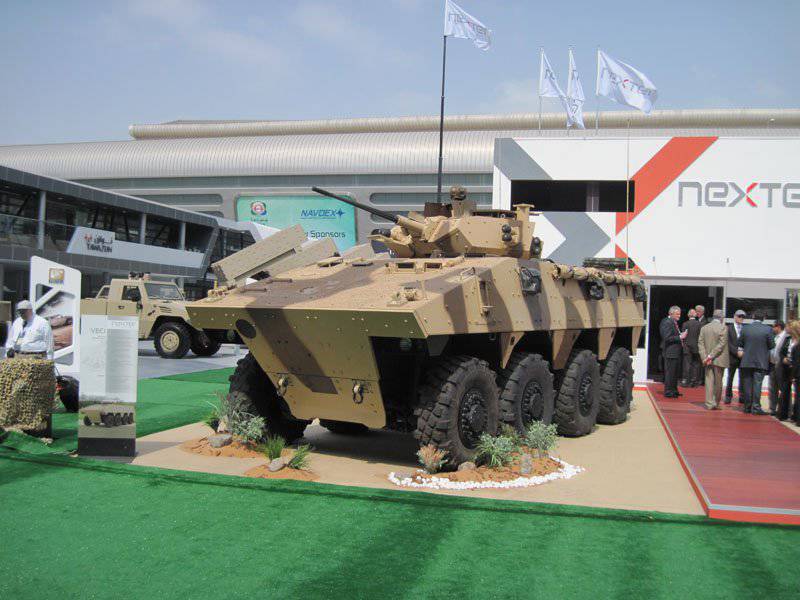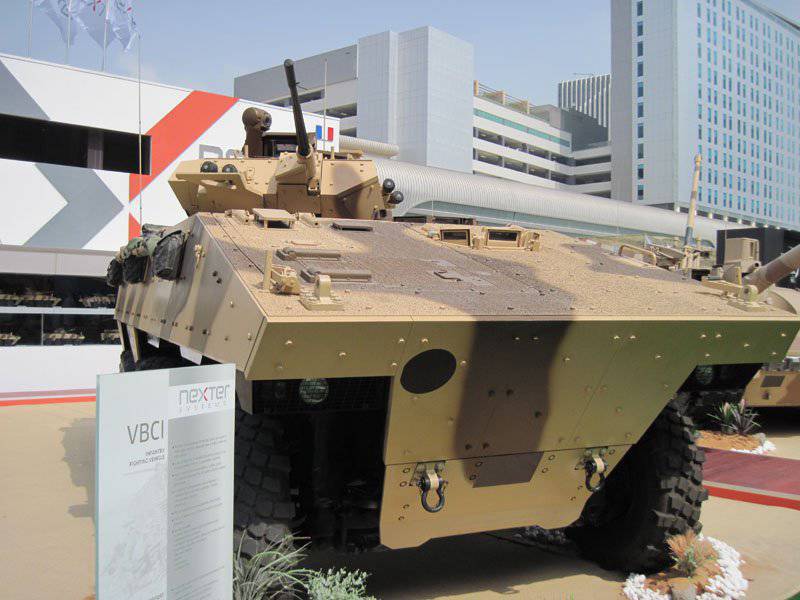 Nexter's VBCI at IDEX 2013
French wheels
Until recently, France operated tracked BMX AMX-10P from Nexter and Véhicule de l'Avant Blindé (VAB) 4х4 from Renault Trucks. AMX-10P is currently being replaced by VBCI. At first they intended to order 700 machines, but later this figure was reduced to 630. The army received the first VBCI serial machines in 2008, more than 450 units have been delivered to date, and the latest platforms are expected to be delivered by 2015. Thus, to maintain production capacity, new export orders will be required.
From the 630, the 520 machines ordered will be in the configuration of the BMV Véhicule de Combat d'Infanterie ICV and the remaining 110 in the configuration of the Véhicule Poste de Commandement command post.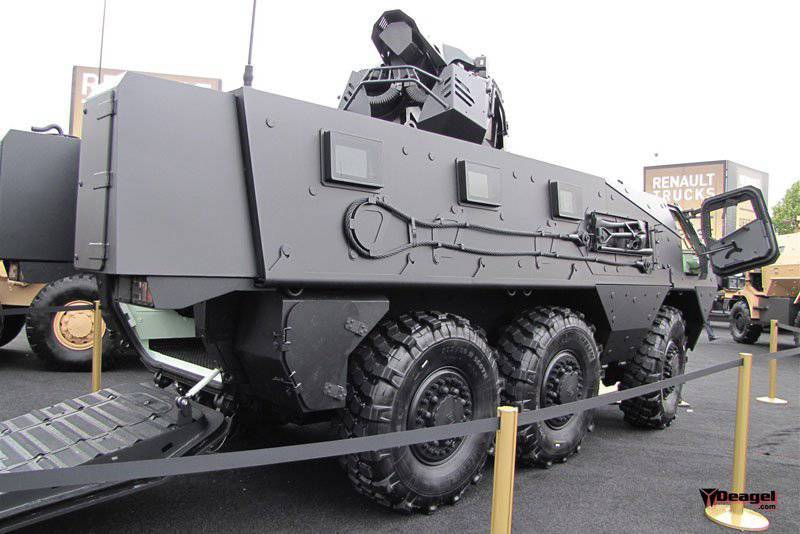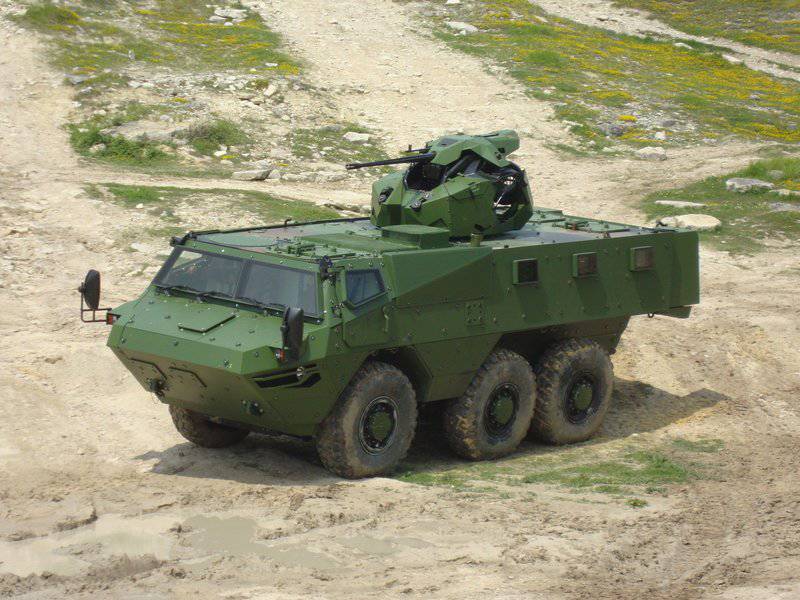 The newest VAB Mk3 version with TRT-25 tower from BAE Systems
The French army currently operates 3975 VAB machines in 40 different versions, the first deliveries of which were made in 1976 year. The Army intends to replace its VAB armored personnel carriers with the new Véhicule Blindé Multirôles (VBMR) vehicle, which is supposed to have the 6x6 configuration and the total weight of 20 tons.
It is expected that Nexter Systems and Renault Trucks Defense will compete for this contract, although non-local contractors may submit bids under its terms.
While the French army has yet to confirm its needs for VBMR, Renault Trucks Defense went ahead and developed the VAB version Mk3, which will be offered on the market only in the 6 × 6 configuration.
This vehicle has a total weight of up to 20 tons, of which 7,5 tons are for the crew, weapons, ammunition and protection kit. It was first shown in the middle of 2012, and a pre-production batch is currently underway.
Mixing
For many years, the German army maintained a balanced ratio of medium-weight tracked and wheeled armored vehicles.
The existing Rheinmetall tracked BMP Marder must be replaced by the Puma tracked BMP. At first it was supposed to make a total of 405 machines, but then this number was reduced to 350.
The German tracked vehicle fleet M113 and part of the Rheinmetall Fuchs 6x6 series are also being replaced by the Boxer 8x8 Multi-Role Armored Vehicle (MRAV) multi-purpose armored vehicle. Perhaps this machine, which has already served in Afghanistan, is the most protected in its class.
The German Army takes delivery of 272 units in various configurations, which include: 125 BTR; 72 sanitary; 65 command posts and 10 driver training machines.
For the export market, Rheinmetall developed the BMP Boxer, which is equipped with a two-seat Lance turret armed with a stabilized 30-mm Mauser cannon and an 7,62-mm coaxial machine gun. This tower is already installed on the body of the Piranha IIIC 8х8, which is in service with the Spanish marines.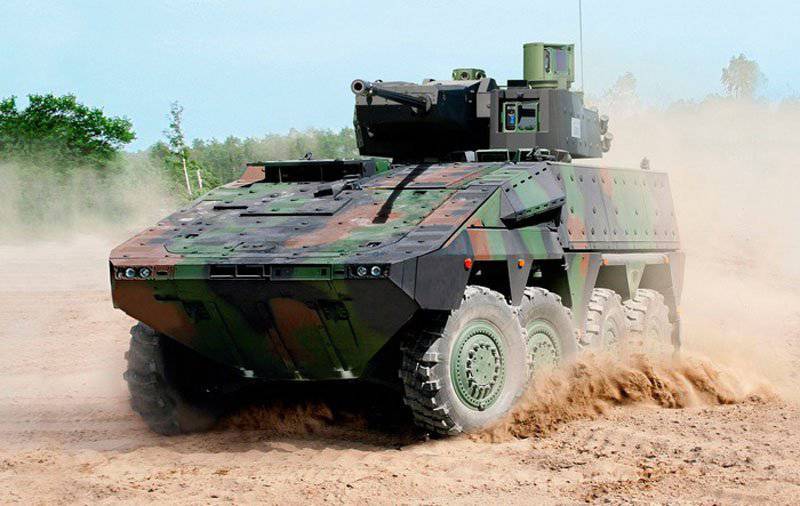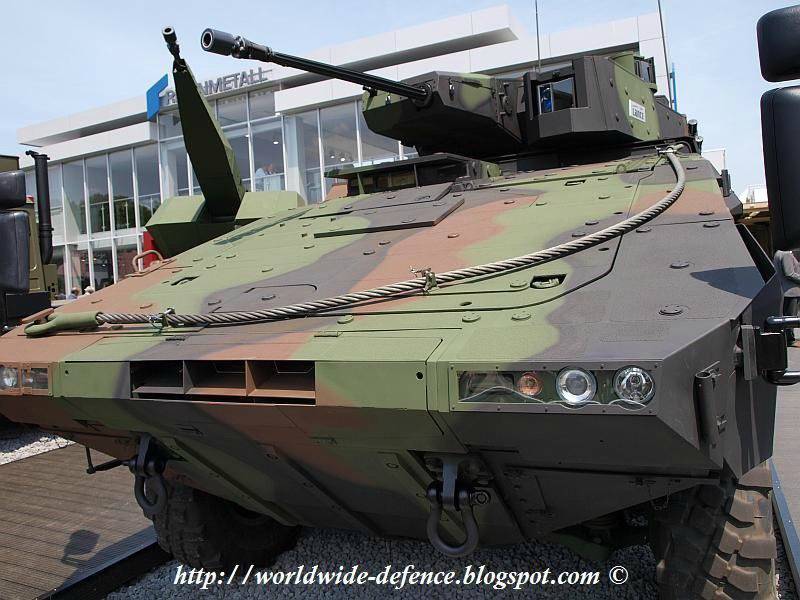 The Rheinmetall Boxer BMP is equipped with a modular Lance turret armed with a stabilized 30-mm cannon and a paired 7,62-mm machine gun
Short video description of a military armored vehicle BOXER with Russian subtitles
The German army accepted the delivery of 996 Fuchs 6x6 vehicles in various configurations from Rheinmetall MAN Military Vehicles; all of them are constantly undergoing scheduled upgrades. While some of Fuchs's functions are being transferred to the Boxer, it is expected to remain in service for some time. The newest version of Fuchs 1A8 has received many improvements, including an upgraded suspension and enhanced protection.
Deal on wheels
The Italian army was one of the first countries in Europe to move from a fully tracked fleet to a more balanced fleet of wheeled and tracked armored vehicles.
Army deploys 200
tanks
Ariete and the 200 Dardo tracked infantry fighting vehicles designed and manufactured by the CIO Consortium, a joint venture between Iveco Defense Vehicles and Oto Melara.
Iveco Defense Vehicles is responsible for the wheeled vehicles, the undercarriage and the power unit of the tracked and wheeled armored vehicles, and Oto Melara is in turn responsible for the tracked vehicles, as well as turrets and weapon systems for both types of vehicles.
The Italian army received the Centauro 400x8 8 machines, and the 84 machines were delivered to Spain. They have a three-person Oto Melara tower with an 105-mm cannon with low recoil force. Further development led to the creation of a variant of Centauro with an 120-mm cannon for the Royal Guard of Oman.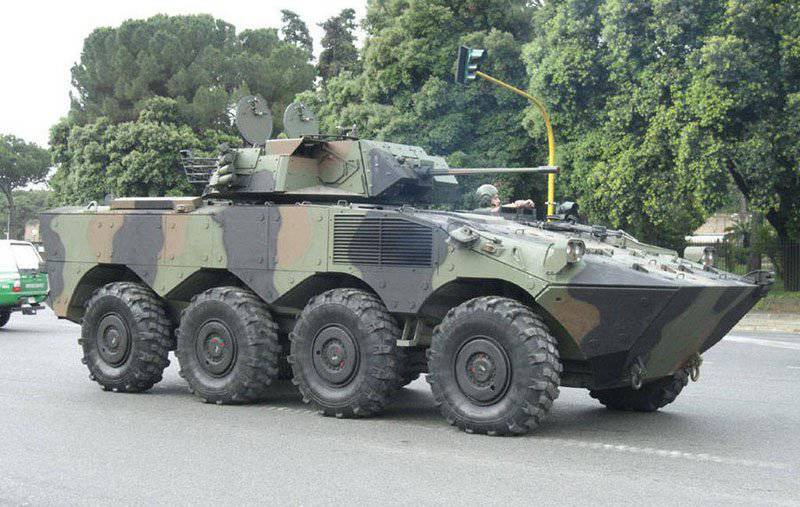 BMP Freccia 8 × 8 Italian Army
BMP Freccia 8х8 also increasingly enters the Italian army. More specialized options were developed, for example, a command post, an ARVA and a mortar installation.
The latest development on the basis of the Freccia is the SuperAV 8х8 version with a new body optimized for amphibious operations. It has an increased level of protection and is driven by two propellers in the water. It is expected that it will be purchased by the Italian army and navy in order to replace its tracked vehicles.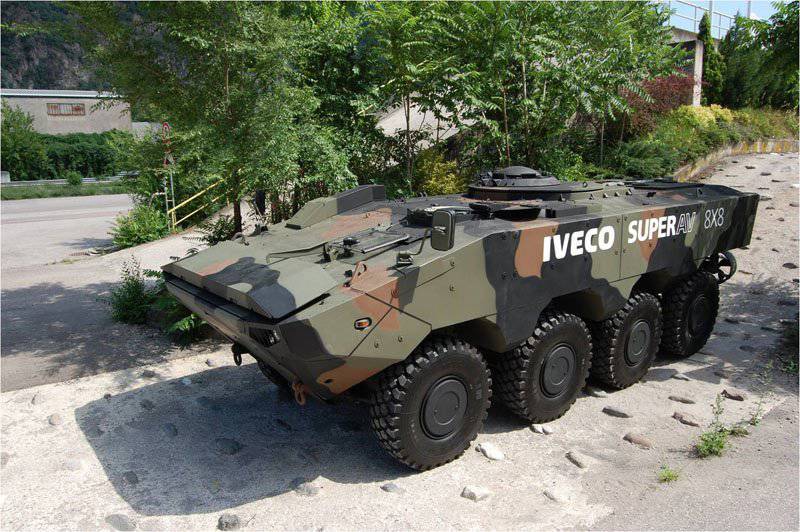 The SuperAV 8 × 8 floating machine (pictured without weapons) was developed by Iveco to meet the requirements of the Italian army.
A bit of both
The Dutch army traditionally exploited a fleet of tracked vehicles, but is currently moving, along with other countries, towards a more balanced fleet of tracked and wheeled platforms.
The army has already received all 184 BME BAE Systems Hägglunds CV9035 Mk III, which replaced the tracked YPR-765.
The rest of the more specialized YPR-765 options will be replaced by the Boxer MRAV ARTEC 200 machines. They are similar to German cars, but have other communication equipment and a remotely controlled Kongsberg Protector combat module with an M12,7 HB 2-mm machine gun.
Boxer machines will be supplied to the Dutch Army from 2013 to 2016 year. The above number of 200 machines will be divided in the following proportions: 60 command posts, 52 ambulances, 27 trucks, 53 engineering and 8 driver training machines.
As for the Russian army, it always had a balanced fleet of tracked and wheeled vehicles, and this trend is likely to continue.
The fleet of tracked vehicles of the Russian army consists of BMP-1, BMP-2 and BMP-3; they can all swim with minimal training. The BMP-3 has the most powerful armament complex among the machines in its class in the world and, as a result, achieved great success in deliveries abroad. It was sold to Kuwait, Indonesia, South Korea, Syria and the United Arab Emirates, and most recently to Venezuela and possibly Algeria.
The original floating BTR-60 8х8 entered service with the Soviet army back in the distant 1961 year, and since then it has passed more than one modernization. It was followed by variants of the BTR-70, the BTR-80 and most recently the BTR-82.
Southern systems
The South African National Defense Forces have extensive combat experience in southern Africa. With the exception of the Olifant tank, all of their BBM are wheeled. The largest wheeled vehicle is the G6 155 mm / 45 caliber gun from Denel Land Systems (DLS), weighing about 47 tons.
The main BMP is the Ratel 6x6 from BAE Systems Land Systems South Africa, which must be replaced by the Patria armored modular vehicle (AMV) variant, named Badger.
After testing five prototype machines in September 2013, DLS was awarded a contract for Badger 238 machines in five variants that have a common turret. DLS is the main contractor, and Patria is a subcontractor here and will deliver a small batch of complete chassis before starting full-scale production. The machine Badger is a further development of the AMV, the main improvements include the turret and weapon system from the DLS.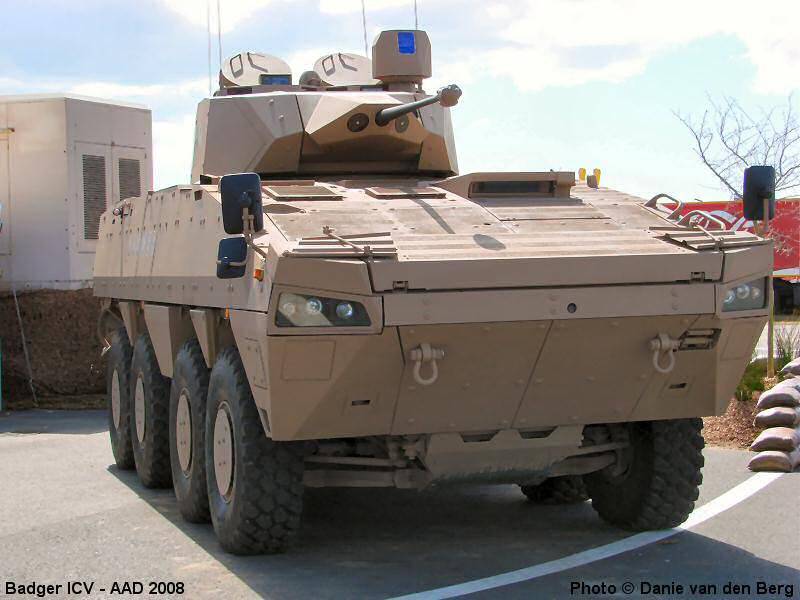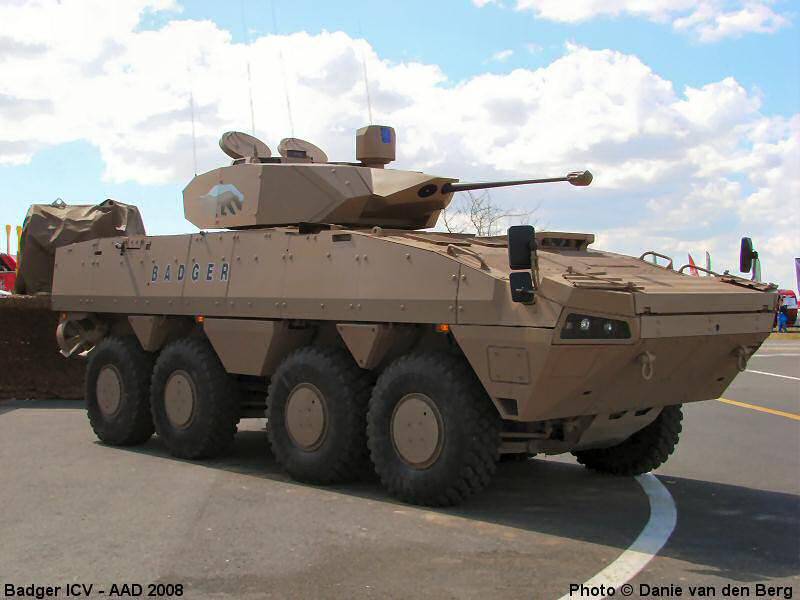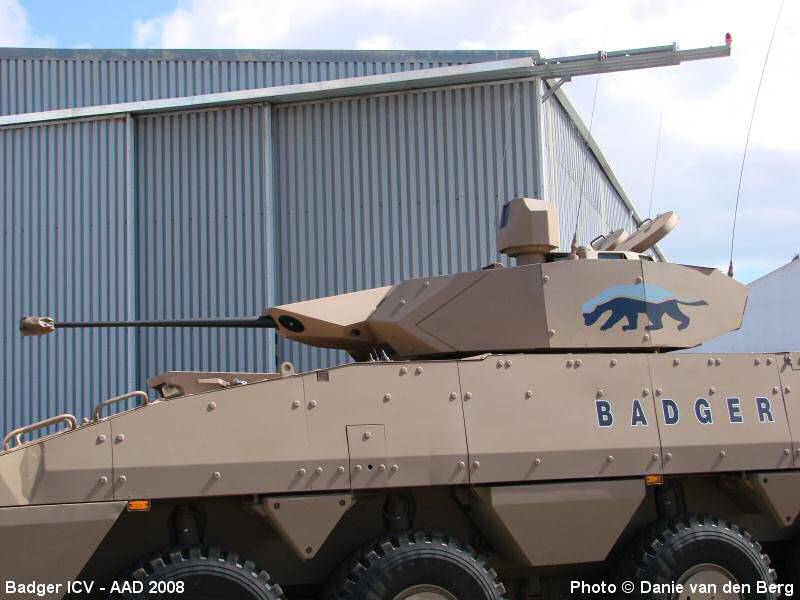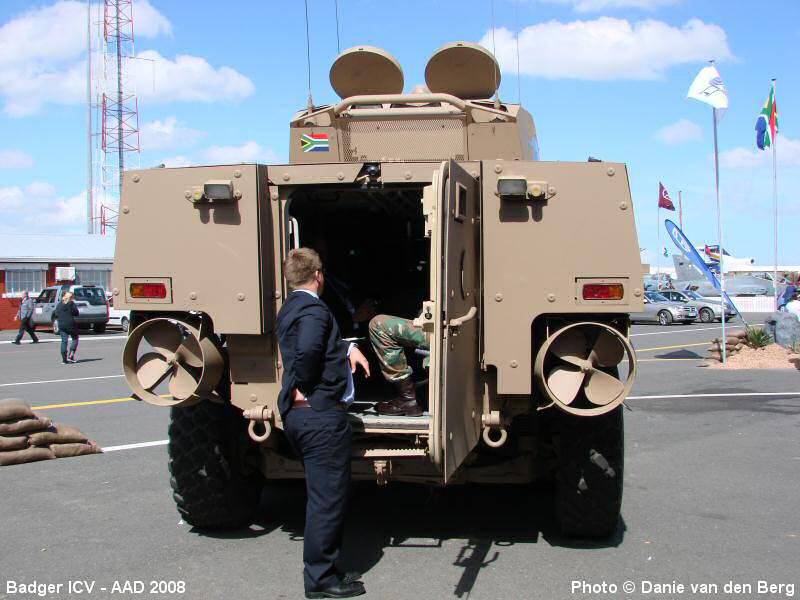 Option AMV, received in South Africa, the name Badger, from different angles
The US Army was a strong supporter of tracked vehicles over 60 for years and has on its 6452 BMP balance sheet M2 Bradley and M3 Cavalry Fighting Vehicles manufactured by BAE Systems; the last deliveries were made back in February 1995.
Since its first deployment, the Bradley BMP has been constantly upgraded. The newest option is the A3, but all the options are equipped with a dual-feed 25-mm M242 turret from ATK Armament Systems.
Many special tasks are still performed by outdated tracked BTR M113A3. The beginning of the development of the original design dates back to the end of 50's, and the first production machines were made in 1960 year.
Over 74000 machines M113 in a variety of options were made by the United States and Italy (under a licensing agreement). However, according to modern standards, the M113A3 is very outdated because it does not have the mobility and protection necessary for joint operations with the M2 Bradley infantry fighting vehicle and the M1A1 / A2 Abrams tank.
For this reason, the US Army hopes to deploy Armored Multi-Purpose Vehicle (AMPV) multi-purpose armored vehicles in five basic options: mortar set-up, command post, evacuation of the wounded, sanitary and universal.
Platform potential
There are several potential candidates for the AMPV project, including the deeply modified Bradley BMP, as well as wheeled vehicles, such as the Stryker DVH (double-V hull) with a double V-main body, and even the Stryker tracked BTR.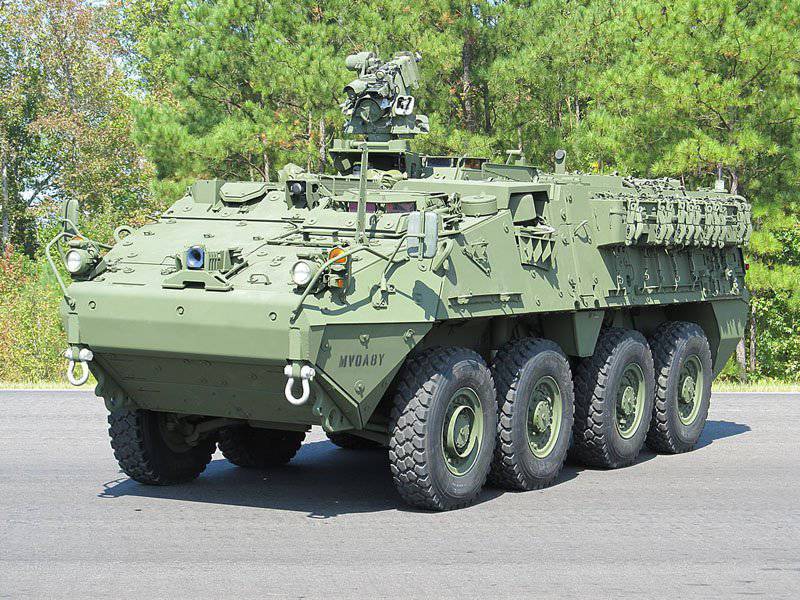 One of the first machines M1126 Stryker in the version of DVH
The American army at one time held a competition for a combat vehicle for an average brigade and tested two tracked and one wheeled vehicles. According to the results of the competition, a wheeled vehicle from General Dynamics Land Systems was selected, which is a modified version of the LAV-III. Subsequently, she received the designation M1126 Stryker. It was made over 4000 machines, and the newest version with enhanced protection Stryker DVH and was proposed for the project AMPV.
While in some countries there is a tendency to deploy wheeled armored vehicles rather than tracked vehicles, most still choose a balanced fleet of vehicles, since each type has its own unique advantages.
However, there are questions to some new machines configuration 8х8 with a gross weight over 30 tons, regarding cross-country maneuverability. Weight gain is determined by the end user, requiring more volume, payload and protection. And as long as this trend continues, the machines will become heavier, more expensive and more and more difficult to deploy.
In addition to wheeled armored vehicles entering the army in ever-increasing quantities, there is also a tendency to develop and deploy wheeled artillery systems. France, for example, replaces all its tracked and towed 155-mm cannons on CAESAR 155 mm / 52 SAUs from Nexter's caliber on the chassis of the 6x6 truck, which were also sold to Indonesia, Malaysia, Saudi Arabia and Thailand.