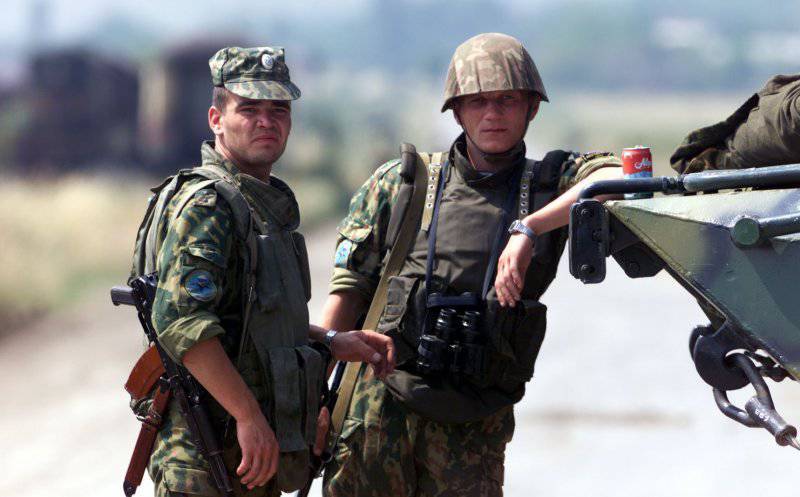 ... An experienced American soldier frankly told the author about the Russians and why they were so afraid in the United States.
It so happened that I happened to participate in the same project with real Americans. Good guys, pros. For half a year, while the project was ongoing, we managed to make friends. As expected, the successful completion of the project ends with a booze. And now our banquet is in full swing, I caught my tongue with a guy with whom they were sharing the same topic. Of course, we discussed who is "cooler", talked about the first satellite, the lunar program, airplanes,
weapons
etc.
And I asked the question:
- Tell me, American, why are you so afraid of us, you have been living in Russia for six months, you have seen everything yourself, there are no bears on the street or on
tanks
no one drives?
- Oh, I'll explain it. The sergeant instructor explained this to us when I served in the US National Guard. This instructor went through many hot spots, he twice went to the hospital, and both times - because of the Russians. He told us all the time that Russia is the only and most terrible enemy.
The first time was in 1989, in Afghanistan. It was the first business trip, young, not yet shelled, he helped civilians when the Russians decided to destroy the mountain village.
- Wait! - I interrupted. - us
already
There was no 89 in Afghanistan.
- Us too
more
There was no 91 in Afghanistan, but I don't see any reason not to believe him. Listen up
And I listened, in front of me was not a peaceful young engineer, but an American veteran.
"I provided security, the Russians were no longer in Afghanistan, the local began to fight each other, our task was to organize the redeployment to the area controlled by a friendly partisan detachment, everything went according to plan, but two Russian helicopters appeared in the sky, why and why I do not know. Having made a U-turn, they restructured and began to enter our positions. Volley Stingers, Russian gone for ridge. I managed to take a position for a large-caliber machine gun, I waited, because of the ridge, Russian cars were to appear, a good line-up would go to their advantage. And the Russian helicopter did not keep itself waiting, it appeared, but not because of the ridge, but from the bottom of the gorge and hung in 30 meters from me. I desperately pressed the trigger and saw how the carving sparkles, bullets bounced off the glass.
I saw a Russian pilot smiling.
I woke up at the base. Easy contusion. I was later told that the pilot was sorry for me, for the Russians it was considered a sign of skill to deal with the locals and leave a European alive, why I don't know, and I don't believe it. Leaving in the rear of an enemy capable of a surprise is stupid, and the Russians are not stupid.
Then there were a lot of different business trips, the next time I ran into Russians in Kosovo.
It was a crowd of untrained nonsense, with machine guns from the time of the Vietnam War, armor, probably from the second world left, heavy, uncomfortable, no navigators, NVD, nothing more, only an assault rifle, helmet and armor. They went to their armored personnel carriers wherever they wanted and wherever they wanted, kissed passionately with the civilian population, baked bread for them (they brought a bakery with them and baked bread). They fed everyone with their porridge with canned meat, which they themselves cooked in a special boiler. We were treated with disdain, constantly insulted. It was not an army, but the dick knows what. How can you interact with them? All our reports to the Russian leadership were ignored. Somehow we grappled seriously, did not divide the route, if it were not for the Russian officer who reassured these monkeys, he could even get to the trunks. These idiots had to be punished. Give n ... dy and put in place. Without weapons, we only lacked Russian corpses, but to understand. They wrote a note, in Russian, but with errors, like the Serb wrote that nice guys were going to go at night to give n ... to the impudent Russian dumbasses. We prepared carefully, light bulletproof vests, batons, night vision devices, shockers, no knives and a gunshot. We approached them, observing all the rules of disguise and sabotage art. These morons didn't even put up any posts, that means we'll be sleeping, we deserve it. When we almost went to the tents, there was a shit "RYA-YAYAA-AAA". And out of all the cracks, these nonsense climbed, for some reason dressed only in striped shirts. I accepted the first.
I woke up at the base. Easy contusion. They told me later that the guy took pity on me, hit me flat, if he had really hit, he would have blown off his head. I, b…, an experienced fighter of an elite unit of the US Marine Corps, is cut down in 10 seconds by a Russian, skinny bastard — and with what ??? And you know what? Garden Shantsevoy tool.
Shovel! Yes, it would never occur to me to fight with a sapper shovel, and they are taught this, but unofficially, the Russians considered it a sign of mastery to know the techniques of battle with a sapper shovel. I later realized that they were waiting for us, but why did they come out in shirts, only in shirts, because for a person it is natural to protect yourself, put on a bronik, a helmet. Why only in shirts? And their fucking "rya-yaya-aaa"!
I once waited for a flight at Detroit airport, there was a Russian family, mom, dad, daughter, also waiting for their plane. My father bought somewhere and brought a girl, about three years old, a hefty ice cream. She jumped from delight, clapped her hands and know that she screamed? Their fucking "rya-yaya-aaa"! Three years, speaks badly, and already shouts "RYA-YAYA-AAA"!
But those guys with this cry went to die for their country. They knew that there would be just a hand-to-hand fight, without weapons, but they were going to die. But they did not go to kill!
It is easy to kill while sitting in an armored helicopter or holding a scapula honed like a razor. They did not spare me. Killing for the sake of killing is not for them. But they are willing to die if necessary.
And then I understood: Russia is the only and most terrible enemy. "
This is how a soldier of an elite US unit told us about you. Come on, another glass? .. Russian! And I'm not afraid of you!
The presentation and translation of mine, do not look for inaccuracies and discrepancies, they are, I was drunk and I don't remember the details, retold what I remember ...