The Armed Forces of Ukraine are still in the phase of structural changes. The constant lack of funding means that in recent years only about 30% of airplanes and helicopters in the Armed Forces are operational. Modernization efforts are underway, but their scale is far from sufficient.
Heritage "Big Brother"
According to various sources, Ukraine inherited from the Soviet Union up to 3600 aircraft and helicopters, and as a result, all this was subordinated to the Air Force [Armed Forces] of the Armed Forces of Ukraine on March 17, 1992 (Powers of the Zbroynykh Forces of Ukraine). The headquarters was organized on the basis of the 24th Air Army of the USSR Air Force (since March 1992 it is located in Vinnitsa). The new state got as much as 49
aviation
regiments, 11 separate squadrons, aviation schools, ground services. Out of more than three thousand units of aviation equipment, there were about 2750 aircraft, including 1650 combat ones, and about 850 helicopters, including 285 attack ones. Some of these types were obsolete, so only aircraft of the latest generations were chosen, and newer ones entered service with the new state.
The greatest combat value are Su-27 fighters. In total, Kiev had 67 units Su-27.
MiG-29 machines were in 9.12 and 9.13 versions - their total number reached 216, including 155 machines in the latest version, with a more modern radio electronics system and increased fuel reserves.
There were also about 250 front-line bombers Su-24 and Su-24М, 36 machines Su-24МР. In addition, BTA had several dozens of IL-76, as well as dozens of lighter transport vehicles An-24 and An-26, and around 100 training L-39C Albatros.
Initially, the Air Force also included: the Tu-22М2 long-range bomber, the Su-17М4 front-line bomber and the Su-15ТМ, MiG-23MLD and MiG-25 interceptors. They were, however, rather quickly decommissioned. In 1992, there were also X-NUMX Il-20 aircraft in Ukraine. In the nineties, these machines were converted into transport aircraft.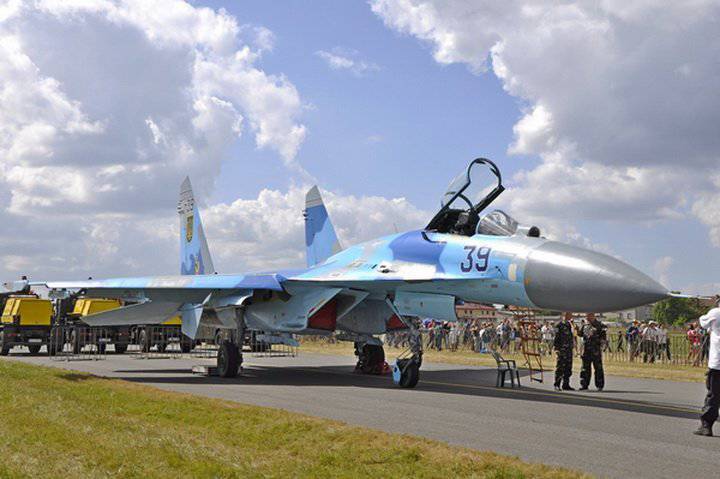 For many years, the Su-27 fighter aircraft will remain the most important aircraft in the military aviation of Ukraine. To keep the aircraft in combat condition, 2-3 machines are being repaired in Zaporozhye per year.

Photo: Tomasz Kwasek
The collapse of the Soviet empire led to the breakdown of military-industrial ties with Russia, which were especially evident in the nineties. This, in turn, caused a gradual decrease in the combat capability of Ukrainian military aviation. In the period 1996-2000. more than 300 aircraft were decommissioned; more than 200 was decommissioned in the next decade. Only in this decade, the growth of funding allowed to start repairs, but it will take several years.
Aircraft and air defense
Now in service around 200 combat aircraft (official data talking about 208 combat aircraft in 2012 year), 25 UBS (39 units in 2012 year) and about 80-100 helicopters. Fighter aviation is represented by heavy Su-27 fighters in the number of 36 units, of which Su-12 and 27 Su-4UB and light MiG-27 are in 29 combat units and around 80 units, of which 20 machines are in combat units, including several MiG-XNUMHUB. The Su-29 and Su-24М Ukraine bombers have 24-60 units, and the Su-65 attack aircraft have about 25 units. However, it is estimated that only 36 Su-8M machines, 24 Su-18 direct aviation support machines and 25 Su-5MR reconnaissance aircraft will be able to conduct bombing and reconnaissance. All combat vehicles have at least two dozen years of service, and some of them are nearing the end of their lives, and in the next few years should be decommissioned. After the 24 of the year, if there are no new acquisitions, the total number of combat aircraft of the Ukrainian Armed Forces will fall to 2015, the ratio of operating vehicles will probably increase, but in general, their number will be, like now, around 150.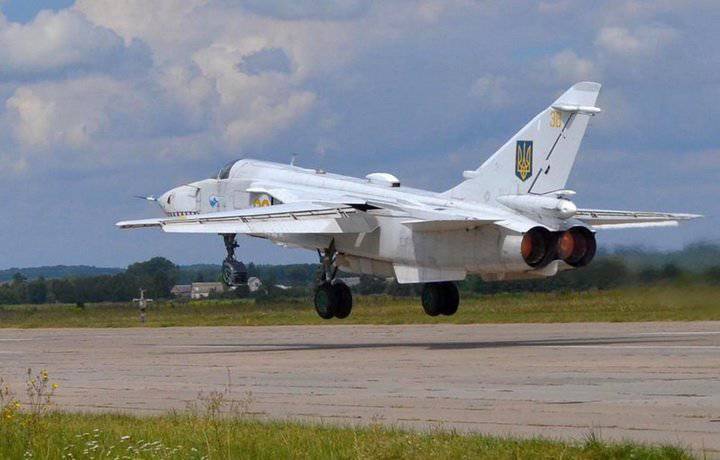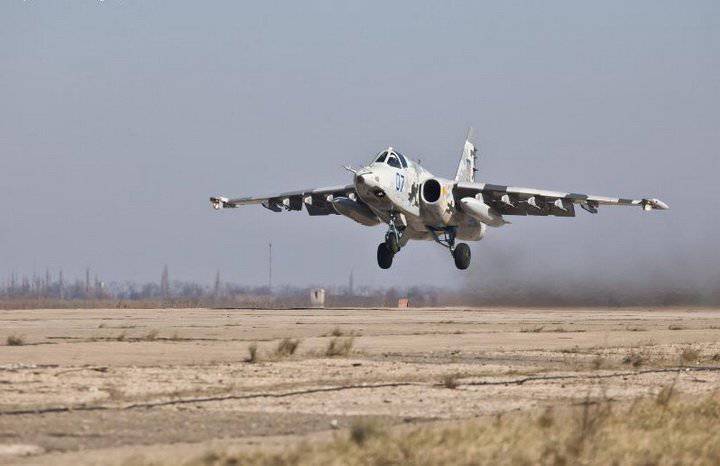 The basis of attack aviation are Sukhoi airplanes: the Su-24 bomber and the Su-25 attack aircraft. [/ i]

Photo: Ministry of Defense of Ukraine
Transport planes and helicopters are represented by seven heavy Il-76MD and 14 medium An-24 and An-26, two VIP passenger Tu-134AK, as well as multi-purpose helicopters Mi-8. Two An-30B photo-prospecting machines are intensively used, which fly mainly in good weather. Four An-26 are specialized: three in the training / staff version and one in the medical version. There are only two types of helicopters: combat Mi-24В, there are about 40 machines and Mi-8 in various versions - the exact number is not known.
Aircraft Armed Forces of Ukraine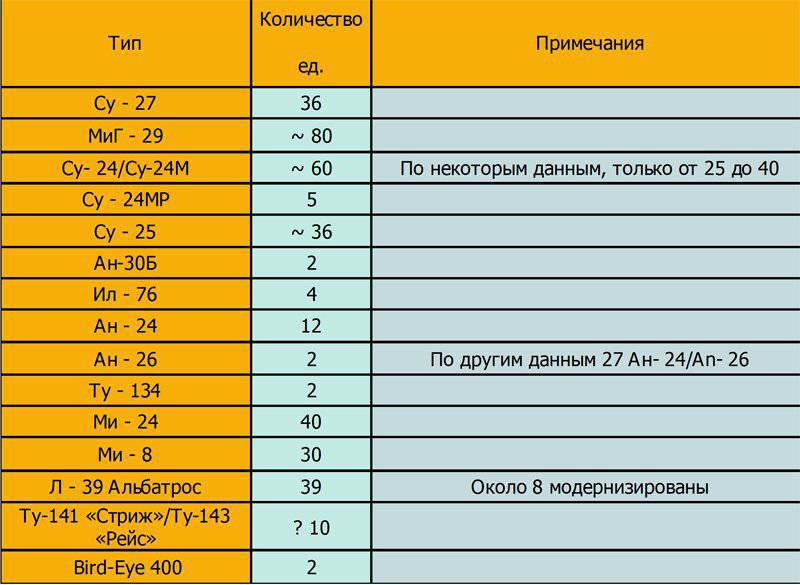 The composition of the air force also has several air defense divisions. Equipped with air defense missile systems C-300PT 1 300PS and C, C-200V, 9K37M1 «Buk-M1" and portable 9K32M «Strela-2M" and 9K38 "Igla".
The structure of the Armed Forces of Ukraine
The main command of the Air Force is located in Vinnitsa. The command of the Armed Forces consists of three compounds: "Center", "South" and "West". Each of these three commands has at its disposal: tactical aircraft, air defense, part of the support. Transport aviation and other services are directly subordinate to the command of the Armed Forces.
The composition of the units of the OK "Center" presumably consists of: the 9 th tactical aviation brigade (Suz 27, L-39C), the 40 th tactical aviation brigade (MiG-29, L-39C), the 831 th tactical aviation brigade (Su- 27, L-39C), two anti-aircraft missile brigades (Buk-М1, С-200, С-300П), three anti-aircraft rocket regiments (Buk-М1, С-200), two radio engineering brigades.
The Yug operational command is: 204-I tactical aviation brigade (MiG-29, L-39C), 299-I tactical aviation brigade (Su-25, L-39C), two anti-aircraft missile brigades (Buk-М1, С- 200, C-300P), two anti-aircraft missile regiments (C-200, C-300P), two radio engineering brigades.
The command "West" has: 7 th tactical aviation brigade (Su-24, L-39C), 114 th tactical aviation brigade (MiG-29, L-39C), two anti-aircraft missile regiments (Beech-M1, C-300P ), radio engineering team.
The subdivisions of the central subordination are: Kharkiv Air Force University, which, in turn, submits to the 203-I Airborne Training Brigade (L-39C, An-26, Mi-8), a separate regiment of unmanned aerial vehicles, 15-I Brigade of transport aviation ( An-24, An-26, An-30, Tu-143, Mi-8), 25-I Air Transport Brigade (An-26, IL-76, IL-78) and 456-I Air Transport Brigade ( 26, Mi-8, Mi-9).
Near future
According to unofficial data, the subsequent reform of the Armed Forces is associated with restructuring and, probably, further reduction. Therefore, the existing command structure - the four-level, which is required for larger forces - will be replaced by a three-level one. By 2014, it should be decided that the three operational commands (S) of the Armed Forces and the command of the central subordination will be eliminated or become part of the General Staff. As in Poland, the separation of the types of troops disappears, and the aviation brigades will be subordinated to: operational command "North" in Rovno and OK "South" in Dnepropetrovsk. Each OK will have two or three tactical aviation brigades, ground services and air defense. Other units will be subordinated to the General Staff of the Armed Forces: 15 transport aviation brigade, Kharkiv Air Force University, 203 training brigade. The 25 and 456 transport aviation brigades and the 9 brigade of tactical aviation will be eliminated, and their vehicles and equipment will be transferred to other units. The air defense system is also likely to be reduced - within a few years, the C-200 complexes and some C-300Ps should be withdrawn due to the exhaustion of resources.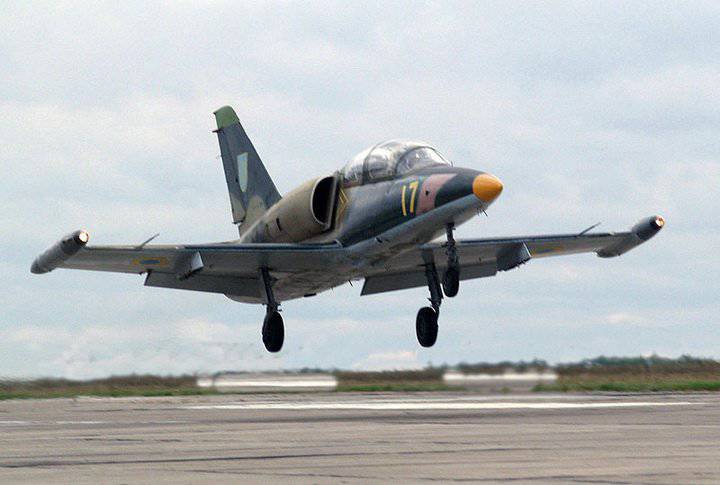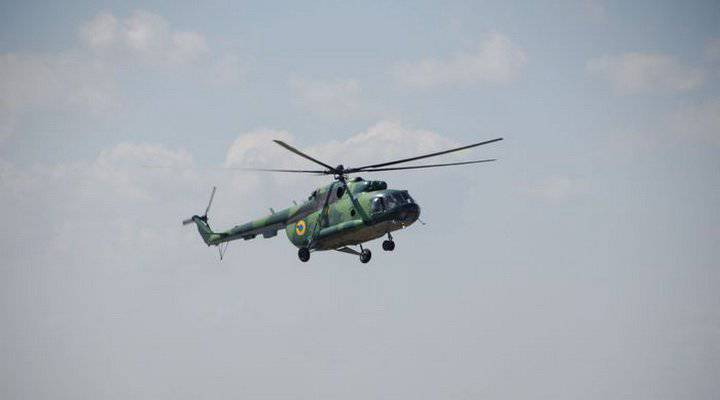 Training aviation is primarily represented by L-39 "Albatross" aircraft and helicopters of the Kharkov University of the Armed Forces. The Albatros aircraft were repaired and upgraded (12 machines were upgraded to 2012 year).

Photo: Ministry of Defense of Ukraine.


As for aircraft, the Ministry of Defense of Ukraine does not plan to make major purchases of new aircraft in the next few years, focusing on their modernization and restoring the combat effectiveness of individual aviation units.
Let's start with the fighters. The most important machines in this class, namely the Su-27, will be upgraded by Zaporizhzhya State Aviation Repair Plant, which is part of the corporation MiGremont.
Machines must be equipped with a new GLONASS and GPS compatible navigation system. A similar upgrade package will also be available for the Su-27UB, a new weapon control system will be added to these planes, which allows the use of bombs up to 500 kg and unguided 80 and 122 mm missiles. The latter is unlikely, because these machines will be used primarily for air defense. The upgraded Su-27 will be able to use Ukrainian-made mid-range air-to-air missiles P-27EP1 and P-27ET1 with a range increased to 95 km (the first option is with radar control, the second is with a thermal homing head) and short-range missiles: upgraded P-73 and the new "Edge", which plans to produce the factory "Artem".
The other fighter, the lightweight MiG-29 (version 9.13), is being upgraded by the Lviv State Aircraft Repair Plant. It is planned to upgrade the 12 machines, but so far, probably only four MiG-29UM1 have been converted. It upgraded the radar with an increased by about 20% compared to the original radar detection distance, a navigation system similar to the modernization of the Su-27, and radio stations that meet the requirements of ICAO. The first three upgraded aircraft were received in 2010 year. Ukrainians do not intend to carry out any measures to modernize the MiG-29UB.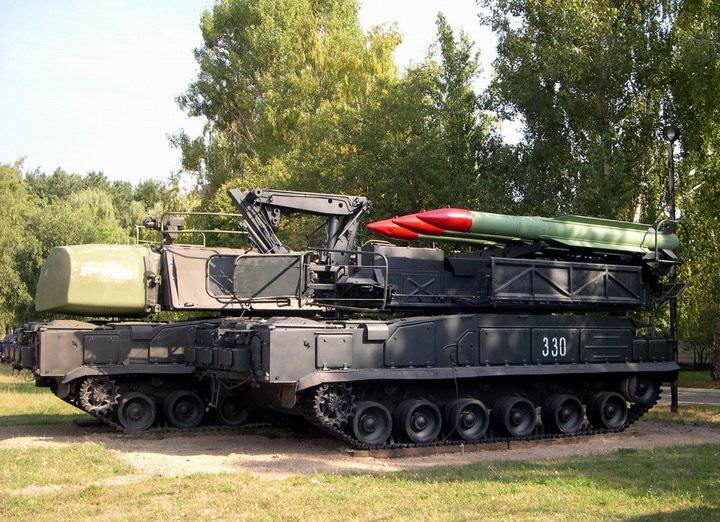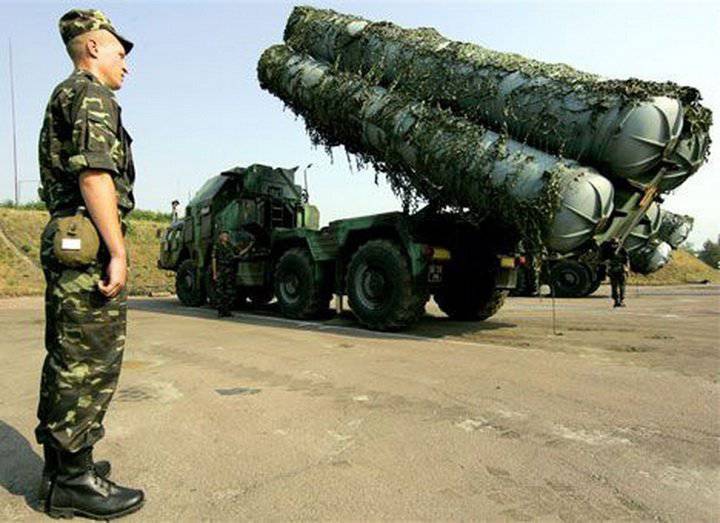 The most effective air defense systems are 9K37M1 Buk, and C-300P (PS).

Photo: Ministry of Defense of Ukraine.
In Zaporozhye, airplanes are also being upgraded: the Su-25 and Su-25UB attack aircraft to the Su-25М1 and Su-25УБМ1 standards. The plans should be upgraded 16 (according to other sources - to 30) of these machines by the end of 2015 year. The upgrade was approved in 2010 year, and the first three aircraft (two Su-25М1 and one Su-25УБМ1) were delivered in the same year. The scope of work includes: a new navigation system, sighting equipment, communications equipment, a recording system with a new flight data system.
In addition, training L-39C "Albatross" upgraded to version L-39M1. It has a new AI-25ТЛШ engine, a system for recording flight data and other minor changes. Modernization of the "Albatross" is carried out on the basis of the State Aircraft Repair Plant in Odessa. In the 2010-2012, nine Albatros were probably modernized, one of them crashed
(pilot died. - Approx. lane.)
.
The fleet of transport aircraft had to be completely updated through the purchase of a new car - the turboprop An-70. It should be replaced by IL-76 / 78, but in recent years the question of acquiring two (three) new "An" stopped. However, the plant continues its development program. In 2010, Russia (once again, after leaving the program in the late nineties and in 2006) agreed to co-finance the aircraft development program, knowing that Ukrainians are not able to complete the test program and begin mass production.
Russia also needs to replace its fleet of transport aircraft - buying a series of almost finished Antonov machines over the next few years will be a better solution than developing its own project in this class, which can take many years and is subject to significant risks.
Modernization also subject to air defense and radar systems, including space surveillance systems, meter radar P-180U (P-8 MA) and 5N84AMA (P-14 MA).
Will be?
The Ministry of Defense of Ukraine does not hide the fact that the funds for the renewal of the aircraft fleet and the entire air defense system and ground services are too small, and therefore the modernization of even a few aircraft units is rather slow. In any case, the modernization of the Ukrainian-Ukrainian fighter jets Su-27 and MiG-29 roughly corresponds to the modernization framework of the Polish MiGs, which is conducted by the military aircraft plant No.2 in Bydgoszcz (they install a new navigation system and new interface). However, the F-16C has not been upgraded to the F-16MLU level, despite a number of offers from companies, including Ukrainian ones (using the following new features: navigation system, automatic landing systems, VOR / DME / TACAN, ILS system, or New rangefinder, as in the case of the Su-25).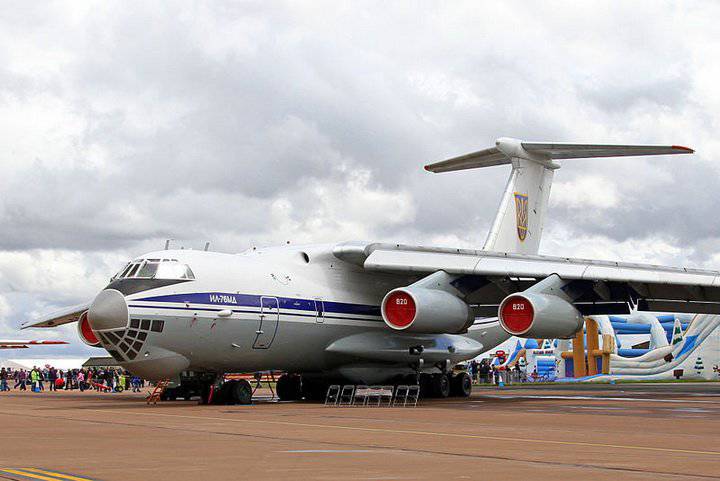 A number of Il-76 transport planes are being exploited in the Ukrainian Armed Forces, and they also plan to purchase new aircraft of this class - An-70.

Photo: Łukasz Pacholsk.
A few words in conclusion. You can see that the maintenance of such troops in the armed forces of Ukraine and their further development look very modest. Taking into account the financial capabilities of the state, only a few airplanes and helicopters are being modernized annually, which is much less than in the plans of the Air Force implemented in neighboring Russia. It seems that without a significant increase in funding, military aviation of Ukraine will face further reductions.