According to the Decree of the Council of People's Commissars of the USSR and the Central Committee of the CPSU (b) of 172 in May, 14, No. ПХNUMX / 1941, produced a prototype of an anti-tank cannon of caliber 32 mm. In the manufacture of used carriage 116-millimeter howitzer gun model 107 year.
In the spring of 1941, the Perm designers under the leadership of S. Dernova. was designed anti-tank gun M-75. They designed a wedge semi-automatic shutter. The calculated penetrability at a distance of 1000 m at an angle of 30 degrees was 165 mm. At the beginning of the Second World War, plant No. XXUMX produced two prototypes of the M-172, which were then tested at the factory site.
In the period from November 29 1941 to January 12, 1942, the ground testing of the gun and its ammunition was carried out at the Tagil test site.
During the tests, the ballistics specified by the tactical and technical requirements were achieved. The initial velocity of the projectile was 1020 meters per second. However, armor penetration (specified in 160 mm) was not provided due to the fragility of the shell of the shell.
The X-NUMX-millimeter anti-tank gun M-107, according to the conclusion of the Artillery Committee of the KAU, of the ground tests, did not withstand the unsatisfactory performance and durability of the actions of the semiautomatic and the valve, the insufficient pipe durability and the insufficient strength of the cradle.
According to the Deputy People's Commissar of Defense of the USSR, Colonel-General of Artillery Voronov, since the experience of modern warfare did not confirm the need to use such weapons to combat
tanks
enemy, the further development of the anti-tank gun "M-75", as well as the ammunition to it in order to eliminate the identified shortcomings was inappropriate.
It was in connection with this that Voronov asked Stalin for permission to stop work on the X-NUMX-millimeter anti-gun M-107. In addition, he requested to stop similar work on the 75- and 85-millimeter cannons "ZIS-107" and "ZIS-23" at the State Order of Lenin Plant No. 24 named after Stalin.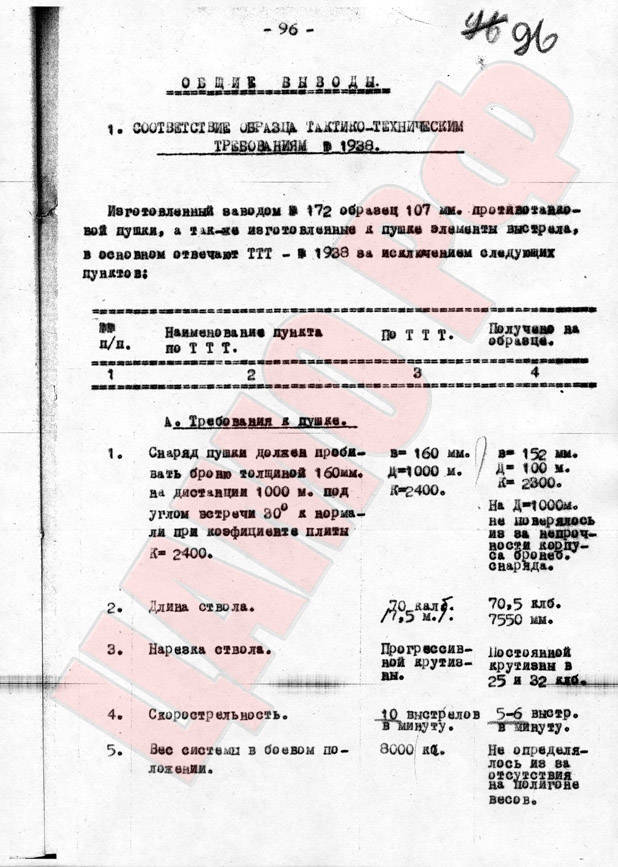 Verification of the obtained actual data of the prototype 107-mm anti-tank gun M-75 with the specified parameters Tactical and Technical Requirements (TTT) 1938 g. Parameters (test report)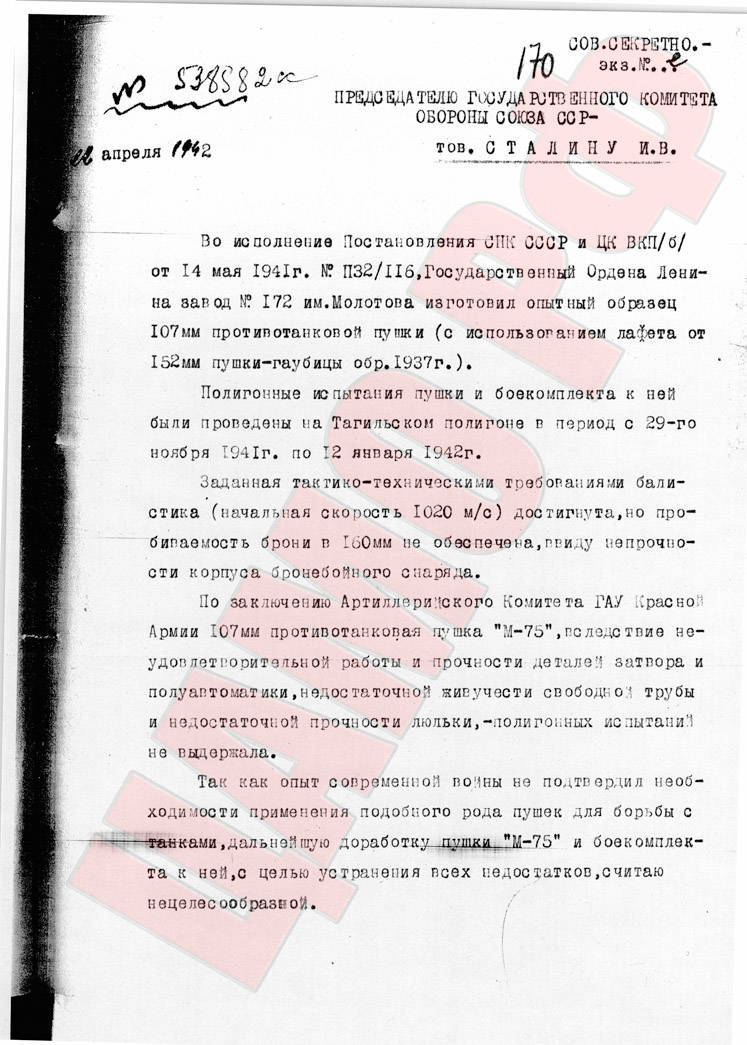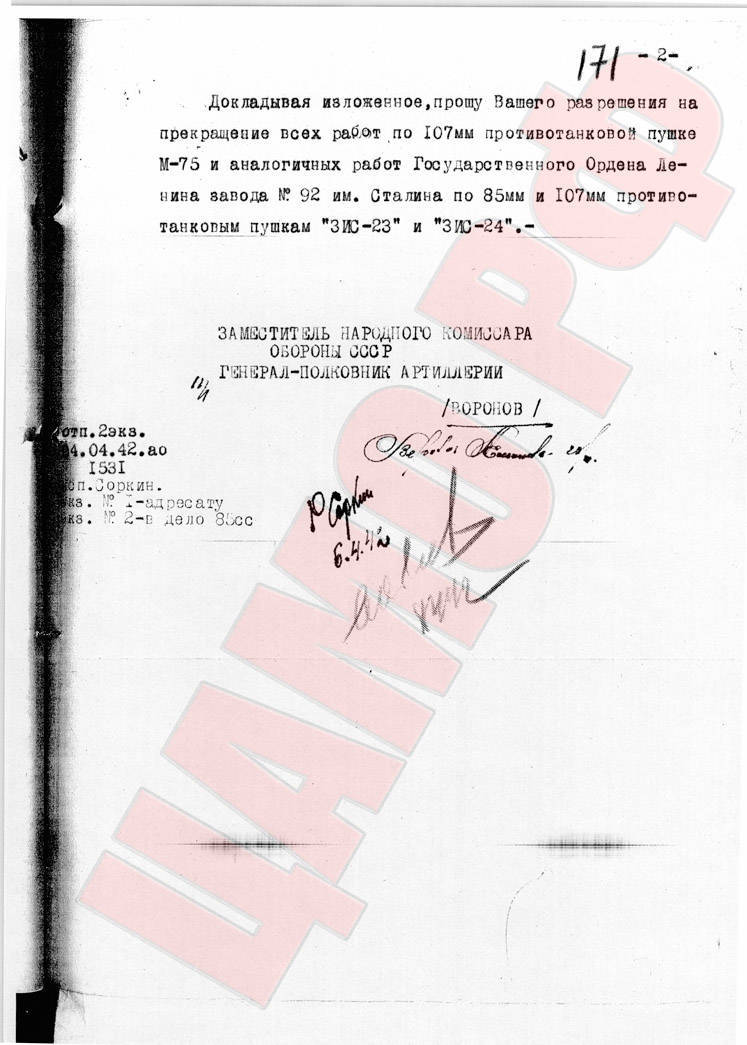 Letter (April 1942) Deputy. People's Commissar of Defense N.N. Voronova to the Chairman of the State Defense Committee I.V. Stalin for a petition to stop work on the X-NUMX-mm anti-tank gun M-107, as well as the grab 75-mm and 85-mm anti-tank ZIS-107, ZIS-23
Specifications:
Caliber - 107 mm.
Projectile weight - 18,8 kg.
The initial velocity of the projectile - 1020 m / s.
Penetration - 160 mm.
The angle of vertical guidance is from –2 to + 45 degrees.
Horizontal guidance angle - 58 degrees
Weight in the fighting position - 7500 kg.