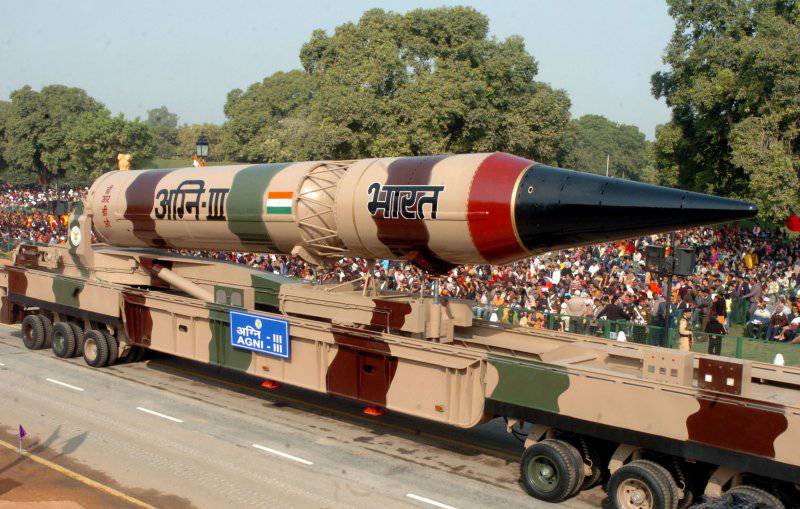 On Monday, India conducted successful tests of a ballistic missile Agni-3 capable of carrying a nuclear charge, foreign media reported.
The launch of the rocket took place from a mobile platform on Wheeler Island in the Bay of Bengal off the coast of Orissa. The last time the Agni-3 rocket was tested there in September, ITAR-TASS reports with reference to the Press Trust of India.
The Agni ballistic missiles were developed as part of the Integrated Guided Missile Development Program of the Ministry of Defense of India.
"Agni-1" is a 12-meter rocket, which can be launched from mobile launchers and capable of carrying a nuclear warhead weighing up to a ton.
The Agni-2 is a two-stage solid-fuel rocket with a length of about 19 m. Its maximum range is up to 2500 km with a mass of detachable warhead to 1 thousand kg.
Agni-3 is a two-stage rocket with a length of 16,7 m and a weight of 48,3 tons. It can deliver warheads weighing 1,5 tons to a range of more than 3 thousand. Km.
The first tests of the Agni-4 took place in December of the 2010 year, however, due to failures in the control system, they ended in failure. In November 2011, the first successful launch of the rocket was made. After 20 minutes after launch, the head of the rocket reached a predetermined area in the Bay of Bengal. The length of the Agni-4 is 20 m, the mass is 17 tons. The mass of the head reaches 1000 kg.
In April, 2012 for the first time, India experienced the new intercontinental ballistic missile Agni-5. The launch took place at a maximum range exceeding 5 thousand. Km. Agni-5 is capable of carrying a nuclear warhead weighing up to one ton. Its mass is 50 tons, length - 17,5 m, diameter - 2 m.