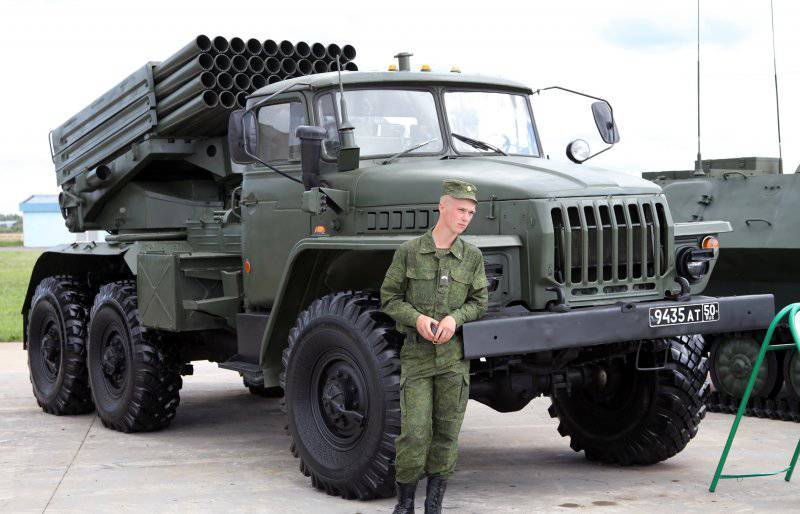 The Tula Research and Production Association Splav conducted tests of the multiple launch rocket system (MLRS) Tornado-G and launched it into mass production, the Rostec state corporation press service reported on Tuesday.
Tornado-G is a Russian modernized multiple rocket launcher system created on the basis of the Grad MLRS, according to a press release on the official Rostec website.
Differences "Tornado-G" from its predecessor - in increased range of fire, more powerful ammunition, as well as the presence of automated guidance systems, aiming, toporavizchki and navigation. Thanks to innovations, the system can perform combat missions completely autonomously.
The use of automated controls reduces the duration of control cycles by five times, increases the completeness and relevance of information about the enemy by four times and increases the damage to the enemy by 2,5 times. "Tornado-G" is designed for ammunition caliber 122 mm and is designed to destroy and suppress the enemy's manpower, his armored vehicles, artillery and mortar batteries, as well as command posts.
Earlier it was reported that the MLRS will be available in three versions - G, U and C, calculated, respectively, for ammunition caliber 122, 220 and 300 millimeters. The system was developed at the Federal State Unitary Enterprise "State Research and Production Enterprise" Splav "(NPO" Splav ").
Last year, the system was successfully tested. In September 2012, it was reported that the system is expected to go into service before 2015.
According to the head of the company, Nikolai Makarovts, the state order for 2014 has doubled in the year, in 2015, the growth is expected to be three times.