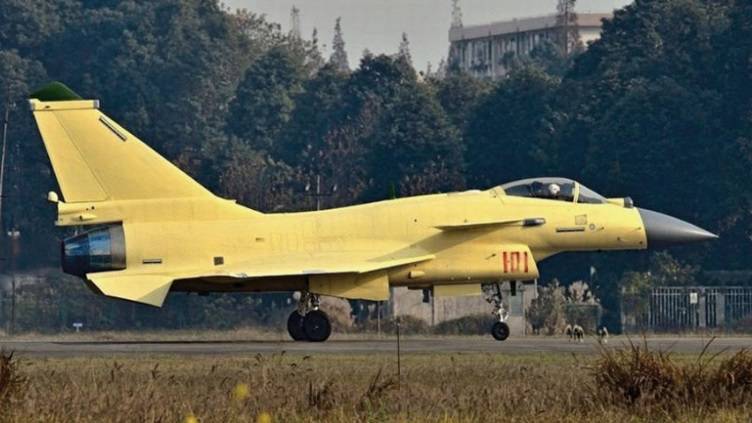 China concludes 2013 with two major military programs
aviation
- The start of mass production of J-10B fighters from Chengdu Aircraft Corporation and the first flight of the second prototype of the Xian Aircraft Corporation's heavy transport aircraft Y-20, janes.com reports December 22.
In early December, photos of two J-10B fighter jets with 101 and 103 board numbers appeared on the Chinese Internet. In July, 2013, the image of the assembly line of these aircraft, which probably indicates the beginning of mass production. The first prototype aircraft first appeared in March 2009. It is reported that the company has released more than 250 single and double fighters of this type (respectively J-10A and J-10S) for the Air Force and PLA Navy.
The main differences of the new version of the J-10A / S are the new air intake with an air intake regulator, which reduces the weight and radar signature, the oversized nose cone where the NRIET active radar and the optical-electronic sensor in front of the cabin are located Also, a missile attack warning system or EW system is installed on the top of the keel.
The J-10B will have the same range of weapons as the basic options, as well as the double pylons for Luoyang's PL-12 air suspension. A more powerful radar with AFAR can allow the use of long-range air-to-air missiles and CM-400AKG missiles from CASIC with near-sonic flight speed to engage ground and sea targets.
However, the new J-10B still uses the AL-31F engines of the Russian company Saturn. A prototype of the new version of the engine WS-10A company Shenyang-Liming appeared at the beginning of 2011 year, but a limited number of these turbofans may mean that they will be primarily equipped with fighters J-11B and J-15 of Shenyang Aircraft Corporation.
The second prototype of the Y-20 took off for the first time on December 16 (the first is January 26 of the year 2013). The video shows that the second car has no external differences from the first car. The second sample is also equipped with D-30KP engines with a Russian-made 12 t. At present, China is developing at least three types of turbofan jet engines, one of which is WS-20 (based on WS-10A) with 13 tonnage, which can be installed on production machines. Equipped with these engines, the aircraft will be able to fully realize its potential to achieve a payload of more than 60 tons.
The information release of the Hubei City TV company says that the PLA may adopt the first production Y-20 aircraft in the 2017 year. The report also alleges that China has begun negotiations on the export supply of Y-20 to an unnamed foreign customer.