The capture of Izmail's fortress by Russian troops was of decisive importance during the Russian-Turkish war of the 1787-1791. The fortress was the most important strategic point of the Turks on the Danube.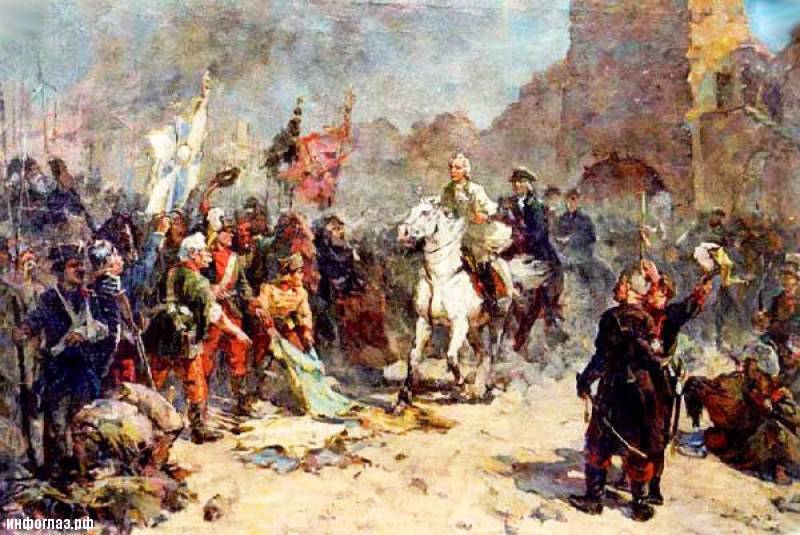 Ishmael was the fortification of the most perfect fortification, on the one hand protected by the deep Danube, and from the rest by a deep 12-meter ditch, sometimes flooded with water deeper than human growth. Inside the fortress there were many stone buildings, ideally suited for the effective conduct of a long defense. The garrison of the fortress consisted of 35000 soldiers and officers and 265 artillery units. In short, Ishmael was a practically impregnable fortress, capable of withstanding a long and intense siege and a massive assault by the enemy, many times surpassing its garrison in numbers.
The siege of Ishmael by Russian troops began in November 1790. At the very beginning of the siege, two attempts were made to take the Turkish stronghold, but they failed. Subsequently, the commander-in-chief of the Russian army on the Danube, Field Marshal Gen. A. A. Potemkin instructed Ismail to capture the invincible A. V. Suvorov.
On the eve of the assault, Ismail Suvorov sent an ultimatum about surrender to the commandant of the fortress, to which the following reply was received: "The sky will fall to the ground, and the Danube will flow upwards rather than Izmail surrender." Russian troops had to refute this self-confident assumption of the commandant of the fortress.
On December 24, 1790, Russian troops led by Suvorov marched to storm Ishmael. Nine infantry columns, united in three assault wings, advanced to the fortress from different sides. A river approached the shore of Ishmael
flotilla
and, under cover of artillery fire, landed an assault. A fierce battle lasted only about 9 hours. Turkish resistance was stubborn, but Ishmael fell. The loss of the enemy amounted to about 26000 killed. 9000 Turks were captured. As a trophy, Suvorov got all 265 guns that were in the fortress, as well as 42 ships. The total number of Russian losses is 4582 people.
The brilliant capture of Ishmael by Russian troops predetermined the conclusion of the Yassy peace in 1792, according to the terms of which Russia acquired the Crimea and the entire northern Black Sea coast from the Dniester in the west to the Kuban in the east.