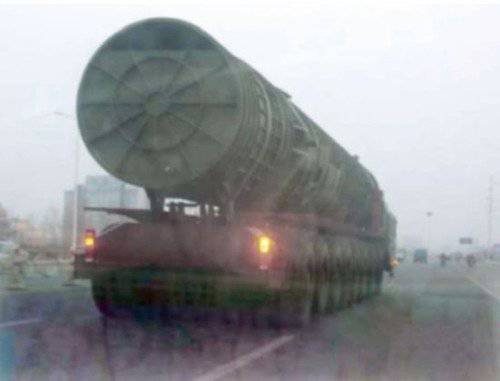 Back in 2001, the American media hinted that China was developing a long-range missile in the rail-based version, mil.news.sina.com.cn. And now there is information about the possible test launch of the first complex already in 2014 year.
According to its purpose and technical performance, the new Chinese complex will meet the Russian intercontinental three-stage ballistic missile RS-22 (NATO code name - "Scalpel") developed at the beginning of 80's by the cooperation of enterprises, the head of which was the design bureau Yuzhnoye under the direction of V.F. Utkin.
According to media reports, in 2013, China tested the DF-31 ICBM and its upgraded version DF-31A, the sea-based ICBM JL-2, and also performed the second launch of the new type of ICF DF-41 (see photo) with 11000-12000 flight range km (missile allegedly can be equipped with 10 nuclear warheads of individual guidance). China has never officially confirmed the existence of DF-41, but this did not prevent the foreign media from speculating on this topic.
In 2012, the British military weekly Jaynes announced that the DF-41 missiles could easily be installed in the launch shafts of outdated ICBMs of the DF-5 and DF-5A types. The NASA Research Center of the US National Aerospace Agency estimates that in the next 15 years, the number of warheads on land-based Chinese ICBMs may reach more than 100 units. But this is probably too low estimates. American military expert Richard Fisher believes that if each DF-41 launcher has a spare missile, the total number of warheads only on this type of ICBM can reach 120-140 units in the near future. The analyst also believes that China will build five SSBNs Type 096 with 12 SLBMs JL-2 each (three warheads on a rocket, a total of 180 warheads).
Russia is also developing its strategic missile forces. Given the growth in the power of the US missile defense system, this country began developing maneuvering nuclear warheads (according to US MARV terminology, maneuverable re-entry vehicle) for its ICBMs, a Chinese website reports.