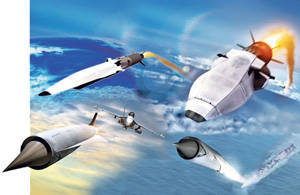 The US program of a "lightning global disarming strike" is directed exclusively against terrorists, the Pentagon is crucified through the Western media, in remote reservations of the world, to which the arms are short to reach out to the American special forces. Intercontinental missiles, but with non-nuclear warheads, will shoot at the bandits entrenched in caves and dugouts. No, appreciate all the audacity of this brilliant strategy! And this is in addition to the missile defense system near the borders of Russia, which is directed exclusively against Iranian "flies"!
"We not only know that it exists, but is also actively developing," said our commander-in-chief, Vladimir Putin, and added that relevant response measures are being worked out. But did not say what.
We will open this military secret, according to reliable sources. The world community was recently agitated by rumors in the German press, also from reliable sources, about Iskander missiles allegedly stationed in the Kaliningrad region. Where are they looking? So, they cannot, in principle, threaten either Poland or the "Europe" at all, since they are aimed at repelling the terrorist threat from the Baltic Sea. Sea terrorists can always appear in international waters, recently the pirates from Estonia even seized a peaceful ship.
There are analysts who argue that this strategy is called "to include the" fool ", but, let's note, not our analysts have invented it, and are actively introducing them into the global political space. From the Russian side, this is just an adequate response.
In general, the vocabulary used by the West says that European democracy under the leadership of the hegemon of "human rights" is moving towards fascism. Again they dream of a "blitzkrieg", like Adolf Hitler is a "blitzkrieg". Here one question arises, as they say, "without fools": do they specifically hint at the European integrator Adolf, or do their train of thought naturally coincide with the fascist one?
In any case, the lies and hypocrisy of "Europe" have already reached Goebbels's scope. Attackers with chains and fittings from "State Department man" Victoria Nuland are "peaceful demonstrators", the main EU diplomat Catherine Ashton has enough conscience to "associate" Ukraine for "European democratic values ​​and modernization" —the European colononists once bought America for glass beads have "friendly indians."
The neo-Nazi worker is involved in the "democratic process" of Euromaidan, and they meet him, he is blessed "for the cause" by Senator J. McCain and other pillars of democratic values. Don't they know who they are dealing with? And this fake democracy still talks about the "human rights" of a homosexual and transgender person?
They know and rely on neo-Nazis, and openly form and incite puppet "fifth columns", posing as "people." There really is a people there, so fooled by propaganda that it speaks only in disjointed remarks, like "we want to travel around Europe."
The "Ukrainian Question" showed that the real ideology of "Europe" is to divide the continent into "Europeans" and "non-Europeans". A derogatory, offensive tone taken by "Europe" suggests that she considers the latter to be non-European, as it were, lagging behind in their cultural development from "Europe", which therefore should be taught, "modernized" as they see fit. And they consider the "normal" expansion of their "moral values".
European Parliament President Martin Schulz quite seriously states that they want from Russia "a movement towards Western parliamentary democracy and respect for all human rights." That is, they deny Russian democracy even the right to exist: democracy can only be Western! And everything else - authoritarianism. Incidentally, this is the only rationale for Russian "authoritarianism": Russia outrageously rejects "Western values" and "human rights" in full, including their recent homosexual achievements.
... Do not forget that Adolf Hitler came to power at the time of a democratic way, and in one of the most cultural countries in Western Europe. And he also justified his blitzkriegs with European "moral and cultural values." And he defended the rights of his politically close minorities abroad in order to profit by a majority.