After the publication of various notes on the incomes of citizens of the Russian Federation in many branches of discussions, readers are concerned with topics such as income growth and gasoline prices. I immediately recall the cries of the creative class, and simply dissatisfied citizens, that, say,
"Salaries are rising, but prices too!"
In such a situation, the conversation from the constructive channel usually immediately flows into the usual demagogy about who bought the bread or cucumbers for how much in 1999 and in 2012.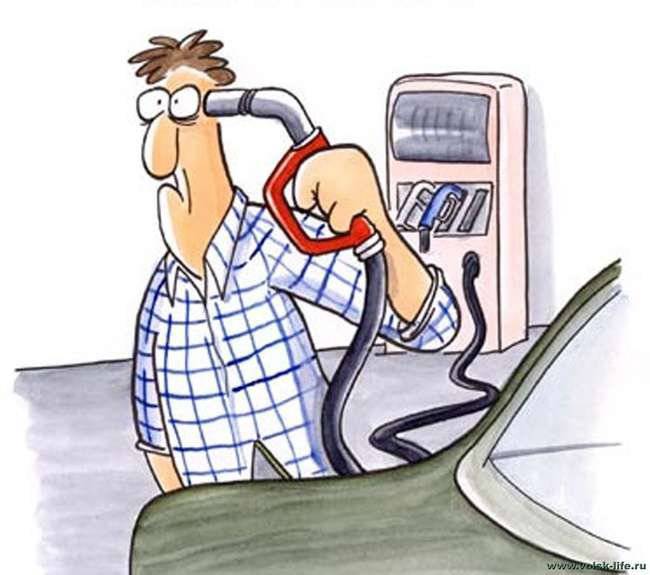 By simple mathematical calculations, we will try to find out if our incomes have increased with you at all, and if they have grown, then by how much or how much in physical terms. Namely, we will try to calculate how many liters of petrol citizens could buy for their incomes from 1999 to 2012.
Why gasoline? In my opinion, this is one of the most burning topics among citizens who have the right to drive a vehicle. Honestly, the price of gasoline is changing and very unstable, as it affects only the government's desire to replenish its budget in the form of additional taxes on gasoline sales at gas stations, but also such frequently changing parameters as oil prices, demand, the amount of gasoline produced per year, the cost of processing, transportation, maintenance of gas stations, the margin of the wholesale and retail market. But the fact that the price of gasoline is increasing every year (data for
1999
,
2000
,
2001-2011
and for
2012
) and, sometimes, grows unevenly - an indisputable fact.
But as I wrote above, there is an opinion that
revenues still grow
that confirms the table below. With 2000 in Russia, there has been a rapid and continuous growth in nominal incomes of the population. Per capita income in 2012 year increased by 2000 compared to 10 year. As of April 2013, the average Russian income has reached 28800 rubles, which is absolutely unbelievable for the dashing ninetieth.
Regarding per capita incomes, some people have a certain opinion that, they say, this is not an indicator. As proof of this, they cite as an example one millionaire with an income of 2000000 per month and a hundred people receiving 8000 rubles.
Well, the argument at first glance is fair, but given the fact that the average salary is calculated in the form of 2-NDFL, that is, the official salary, with which the income tax is paid, then this example is frankly by. Moreover, you can see
distribution of employees by salary
from Goskomstat.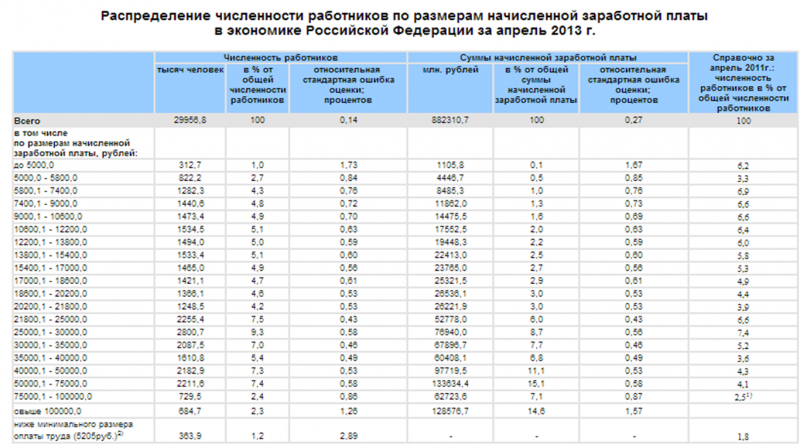 And what do we see? In 2013, the proportion of workers who had a salary below the minimum wage (5205 rubles) was 1,2% versus 1,8% in 2011.
The proportion of workers whose salary accrued exceeded 25 thousand rubles, the average for the economy increased from 27% in April 2011 to 41% in April 2013. The largest share of workers whose wages amounted to more than 25 thousand rubles, was noted in mining organizations - 75%, in financial activities - 68%, in research and development - 65%, in transport - 58% and in construction - 56%.
There is also such an indicator as
median of a row
the distribution of workers according to the size of wages (50% of workers have a wage less than this value and 50% of workers - more) - 21268 rubles. The average wage of workers in the Russian Federation for April is 2013. exceeded the median wage by 38%. From the link above, you can read the entire article on citizens' incomes, especially I advise those who will try to catch the author, that is, me, in hiding important facts to achieve the picture I need, because many have the idea that the article is custom or I am nashist / Air defense / kremlebot member - underline as necessary.
Well, to close the topic
"AVERAGE SALARY IS NOT AN INDICATOR",
let's see the dynamics by year.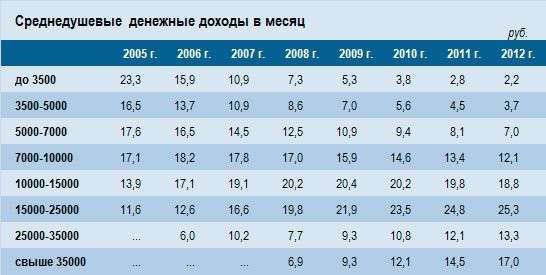 That is, 78% of the working population has incomes higher than or equal to 10 thousand rubles, of which half have incomes higher than or equal to 25 thousand rubles. Who wants, can count in millions of people.
In addition, we can say that gray salaries are not taken into account here, and let's admit that many of us received salaries in envelopes, the amount of which was about two times higher than the one under which we signed, or which is indicated in your employer's declaration. Unfortunately, this practice still exists, although it is much less common than at the beginning of the 2000s.
From the above, we can conclude that the average per capita income of the population -
quite a fair figure.
But I think that this will not be enough for people who are sure that this is all wrong and wrong. Therefore, I propose to start to get on the Internet to the job search site and see how much they offer for this or that
skilled
work.
Well, now let's move on to our calculations. So, we have the average per capita income of the population by year and the price of gasoline in the corresponding period. Let's translate per capita incomes into liters of gasoline in accordance with the prices of those years. Ahead of events, I will say that another article is being prepared for publication on pensions. There we will take into account such an item of expenditure as
nutrition
.
And here we get a graph of the growth of income, expressed in physical units, that is, in liters of gasoline AI-92 "Regular".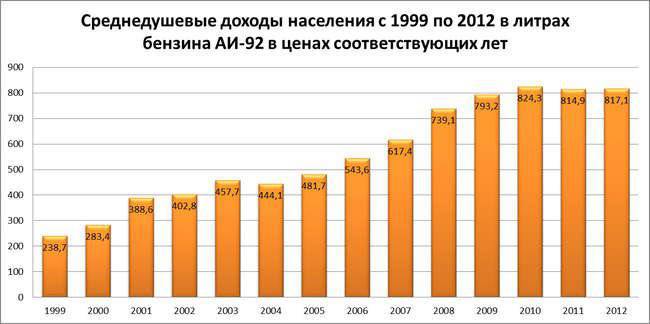 As we can see, the most gasoline we could buy in 2010, as many as 824 liters, against 238,7 liters in 1999. In 2012, we could buy less liters in 7 than in 2010, but 3,5 times more than in 1999. Actually, a lot or a little, let everyone judge for himself. My goal was to provide objective information about the growth of income and the rise in gasoline prices.
By the way, you can drive 817 11 kilometers on our Lada Grant to 200 liters of gasoline, which corresponds to the distance from Kaliningrad to Vladivostok plus another 1000 km.
As I have already said, the price of gasoline depends on a bunch of factors, and, as a natural unit, gasoline does not suit us very well. The dollar against the ruble over this period remained almost unchanged, while ruble inflation amounted to hundreds of percent. Thus, imported goods (computers, cars, trips abroad) have become much more affordable for Russians, it is enough to recalculate per capita income not in liters of gasoline, but in Tefal prices, the difference will be 10 times, while domestic goods ( products, real estate, services) have become more accessible "just" in 2-3 times, as our schedule shows.
Thus, now you can safely say that the real incomes of the population of the Russian Federation from 1999 to 2012. increased at least 5 times, or even more.
Conclusions.1) Per capita incomes are quite an objective indicator.

2) From 1999 to 2012. population income in liters of AI-92 gasoline increased 3,5 times.

3) The nominal growth of average income was approximately 13-14 times.