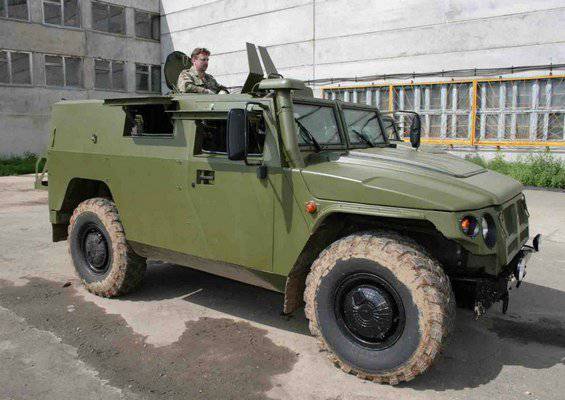 The situation with the refusal of India from the licensed production of infantry combat vehicles BMP-3, drew attention to the situation with armored Tiger.
So back in 2005, by the Bin Jabr Group (an Arab company producing a licensed copy of an armored car Tiger called Nimr) and an Indian Vectra Group. It was announced about the signing of an agreement on the establishment of a joint production of cars in India.
The Arabic version of the Tigr armored personnel carrier did not go into the series, although it was announced about the possible release of the 500 order of armored vehicles for the needs of the internal security forces and the ground forces of India.
But in the future, this decision opened up the possibility for the delivery of Russian SPM-1 "Tiger" armored vehicles with the wheel formula 4х4 to India. India's huge market and perennial
история
cooperation of the two countries, opened up bright prospects in Asia for the Arzamas engineering plant, which is engaged in the release of these armored vehicles.
So in 2008, an agreement was signed on the delivery to India of two Tiger armored vehicles in various designs for testing. The agreement was signed all with the same company Vectra Group. The Vectra Group company unites 18 companies that are engaged in various types of business in the Indian market, in Eastern Europe and other countries of the world. The main business areas of the company:
aviation
(in particular, the sale of helicopters), truck production, real estate, information technology, security systems, the oil industry.
The interest in the Tigr fighting vehicles was shown by units from the police, border guards and amphibious units. According to available information, in the case of successful tests already in 2009 year, it was planned to establish joint production in the number of 300 vehicles per year in India.
The armored cars "Tigr" differed from the base model primarily by the right-hand drive and single-door aft door and the installation of a special protective shield for the machine gunner on the roof, an automatic transmission and the installation of an air conditioner.
But further deliveries of experienced machines did not get. The tests showed the compliance of the armored vehicles with the tasks and demonstrated the high endurance and mobility of the Tiger combat vehicles, however, due to the complex decision-making system in the Indian Ministry of Defense, the contract was again frozen.