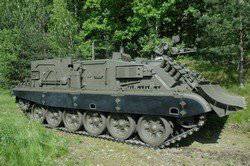 The Polish company Bumar has signed a contract with the Indian company Belm Limited for the supply of 204 tracked armored repair and recovery vehicles WZT-3.
The Bumar Group has a high level of cooperation with Indian partners, and for her this is the fourth contract for the supply of armored vehicles with Belm Limited. Polish has already delivered a batch of 352 machines from WZT-3 to India.
Belm Company Limited is part of the public sector group of companies that are controlled by the Ministry of Defense of India. It was founded in 1964, and 61% of its shares belong to the Ministry of National Defense. Belm Limited in October 2011 was selected by the Indian Ministry of Defense as the main supplier of machines WZT-3.
The market in India is strategic for Bumar, which once again underlines the importance of the signed contract. The signed agreement, in addition to supplying 204 units with WZT-3, will also include a technical support package, final assembly, testing and technical assistance, which aims to assist Belm in the development of individual components. This is called the process of industrialization, that is, increasing the share of local production. The contractor will be Belm Limited.
The level of industrialization is crucial to the value of the contract, which directly goes to Bumar. The final value of the contract will depend on the size of the transferred technology and the degree of participation of the Indian industry, local governments in the implementation of the contract. The total cost of supply for the Indian Army will reach 275 million. Indian components are planned to attract 35%.
This is a practical example of the approach that benefits both the Polish side and the Indian side.
The main contractor that will ensure the production of the first batch of WZT-8 3 units in the first quarter of 2012 is Zakłady Mechaniczne Bumar-Łabędy. It is located in Gliwice, and a deep restructuring was carried out at the plant to fulfill the contract. This applies to both the economic, technical and production areas.
The contract will be executed in batches in accordance with the approved schedule and is scheduled for completion at the end of 2014.
Along with the signing of the supply contract for the WZT-3, an agreement was also signed on technical cooperation and research to improve the Indian chassis
tank
Arjun, for which components developed by the Indian industry for installation on the WZT-3 may be suitable.