Diamondback Firearms presented a pistol version of the DB15 carbine. New pistol assigned the designation DB15 Pistol. New Compact Rifle
weapon
will be offered in several configurations and finishes. In some US stores, these weapons are already available.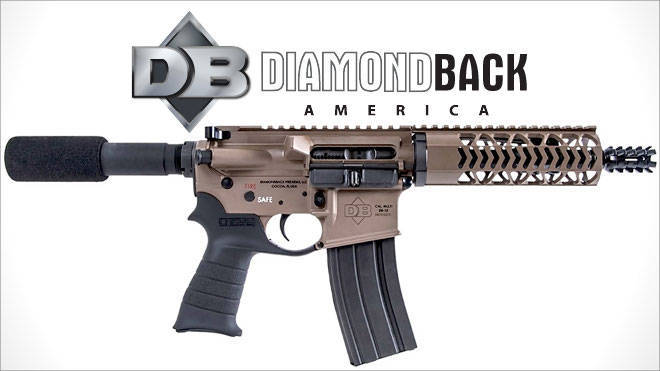 The DB15 pistol is a significantly shortened version of the DB15 carbine, which in turn was based on the AR-15. The DB15 pistol, like its progenitor, can be loaded with the .223 Remington and 5.56 NATO cartridge.
A new pistol will be offered with a barrel length 267 or 190 mm. Chromium steel 4140 (38XMA - domestic analogue) is used for their manufacture. Cutting pitch - 228,6 mm. To maximize the length of the gun he had reduced the length of the buffer tube (in which the return spring was placed) by 127 mm.
Receiver gun box made of aluminum brand T7075 6-stamping. The forend has lower and upper rails and air vents along the entire length, which contributes to better heat dissipation. The barrel is equipped with a serrated flame arrester designed by the Diamondback Firearms. According to the developers, it is more effective in reducing the flame produced during firing.
The accessories include the Magpul MOE pistol grip, featuring ergonomic coverage, the thirty Magpul PMAG magazine and the buffer tube, which is decorated with spongy rubber. Dual action trigger.
The DB15 is not completed with sights, however, it allows the holder to optionally equip the pistol with additional sighting equipment, which is mounted on the mounting plates. This approach reduces the cost of weapons and allows the owner of their own to decide what is best for him.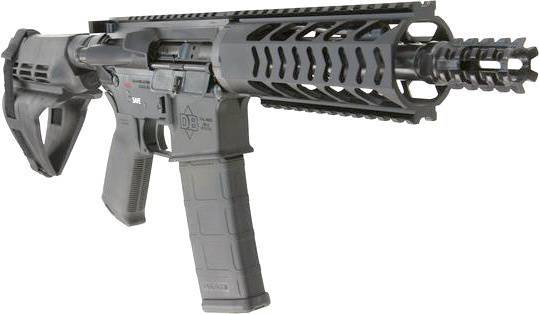 Today, the DB15 pistol is available in three colors: flat dark earth, olive and black. All DB15 are coated Cerakote.
The final product - an attractive and relatively easy access to small arms.
The retail price of a DB15 pistol in the United States is 900-1000 dollars, which makes this weapon quite competitive, especially given the excellent workmanship. In addition, some vendors offer DB15 complete with a SIG Sauer AR (stabilizing bracelet).
On the market, the DB15 pistol is positioned as the most tightly loaded AR version and weapon for entertaining shooting at the shooting range and home defense.
Based on:
http://www.guns.com/2013/12/11/introducing-diamondback-firearms-db15-pistol
http://www.guns.yfa1.ru/kompaniya-diamondback-firearms-predstavila-pistolet-db15.html