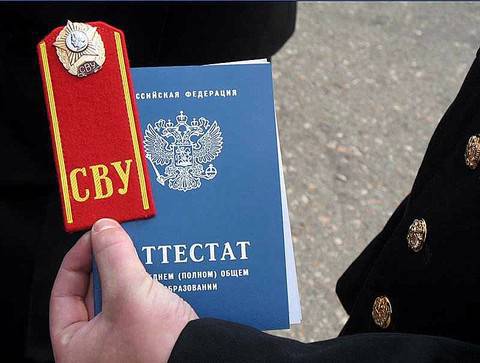 On Thursday, December 12, Presidential Envoy to the Volga Federal District, Mikhail Babich announced the creation of the first in Russia Suvorov Military Scientific School. He said this at the Ministry of Defense at the ceremony of signing an agreement on sponsorship of the military department of Tatarstan, Bashkiria and Udmurtia.
According to him, the Minister of Defense supported the initiative to create another Suvorov school in the Volga district, in addition to the already three existing cadet corps. "An order was signed to create a joint working group of the Ministry of Defense and plenipotentiary representative for the establishment of the first Russian military scientific school in Suvorov," Babich said.
He recalled that historically there is a network of Suvorov and Nakhimov schools in Russia, ITAR-TASS reports. "We took into account the positive experience in creating the first scientific company," the plenipotentiary noted. According to him, "this experience concerns the attraction of very talented young people who manifest themselves in new scientific developments in the interests of the Ministry of Defense."
According to him, the Suvorov Military Scientific School will recruit gifted, talented children with the prospect of their studies in universities. "We are creating a good base for training military-scientific specialists who will work in the interests of the Ministry of Defense and the defense industry of the country," concluded Babic.