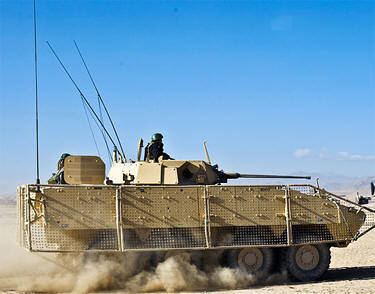 The American division of QinetiQ North America (QNA) of the British company QinetiQ has contracted to supply its textile Q-Net armor, which increases protection against RPG grenade launchers, for hanging it on board the off-road M-ATV mine and ambush defense vehicles USA.
Under a contract worth 18,3 million, the company will upgrade the RPG protection on the newly acquired M-ATV army, replacing them with the original additional protection kit that was produced and delivered from 2009 to 2011 for more than 7500 machines.
Executive Vice President and General Manager of QinetiQ North America Technology Solutions, Andy Rogers, said that Q-Net provides easy, easy-to-install, excellent protection against RPG attacks.
"The US military continues to demonstrate its confidence in both M-ATV and Q-Net, and we are proud to provide our fighters with this important RPG protection system," said Rogers.
Easily adaptable to various platforms, Q-Net is an ultra-light and affordable set of additional reservations designed to protect military armored vehicles against RPG attacks on the battlefield.
Able to withstand multiple hits, the system is similar in characteristics to other additional armor systems, such as lattice armor, but cheaper than them, and also 50-60% lighter, which allows it to be installed on lightweight machines that cannot be carried on steel lattice armor For example, HMMWV.
Machines protected by Q-Net, including the Hummers, RG-31, M-ATV, can perform their standard functions for which they were designed, without overloading overweight, which leads to a high risk of overturning, wear and tear of all-machine systems and excessive fuel consumption.
The Q-Net system has been widely used by the US military in Iraq and Afghanistan over the past few years. Manufactured by the American company Oshkosh, the M-ATV has the high survivability and off-road mobility necessary for these harsh conditions.