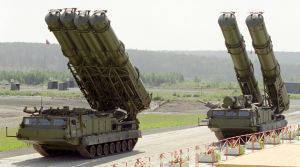 Iran insists on Russia's fulfillment of its obligations to supply C-300 anti-aircraft missile systems, said Iranian Foreign Minister Javad Zarif.
"We still insist on the fulfillment of our previous agreements. Our negotiations continue and will continue between various high-ranking officials of the two countries," Zarif said at a press conference in Tehran after negotiations with Russian Foreign Minister Sergei Lavrov.
"We hope that, on the basis of good and warm relations between the two countries and in view of existing promising cooperation projects, the parties will be able to resolve this issue," he said, answering the Interfax question, whether Iran would agree to supply the Antey-2500 complexes "instead of C-300.
Recall that Moscow and Tehran signed a contract for the supply of Iran S-300 in 2007. However, Russia later refused supplies, since the complexes fell under international sanctions against Iran on restrictions on the supply of conventional weapons, including missiles and missile systems,
Tanks
, attack helicopters, combat aircraft, ships.