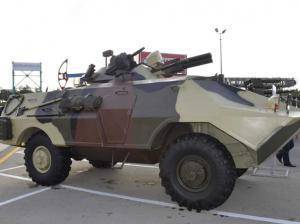 Baku. Rashad Suleymanov - APA. Testing of the first experimental model of the Armored reconnaissance fighting vehicle (BRBM), created by scientists and engineers of the Ministry of Defense Industry of Azerbaijan, began.
According to information received by APA from military sources, the purpose of the tests is to check the combat capabilities of the new military equipment. In accordance with the test results, the BRBM will be improved.
Earlier during the testing of the movement, the car showed high maneuverability and throughput.
Note that the BRBM was first presented to the public in September. It differs from the Soviet-made BRDM-2 in its external design, level of protection, armament and combat capabilities.
BRBM is equipped with strong anti-mine protection, and side armor protects against shells, improvised explosives and bullets. The bottom of the machine is made in a v-shape to provide the best mine protection. The double hull armor is able to protect the crew even from B-32 type armor-piercing bullets. At the request of the customer, the machine can be enhanced with additional armor. Another feature of the machine is that it does not roll over from the explosion.
Machine control system is automated.