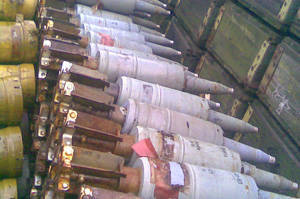 The Russian defense ministry will build nine arsenals in 2014 with a fundamentally new system of storing missiles and ammunition. This was announced by the Deputy Minister of Defense of the Russian Federation, General of the Army Dmitry Bulgakov, after checking the progress of construction of modern arsenals in the territory of the Western Military District.
"The formation of a fundamentally new storage system for missiles and ammunition, providing the necessary level of fire and explosion safety, has been allocated 25 billion rubles today in accordance with the departmental target program" Improving the infrastructure for storing and operating missiles, ammunition and explosive materials for 2012 – 2014 years ", - said he. In total, over the 500 ammunition and missile storage facilities will be built in Russia as part of the state program to improve the storage system for missiles and ammunition. The preliminary cost of building 15 prospective arsenals for the Ministry of Defense is estimated at about 90 billion rubles. These objects must be built to 1 January 2015 of the year.
Prospective arsenals are modernized warehouses for the storage of missiles and ammunition. In such arsenals there is no open storage area. The staff is increased by 30 percent. The commander is a colonel, while the warehouse is commanded by a major The prospective arsenal will be equipped with four lines of security, the new perimeter fence is equipped with video cameras with motion sensors, presence and intelligent control with output to a single remote control. The program, according to the military, will cover one hundred percent of the stockpiles of missiles, ammunition and explosive materials in concrete and prefabricated repositories of new construction and overhauled, ensure the safe operation of the storage and operation of stocks of missiles, ammunition and explosive materials in accordance with the established requirements.
These measures will also eliminate overload at all storage facilities, create conditions that minimize the possibility of carrying out terrorist acts and theft of stocks on them, and qualitatively improve the environmental situation, primarily by improving technical equipment.
According to Bulgakov, the implementation of this set of measures will make it possible to create a system for storing missiles, ammunition and explosive materials that meets high international standards. The departmental targeted program to improve the infrastructure for storing and operating missiles, ammunition and explosives was developed after a series of explosions at warehouses and military sites of the Ministry of Defense in 2010 – 2012. Then, in three years, about two dozen emergencies occurred that caused the death and injury of servicemen. Most of the incidents are not connected with the storage of explosives in arsenals, but with their disposal at military sites.