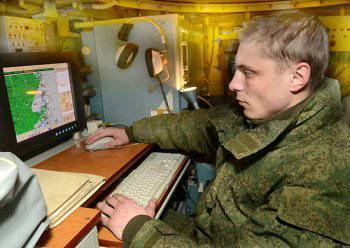 The Radioelectronic Technologies Concern (KRET) of the State Corporation Rostec has begun supplying the Moscow-1 ground-based electronic warfare systems for the Ministry of Defense. The latest complex, using modern digital technologies, allows in the passive radar mode to scan airspace, to detect and transmit enemy data to other electronic warfare systems, as well as air defense systems and
aviation
, controlling them to neutralize and destroy the enemy. In total, over the next three years it is planned to put more than 10 Moscow-1 units into service with the RF Armed Forces. The cost of a long-term contract exceeds 3,5 billion rubles.
"Over the past two years, KRET enterprises have begun supplying seven new types of radar reconnaissance, protection and suppression complexes for the needs of the Russian Armed Forces," said Nikolai Kolesov, CRET General Director. - "Moscow-1" is one of the most significant in this list, as it allows you to effectively track targets, and is also a "think tank" for air defense systems and other EW systems. We manufacture Moscow-1 as part of a long-term contract with the Ministry of Defense. The first complexes have already begun to flow into the Armed Forces of the Russian Federation. "
In total, within the framework of the existing contract of the Concern with the Ministry of Defense, by the year 2016 more than 10 of such EW systems will be received by the Russian army. In addition, Moscow-1 has a serious export potential. The complex is of great interest to traditional customers of KRET products in the CIS countries, Asia, Africa, and Latin America.
The ground-based complex "Moscow-1", developed and created by KRET, is intended for conducting radio-technical reconnaissance, controlling radio interference and radio-electronic suppression (REB) facilities. The system allows you to scan the airspace and detect enemy-equipped equipment and projectiles in passive radar mode, that is, pick up their own radio emission, and then transmit the data to other means or EW, air defense and aviation systems to neutralize and destroy targets. Moscow-1 can simultaneously set tasks for nine EW-controlled systems and air defense systems.
The complex "Moscow-1" includes the 1Л265Э reconnaissance module and the control station of the jamming stations of the air-based radar 1Л266Э, which are mounted on three KAMAZ vehicles. The complex is able to "see" at a distance of 400 km, it works effectively at temperatures from -40 to + 50 degrees Celsius, and its radius of action covers 360 degrees. At the same time, the combat crew "Moscow-1" is only 4 man, the time it takes to deploy 45 minutes.
The complex is manufactured at several Concern enterprises, including the Kvant Scientific Production Association in Veliky Novgorod.