The sharp turn, and at the last moment, of Ukraine's European integration policy at the Vilnius Summit is an unprecedented event in world politics. What should have happened to Yanukovych, who until then had only said that about Euro-association, pushing it in the South-East of Ukraine by hook or by crook, suddenly grieved Europe and its Euro-Ukrainians?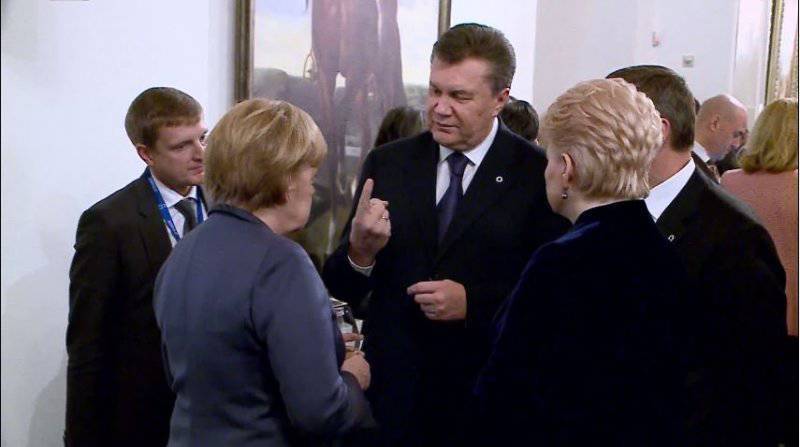 Let us analyze the open official press (they say that 90% of information is taken from it by the CIA-KGB analysts), since insider information, although interesting, may be a provocation. We take a closer look at its dry lines.
Here, President Putin, at a press conference (!), Says, if you think about it, very scary things: "... European dreams are good, but not everyone will reach them ... the text of the agreement on the Euro-Association of Ukraine is very tough". What's this? And how many "will not make it", and who will it be?
Yanukovych also called the agreement on the Euro-Association of Ukraine before flying to Vilnius a "noose", and this is indeed a noose, primarily for the industry of Ukraine. The Euro-association will not even lead to the degradation of the Ukrainian economy stretched in time, but to its rapid destruction by "European regulations". All non-EU experts speak about this (the latter wrote it).
There is no time for adaptation to the economy or the population of Ukraine by the agreement on Euro-Association, and no money is allocated, as in other similar cases, at least with the same Baltic. One billion dollars over 7 years is just a mockery, as Prime Minister Azarov said. An agreement in this form does not bring European prosperity closer.
The European Union, and the main customer of the European association - the United States, brazenly lies that their goal is to help Ukraine with the "European choice." The United States cannot be trusted in such geopolitical matters - they have repeatedly proved this, and the European Union is just a tool of the United States. Western democracy-demagoguery covers up its old policy of "divide and rule".
Already in the short term, a social catastrophe is almost inevitable in the South-East of Ukraine. Putin had her in mind when he said that "not everyone will reach out," Yanukovych was scared of her, after all he is from Donbass. Therefore, by the way, the South-East of Ukraine "is silent". Production has fallen so far only by 6%. This is bad, but not yet critical. The industrial complex of Ukraine is still working, so people in factories and plants still believe the government, are afraid to destabilize themselves.
Galicia, by the way, will suffer much less, because there is practically no industry there, zapadentsy or work as migrant workers, either in agriculture or at rallies. True, subsidies from the East of Ukraine will cease, but you see, they are compensated with grants. After all, Euromaidan has so avenged Yanukovych for Vilnius!
Although Yanukovych is still not against the "European choice," he realized before Vilnius that the European Union and the United States need only territory, a springboard from him. In a sense, Yanukovych is the Ukrainian equivalent of Yeltsin. From behind Yeltsin, the European Gaidar and his team ruled, because of Yanukovich's back, the European integrators Lyovochkin-Firtashi, and he rested on the laurels of the "all-Ukrainian leader" and dreamed of becoming "European."
However, like Yeltsin, Yanukovych, someone enlightened at the last moment what fate awaits a Euro-associated Ukraine and his own. (Yeltsin also put Putin at the head of the country at the last moment, and he also laid a sharp political turn.)
If it were at least a colonial agreement, Yanukovych would probably have survived such humiliation from the European Union.
In the end, all the countries of Young Europeans are colonies of Brussels, and the European Union itself is a US semi-colony. The hunt for Snowden has demonstrated this in all its glory. But with the Euro-Association, the United States decided to "blow up" Ukraine, taking advantage of its smoldering schisms. We see now how the Euro-Association already splits Ukraine, and how many fragments there will be - it is impossible to predict, but for the customer it does not matter.
States, it is important that this social explosion will occur at the borders of Russia, and therefore represents a real danger to it. This is their old dream - to create a zone of "controlled chaos" at the borders of Russia, in other words, a "hot spot", and try to set fire to their strategic competitor, which prevents them from creating a unipolar American world. It will not be possible to set fire - so weaken.
Therefore, Putin is concerned, and at a press conference (!), As a political analyst, frankly speaks of "pogroms" in Kiev, the ordered nature of these events, from outside, which were being prepared for 2015 year. Our notebook political scientists speak much more diplomatically!
This is an unequivocal warning to Obama, sharply, that he is playing with fire ... With this, he is already politically helping Yanukovych, despite his "European choice", and will help him further, based on Russia's strategic interests: she does not need a "hot spot" its borders.
The last rallies of the Party of Regions are held under the slogan: "Build Europe in Ukraine." In general, the correct slogan, finally came to their senses. Many will agree with him, regardless of how they relate to President Yanukovych. Still, it is better to build in Ukraine than to destroy it for the sake of a friendly pat on the shoulder of euro-associates. Russian-Ukrainians will agree with him, there are considerably more of them than Euro-Ukrainians.