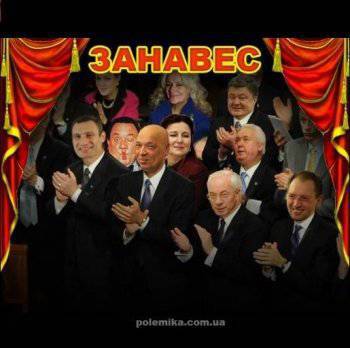 Finally, the main intrigue finally became clear: what the West really thinks about Yulia Tymoshenko and whether she intends to cooperate with her as a hypothetical future president of Ukraine. The final answer is no. The baton instead of the United States, with their muddy and dirty hints, was picked up by Germany today, with a Teutonic straightforwardness that explained to all Ukrainians — the next president in case of Maidan's victory will be a boxer. This new diplomatic puncture, among other things, does not just straight off divide the opposition into three main rival camps (lucky Vitalik, losers Yatsenyuk with Tymoshenko and offended renegade neo-Nazi Tyagnybok), but also provokes an open confrontation between them.
Another intrigue - whether the Maidan will be dispersed or not dispersed - is not so fundamental: it is much more important whether the West succeeds in reaching an agreement with Yanukovych. Maidan has no direct relation to this process, remaining only a poorly controlled irritant. It's hard to call the Ukrainian president a civilized politician of the new type, but irresponsible viewers seem to be deliberately conducting an online experiment, observing how frustrated Yanudo's miracle can become. Smart trainers do not put their fingers into the mouth of a predator - wild, unfamiliar and unpredictable. And the fact that Yanukovych is unpredictable, was perfectly illustrated by the angry, surprised, lean, disappointed faces of European November 28-29 officials. The subsequent unanimous "Atu it!", Abandoned by Angela Merkel, Victoria Nuland, Catherine Ashton, José Manuel Barroso from the world diplomatic Olympus in an instant expelled by centuries the etiquette. But, as was to be expected, as a result, foreigners were spanked with a boomerang on the forehead - in Kozhara's more diplomatic comment: "To date, the possibilities for dialogue have not yet been exhausted. If such opportunities are exhausted, then perhaps Ukraine will take advantage of some proposals. "
Today, European politicians recalled civilized diplomatic rhetoric. Top speakers spoke about "restoring trust between Ukraine and the EU", "reconciliation" and "consensus", a round table of the opposition and the authorities, readiness to return to dialogue in matters of the economic situation. "We must restore confidence. We are open for negotiations, but we would also like to see specifics from the Ukrainian side. Now is the time for reconciliation, to show readiness to continue the dialogue, "says Lithuanian Foreign Minister Linas Linkiavicius. Polish Foreign Minister Radoslaw Sikorski called the impeachment requirement a political mistake and urged the parties to calm down and make compromises. European Commissioner Stefan Fule also hopes for a happy ending - "not only to solve the problem of overuse when using force against demonstrators, but also… to resume the process that will lead to the signing of the Association Agreement. The Association Agreement is on the table, and we are ready to sign it when the Ukrainian side is ready, "Füle reminded. Even Yanukovych, who was still silent today, declared his readiness to sit down at the national round table with the opposition, having previously consulted tomorrow with Kravchuk, Kuchma and Yushchenko - unless, of course, Yanukovych still has enough animal intuition not to commit irreparable.
The preoccupation and perplexity of European politicians can be explained - and not only by a late understanding of who they are dealing with. Real change Yanukovych is not ready yet. The topic of Tymoshenko in recent times has become just the necessary political correct background noise. European political managers are diligently avoiding meetings with Tyagnybok on the territory of Europe and on the political platforms of Ukraine. Uncharismatic Yatsenyuk, despite his ambitions, seems to be hostage to European concerns about Tymoshenko. Absolutely new heroes are not stabbed: in contrast to the fertile Ukrainian black soil, the Ukrainian political land has long been sprinkled with dead salt. On the other hand, winter compliments to Klitschko, which in Europe are not shy - the mouth of the sources of authoritative Der Spiegel - fell down with the title of Ukrainian heir to European values ​​and a worthy opponent of Yanukovych. "Klitschko is our man. He has a clear pro-European activity. "
The same Sikorsky managed to compare Vitaly with Lech Walesa. Allegedly, in the very near future the boxer promises to completely upgrade, installing a new presidential software in time for the 2015 year. If re-election is carried out now, Klitschko will drown in the swamp of plums that compromise him. And, unfortunately, "Vitalik", this newborn and very hungry swamp is ready to suck up not only 2 meters and 112 kg of Klitschko himself, but also all of his doubtfully suspicious colleagues on "Blow". By 2015, the upgraded Klitschko may be able to pull in and lift up the super heavy presidential mace for now. A good leap in a few years: from the role of VIP bouncer to the president. If the views on Klitschko are really a strategy of Europe, and not the fleeting female whim of angels, then it looks cynical and shameless. Klitschko's self-sufficiency as a politician and, in general, a conscious, responsible, rational person, is pointless to argue, and in the IQ sparring he is unlikely to defeat Yanukovych. But it turns out that the EU does not need a talented Ukrainian heir to European values ​​- there is enough retouched Pithecanthropus. You can, of course, reflect on the fact that even if this is so, by the hair, European politicians will drag Ukraine into the EU - from what president, if only it formally fits into the framework of the format. And there, you see, in the new conditions and new presidents will grow up. But all the events after Vilnius on Maidan demonstrated the glaring irresponsibility and short-sightedness of Europeans in raising an unloved, large and slobbering Ukrainian baby with bad signs of a genetic mutation. So, the new card in the image of the Nickname may also not be a trump card.
Responsibility on the scale of Maidan, let alone geopolitical scales, easily degenerates into a hindrance, a rudimentary attribute. The absence of this main engine of positive civilian changes was demonstrated by everyone: Yanukovych, Europe, the opposition, and maydanovtsy. The one who yesterday, in his ball of arms, wiggled his eyebrows and snapped "abyrvalg" on the air of the sports program - today in the first deputy ranks of Svoboda he proudly "takes the responsibility". So far, only for beating sledgehammers with a monument to Lenin. At the same time, the "svobodovtsy" demonstrate not only responsibility, but also an enviable sequence: the stone brain of Lenin's monument was taken as a souvenir, and the communist Fahrion did not even take the mandate for treason. Why not now plant an eagle on an empty ice pedestal, like a true continuer of Lenin's work? At the revived Slavic and European Chamber, responsible citizens dance to Ruslan. And with discordant polyphony, Katerynchuk, who has been promoted, is chosen to be a revolutionary commissar - a man who is not even responsible for his own "progressive" bills. After such a treacherously unexpected stab in the back from a colleague, the "Udarovsk" deputies were indignant at the veche's irresponsible decision: they say that this appointment was not coordinated with the opposition.
Today, Klitschko also spoke about responsibility in his video message to the people: "If blood is shed, all responsibility, all responsibility (here Klitschko scorned her face scornfully and meaningfully) will lie personally on Yanukovych." Pshonka hinted at criminal liability for blocking entrances to administrative buildings. "Svobodovets" Aronets cried on his Facebook about the civil responsibility of Kiev: "Partnership! Meni zatelefonuvali know, scho pratsyuyut in Privat-Bank. Kerіvnitstvu bank said, just to all the staff Budinka ofіtserіv said negajno zalishati primishchennya, more in the evening at night at the day will be a siloviy rozgіn! Prokhannya before all kiyan priyahati nich, scab stink did not dare to drown on such a croc! "And he traditionally washed away:" Oskіlki I captured, I will be in online tilki in critical moments. " But what about the responsibility of experienced people who realize that the Maidan, driven into a dead end, should not drive Yanukovych into the corner, pushing him with his fists on the sides to the approving hooting of European and American officials? Responsibility burden heavy and dangerous, sometimes it is not a shame to remove it. If Yanukovych were a wit, he would come to the Maidan today or tomorrow and appeal: "Listen here, my people! I disclaim all responsibility. And I lay it on ... as his ... plebiscite. I declare a referendum: in the EU - yes or no, to take money from the IMF - or not, to raise utility tariffs for the population by 40% - or not, to issue Tymoshenko - or not. What decide on veche, and be. And I wash my hands. " Let the people decide: honestly, democratically, in a European, Slavic way.
And the Europeans will come as observers. Yes, and we observe it more interesting. And today we can play with fantasy. What will Europe do with the liberated Tymoshenko - merge or negotiate? Where does the trio go after the fury leaves the colony? It can be assumed that the first thing she put on a chain of Pyagnybok and his vampires - a fasting lunch and brain bone on holidays. "Batkivschintsah" will shoot through one, Yanukovych - will skip, not immediately (some civilization propriety must be observed): take cold dish, and pinch it off slowly, fingers ... Curtain, gentlemen!