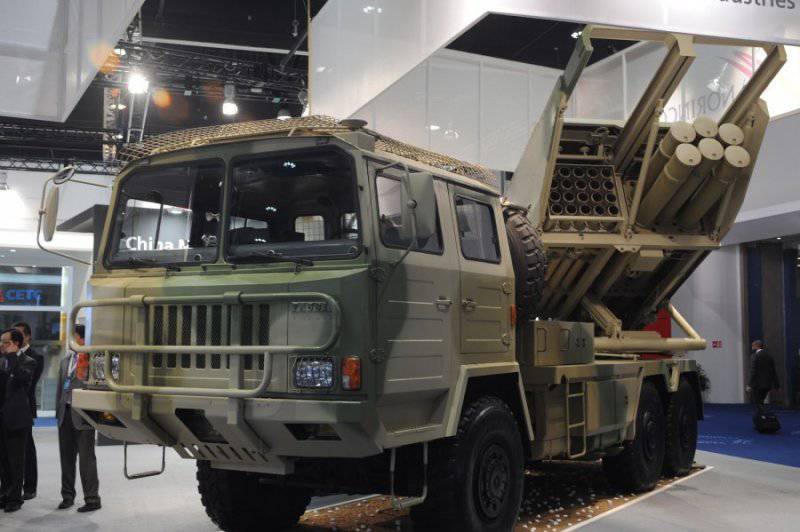 At the IDEX 2013 military exhibition, a new Chinese modular MLRS has been demonstrated called SR5.
The SR5 medium-range salvo-launching combat vehicle is a universal launch platform in the design of which modern technologies are used, such as automated loading and launching of missiles from transport and launch containers charged into the artillery farm. The latter, in general design, recalls the artillery units of the M270 and M270А1 MLRS combat vehicles.
The system has intense and accurate firepower, a high level of automation, quick response and good maneuverability. With this system, it is possible to launch guided and unguided missiles of 122 and 220 mm calibers, which allows to achieve a highly effective combination of ground suppression and high-precision strikes, as well as launches of tactical guided missiles.
The modular system provides 220-mm (12 missiles in 2 units, firing range - 70 km) and 122-mm (40 missiles in 2 units, firing range - 50 km) with unguided and guided missiles. It is also possible to combine PC blocks of different calibers.
The ability to destroy enemy ground targets at a distance of 70 km is usually used by artillery groups for additional suppression and fire support for ground forces.
With it, you can not only suppress ground targets or group targets, but you can also precisely destroy important and strategic point targets within the combat zone.
TECH SPECS
Calculation: 3
Projectiles caliber: 220 mm / 122 mm
Number of tubular guides of transport and launch containers: 6 + 6 / 20 + 20
Combat weight: 25 tons
Maximum travel speed on paved roads: 85 km / h
Power reserve: 600 km
Maximum firing range (220 mm / 122 mm) 70 km / 50 km
Accuracy (220 mm / 122 mm): CIRC <3 m / <25 km (probably 25 meters)
Navigation accuracy: ≤ 0.2% range
Accuracy of finding in the north: ≤1,0 goniometer division
Guidance Accuracy: ≤ 1,5 Protractor Graduation
Range of elevation angles: 0-60 °
Range of angles of horizontal fire: +/- 70 °
Auto-loading time: ≤ 5 min
Deployment time at firing position / coagulation time at firing position: 5 min / 1 min
Sources:
http://www.military-informant.com/index.php/army/2567-sr5.html
http://bastion-karpenko.ru/sr5-modular-mlrs-china/
http://rbase.new-factoria.ru/gallery/obrazec-kitayskoy-reaktivnoy-sistemy-zalpovogo-ognya-sr5/