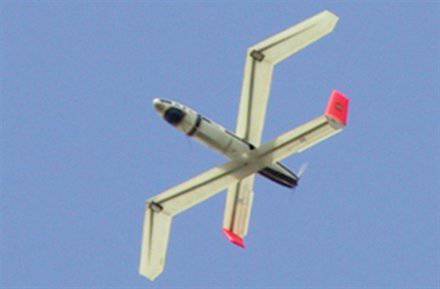 The US Navy first launched an unmanned aerial vehicle (UAV) on board a submarine in a submerged position, the naval research laboratory announced on Thursday.
The drone, codenamed XFC UAS (eXperimental Fuel Cell Unmanned Aerial System, i.e. "Unmanned Air System with an Experimental Fuel Cell"), was launched using a Providence torpedo tube. The date and place of the test is not specified. After several hours of flight, the UAV landed on the territory of the US Navy test site in the Bahamas, ITAR-TASS reports.
According to the report, a special launch system was developed for the experiment, which can be placed in the launch container of the Tomahawk cruise missile. This container was launched from the submarine torpedo tube. Then the launch system, which looks like a buoy, floated to the surface of the ocean.
UAV, who was inside her with folded wings, started at the command of the captain Providence. Spreading his wings, he climbed into the sky and performed a test flight, transmitting video information aboard a submarine, auxiliary surface vessels and the US Navy base in Norfolk (Virginia). The power supply for it was a "completely autonomous pure electric fuel cell" designed for "more than 6 hours" of UAV operation.
The development of a new device from the Navy took less than 6 years. The creators proudly point out that they have provided "substantial savings" to the American treasury, since "traditional programs often bring results only after decades".
Welcoming the successful completion of the experiment, program manager Warren Schulz said that he developed a "technology that meets the needs of the special forces community" in the United States.
Earlier, the relevant American media reported that an "underwater floating base" was being created in the United States to launch both aerial and submarine UAVs.