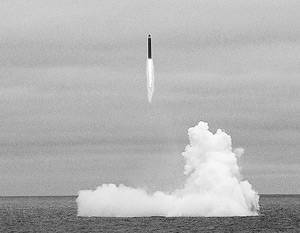 The launch of the Bulava 6 of September 2013 of the year from the board of the first serial underwater missile carrier Alexander Nevsky of the 955 project (cipher Borey) was affected by a malfunction of the mechanism that pushes the nozzle out of the rocket body, a retractable rod, a source in the Russian defense industry said.
"This is the second case of an emergency start-up of the Bulava caused by such a malfunction. For the first time this happened 9 December 2009 of the year when shooting the Bulava from the board of the Dmitry Donskoy underwater cruiser, which was observed by the people of Norway. Then the stem broke because it was made not of titanium, as it should have been, but of steel. As a result, the nozzle did not come out of the rocket, an accident occurred, "the ITAR-TASS source specified.
"6 of September of the current year, that is, almost four years after that accident, a relapse of the disease occurred when the retractable nozzle rod again didn't work properly," he said. The source did not specify the reason for the stock failure this time.
He explained that before the release of the rocket from the mine, the nozzle is inside the case to reduce the size of the rocket. It extends from the rocket body when it leaves the water at the same time as the main engine is turned on.
In September, Defense Minister Sergei Shoigu decided to suspend the state tests of the Alexander Nevsky and Vladimir Monomakh submarines and conduct five additional launches of the Bulava intercontinental ballistic missiles due to an unsuccessful launch of this type of missile.
To clarify the causes of the incident, a commission was created under the leadership of the Navy Commander-in-Chief, Admiral Viktor Chirkov, who began a large-scale verification of the missile enterprises.
On November 14, a source in the military-industrial complex announced that the launches of ICBMs from Alexander Nevsky and Vladimir Monomakh submarine-launched missile carriers would resume only in the summer of 2014.
November 20 experts who investigated the unsuccessful launch of a ballistic missile, called the cause of the accident violation of technology in the production of the rocket. According to Deputy Defense Minister Yuri Borisov, the reasons "are technological in the manufacture of the rocket and are associated with a nozzle." At the same time, there is no doubt about the "correctness of the manufacture of the product itself as a whole".