Deputy of the Sevastopol City Council from the Party of Regions of Ukraine faction Sergei Smolyaninov published a letter to Russian President Vladimir Putin with a request to bring Russian troops into Ukraine to protect the country from the "US Army and their NATO aggressors." "My appeal is a reaction to a published petition on the official website of the White House. Its authors directly call for military intervention in the territory of independent Ukraine. Russia should intervene as agreed with Ukraine in the event of a military intervention by the United States, "Smolyaninov explains his position," in my opinion, there is a clear, well-thought-out plan funded by Western intelligence agencies to overthrow the lawfully elected president of Ukraine. "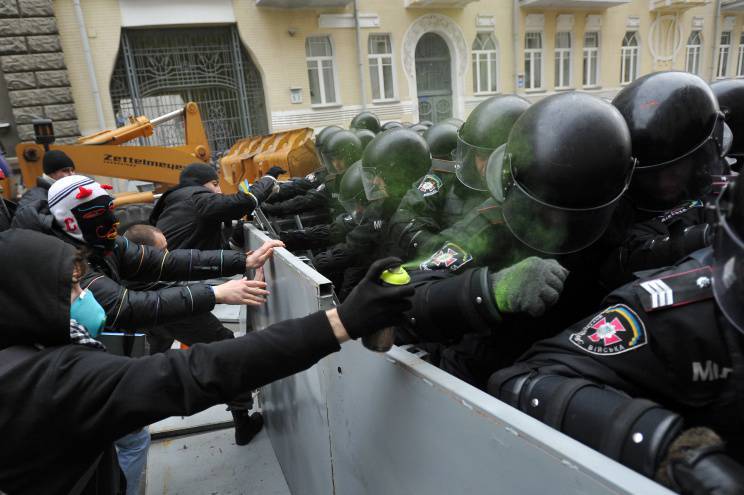 The somewhat emotional appeal of the Sevastopol resident is quite in the spirit of today's events in Ukraine, this is a kind of response to the extremist hate speech of leaders like Lutsenko about the phantom "Russians
tanks
". The most interesting thing, in the depths of their hearts, everyone understands, especially the Western "fifth column", which is doing dirty work today for the sake of the "European future", that Smolyaninov told the pure truth about the events in Ukraine. President Putin said the same thing, only in diplomatic language. And, secondly, Smolyaninov turned directly to the Russian president.
It is no longer
news
: The West constantly instigates riots, and makes extremists "peaceful demonstrators", even in Egypt, even in Syria, and today in Ukraine. Soon, President Yanukovych will be declared a bloody dictator, as required by the American scenario of the Orange Revolution. All means will be good and acceptable to the West for the sake of turning Ukraine into an "associated" western colony. And many notebook "patriots of Ukraine" agree on this, that is the absurdity of the current Ukrainian situation, for the sake of "European values". They agree in advance to be the "cannon fodder" of the unfolding new orange coup. And, it seems, they do not understand that Poland will be the head of this colony! The simplest dvuhhodovka!
If you look from the height of the Russian
stories
today in Ukraine-Ukraine, as if in miniature, the era of the Time of Troubles of the XVII century is repeated. Then the people of all Russia were also disoriented, the boyars tops betrayed national interests for the sake of the then "European values", and the Poles. Today the Russian-Ukrainian people are disoriented, the Ukrainian government also leads a round dance with foreign powers, hiding behind political abstractions, and again the Poles are most involved.
In that old century, among the spiritual desert and dumbness, letters of Patriarch Hermogenes suddenly flew all over Russia. They awakened in people a sense of self-esteem and love for their land, they were read in cities and villages, and only then the tradesman Minin and Prince Pozharsky appeared, the leaders who had finished with the Troubles. And St. Hermogenes was taken into custody by the Poles and Russian traitors, and in severe imprisonment of 17 in February of 1612, he died a martyr from hunger and thirst ...
The appeal of Sergei Smolyaninov is reminiscent of the letters of Patriarch Hermogenes. His idealism, faith and inflexibility. When there will be many such "letters", then, probably, the new Minin and the new Pozharsky will come ...
Politically, Ukraine seems to be stuck in the 90s, and only now is its transition to the "zero" Russian years. Russia 90-s is the power of the oligarchs from behind Yeltsin, and the oligarch Firtash and the company also "ruled" Ukraine to the West from behind Yanukovich. At the last moment, already with the "noose" of association around his neck, Yanukovych saw the light of what the colonial share was prepared for Ukraine, and how it would end for him personally.
There are only two options for how this "loop" will end: bad and good. We will not speak about bad things. And the good thing is that the Ukrainian authorities will be able to "equitably remove" the power of their oligarchs, as Putin did in Russia during his "zero years". This will mean that Ukraine will have its own "Ukrainian Putin". Who will they be - we will not guess. But when it appears, the "two Putin's" will easily agree with the West about the truly equal conditions of the "association."