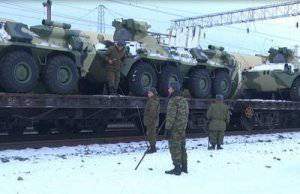 The vehicles arrived on December 4 and are destined for the 23 Brigade, which is deployed in the village of Kryazh.
This is the last modification - BTR-82AM. They were made in the Nizhny Novgorod region at the Arzamas machine-building plant. The first prototypes appeared in the 2009 year. In essence, the BTR-82AM is a deep modernization of the BTR-80, created by 30 years ago.
The new armored personnel carriers are equipped with a more powerful engine in 300 horsepower, modern weapons, a sight, a dashboard. The driver and passengers are protected by an inner layer of Kevlar armor. The current batch of vehicles from the 31-th machine - not the last. Until the spring, 130 of new armored personnel carriers will be added to the military unit.