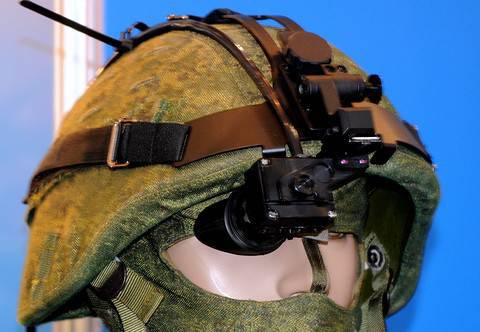 Central Research and Development Institute "Cyclone" has created a working model of a thermal imaging system for a promising set of combat equipment "Warrior". The system has a unique high-definition micromonitor and is fully prepared for state testing. Oleg Yakovlev, advisor to the general director of the company, spoke about this and other developments of Rosinformbyuro.
- Oleg Borisovich, what is a helmet-mounted thermal imaging device for combat equipment "Warrior"?
- The system includes a thermal sight, a helmet-mounted tool for displaying information with a microdisplay and eye cup, as well as thermal imaging binoculars. The sight can be mounted on any type of rifle
weapons
and with sensitivity 0,1 hail. provides recognition of two targets at a distance of 800-1200 m. Together with a miniature helmet-mounted information display (NID), it allows you to observe the enemy and the battlefield from cover. The NID is distinguished by the high clarity of displaying full-color video and graphic information, which can come from various sources.
The NID is based on organic light-emitting diodes (OLED) according to the technology developed at the institute. OLEDs are created on the basis of special inks glowing under the influence of electricity and are made on a special printer. Today it is one of the most advanced technologies in the world, which is owned by the Cyclone Research Institute and the American firm Imedzhen. Attempts by companies in France, Israel and Japan to establish the production of such microdisplays have not yet yielded tangible results. President Vladimir Putin was familiarized with this and other products of the Cyclone earlier when he visited the institute.
- What can you say about other developments of the Cyclone Research Institute?
- I would like to draw attention to the multifunctional thermal imaging device for the internal troops of the Ministry of Internal Affairs. Its peculiarity is that, depending on the situation, it can be used as a rangefinder during the day and a thermal imager at night. In addition, in conjunction with the navigator, this device allows you to determine the coordinates of the target.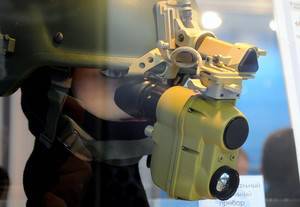 Another unique product of our company is the two-spectral portable observation device "Derbnik" with video and thermal imaging channels combined in one case. This device provides user action in complete darkness and in confined spaces. Similar devices have already been received for equipping rescue units of the Emergency Ministry. I want to emphasize that our small-sized Derbnik, unlike American counterparts, which are placed directly in front of the eyes of a fighter, can be mounted on a protective helmet, which compares favorably with similar foreign products.
Another institute know-how is a complex of observation and aiming on a gyro-stabilized platform. Its feature is a television system with two "coaxially" mounted cameras in one mirror-lens lens. Camera lenses with a wide and narrow field of "view" allow you to observe the overall and detailed situation, respectively.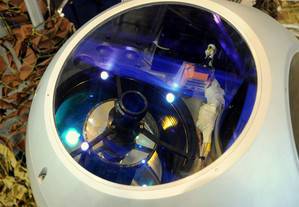 The complex is universal and can be installed on boats and ships of the Border Guard, on helicopters and used by the coast guard. Target detection range reaches from 3-5 to 20 km.
These and other products of the Cyclone Central Research Institute were presented at the Interpolitex-2013 state security exhibition. Oleg Yakovlev explained to the agency that a number of instruments and devices of the TsNII Tsiklon OJSC are already actively using the border and internal troops of Russia, other power structures. At present, at least 3000 thermal imaging systems for various applications have been supplied to domestic and foreign customers.