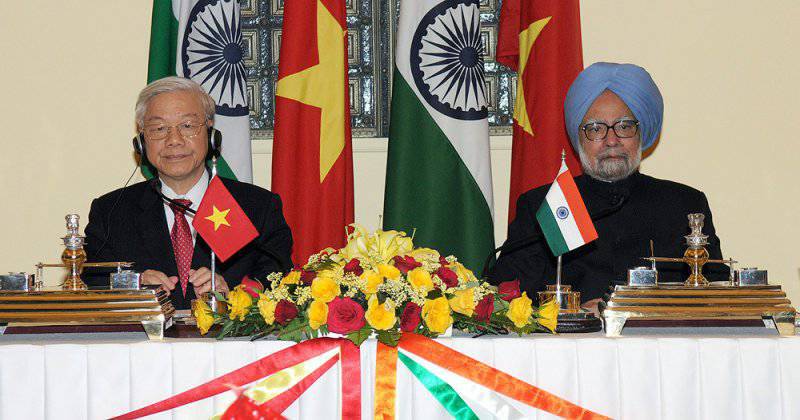 During his November visit to India, the head of the Vietnamese Communist Party, Nguyen Phu Chong, made an official request for the supply of anti-ship missiles Brahmos, Russia & India Report reported. The visit took place immediately after Russian President Vladimir Putin's trip to Vietnam, and its agenda is determined by Hanoi's desire to diversify its military contacts without irritating China.
This is not the first year that India has been discussing the possible sale of Bramos RCC to Vietnam. Unnamed sources told RIR that India had expressed its willingness to deliver rockets and had long been looking for foreign buyers - such as, for example, Malaysia and Indonesia, who had already expressed interest in this rocket. According to the publication, the interest in RAM "Bramos" is associated with the need to urgently close the current needs for
weapons
of this kind until a similar development of the Russian-Vietnamese anti-ship missile project based on the X-35 "Uranus" (intergovernmental agreement on the development of the Kh-35EV missile was signed in October 2010) is sufficiently developed.
The publication also reports, citing its sources, that the Vietnamese leader requested from India assistance in training the Vietnamese Su-30 pilots and submariners, and India expressed readiness to provide such assistance, however, it is wary of further cooperation, keeping in mind the Chinese factor.
According to the Japanese publication The Diplomat, the visit of the Vietnamese Secretary General to New Delhi demonstrates Vietnam's desire to reduce dependence on Russian military supplies and expand the pool of countries contributing to the development of Vietnamese armed forces. It is reported that in response to the Vietnamese request for the possibility of supplying warships, India took an unprecedented step - offered Vietnam a credit line in the amount of 100 million dollars for the purchase of four patrol ships. And soon after Cheong returned, it became known that India would prepare Vietnamese sailors for 500 to "carry out the full range of underwater operations" at its base of the preparation of the INS Satavahana submarine.