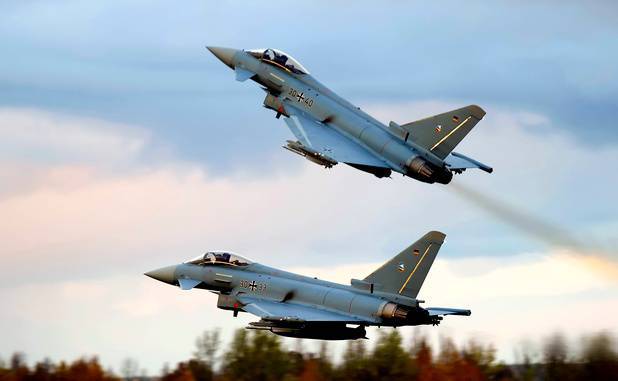 In the absence of a program to develop a new generation of combat aircraft, Europe faces the risk of a "strategic decline" in its role in the world, the French Aerospace Academy warned, aviationweek.com reports December 2. In the past few weeks, a research team from former senior military officials and retired executives
aviation
industry in 28 European countries called for supporting "key operational capabilities" to maintain sovereignty in this area.
But, as representatives of the academy say, no real action has been observed so far. The efforts of Europe are scattered, the industry does not have a unified position, as happened in 1985 year, when it was not possible to reach an agreement on the development of a single European fighter (France and Great Britain chose the creation of fighters, respectively, Rafale and Typhoon - note "VP" Despite continuing reductions in military spending, three competing types of combat aircraft are being manufactured in Europe - the Eurofighter Typhoon (pictured), the Rafale and the Gripen.
Unlike the controversial requirements for the new fighter, which were in 1980's, today the military departments and industry top managers note that none of the existing aircraft manufacturing companies can claim to be the general contractor for the entire European aviation industry. Even fiercely defending their independence, the French company Dassault Aviation, which relies heavily on "economic patriotism", no longer relies on state support for the development of the successor to the Rafale fighter plane, which is scheduled to be adopted after 2040. "If we do nothing, the European military industry will be dead in 20 years," says retired general Jean-Georges Brevot, a member of the Academy's working group. European countries, pursuing "technological autonomy", reinforce this risk, while Russia (T-50) and China (J-20 and J-31) will begin exporting new-generation fighter aircraft over the next 10-15 years.
European countries participate in the production program of the American fighter F-35 Joint Strike Fighter, thereby dispersing their resources and design capabilities. Their contribution to the development of F-35 is 8 billion euros (10,8 billion dollars).
"We are at a crossroads, the situation is alarming, we must pursue a more stringent policy," calls Brevo. The European defense industry is rapidly approaching the point of no return. European countries should develop a common vision of the requirements for a fighter of a new generation, as was the case with the A400M military transport aircraft. The Academy recommends starting the development of technology demonstrators, responding to the long-standing request of manufacturers who are eager to get their design bureaus to work.
The case for political leaders in Europe. In 1985, the reluctance to compromise buried the idea of ​​creating a single European fighter, the governments of leading European countries continue to pay a high price for their inability to combine their efforts. There are few export contracts for European fighters, the French Rafale still has none, while the countries of the world are actively buying American combat aircraft. The Academy does not want this
история
repeated