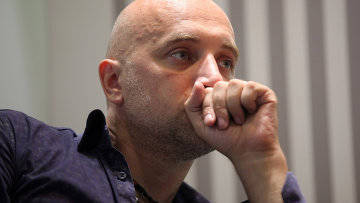 Zakhar Prilepin is considered one of the best representatives of the new generation of Russian writers, "Bitter of the Third Millennium". This definition is quite appropriate, since his works characterize a lively and biting language, a tendency to develop social themes, to denounce the plagues of society. His Russia is inhabited by angry young people from the outskirts of the country, soldiers sent to the war in Chechnya, victims and executioners, poverty and violence reign in it. In his novel "Black Monkey", just published in Italy, tells about the new generation of children, ruthless killers. The hero of the novel, reflecting on the origin of this chilling "mutation", discovers a world without hope: there are many houses inhabited by alcoholics, there are corrupt and brutal police, girls become station prostitutes. This Russia is not even Gorky, but rather Dostoevsky. Possessing outstanding charisma Prilepin is not only a Russian writer, but also a journalist, TV host, actor, musician. Adhering to another established Russian tradition, he became a commentator and politician, close to the National Bolshevik Party, Eduard Limonov. A year ago, he made a noise with his letter to Stalin, in which he thanked him for turning Russia into a powerful state, and accused the liberals of having squandered former glory.
Anna Zafesova: Who is Stalin for Russian 38 years, how are you?
Zakhar Prilepin: This is a figure that confronts the colossal mistakes of neoliberalism. 70 of millions of people were in the abyss of poverty, the war in Chechnya was unleashed, Yeltsin fired on parliament in 1993 year. All this is justified by the fact that "under Stalin it would be even worse." From the left demanded repentance in the past. Stalin made the scum of social Darwinism in the past twenty years. Of course, this is not about justifying cleaning. Stalin is a symbol of order, severity, ruler, without any admixture of hedonism. He left behind only a military overcoat and a pair of boots. It was dedication and something religious. As Joseph Brodsky said, "God is violence. And that is exactly the God of the Old Testament. "
- In this decision?
"The solution is a new elite that will be elected not because of money: a new military, spiritual, scientific, and also religious aristocracy. We must change the paradigm: cultivate courage and intelligence, not indulge in human weaknesses, but try to overcome them.
"But where does all this come from?"
- Of course, we need a revolution: a new power, cultivating the metaphysical aristocracy, an army of educated and trained children. Enough 20-years and 3% of the population. It is necessary to abandon the liberal matrix, the idea that the individual is primarily a member of society, that your freedom ends where the freedom of your neighbor begins. Liberalism can work in the greenhouse conditions of a protected Europe. In Russia, it does not work.
- Do not you think your arguments are a reprint of a very old dispute between Slavophiles and Westernizers and the idea that Russia cannot be a "normal country"?
- And why should she become so? We are told that we continue to wander in the wilds instead of taking the main road. And, actually, why can't we stay in the wilds?
- The idea of ​​social engineering is also not new.
- In fact, liberalism, like socialism, presupposes the formation of a new person, only the individual must be guided by the worst instincts in the quest for profit and success.
- But who will bring up your new aristocracy, because the world of adults, about which you write, consists of alcoholics, corrupt officials, rapists, liars and those who are eager for profit?
- There are young people born and raised in the USSR. She 90-s turned into a generation that did not get anything at the division of Russian wealth. They are 30-40 years old, they are not hypocrites like the Soviet people, but they do not have liberal illusions either.
- And those who come later?
- They have no Soviet ideals, in general there are no ideals. Those who preserved ideals in those days were not reproduced. Everyone then worked on eight jobs, traded, moved from place to place, everyone earned money, because we were told that it was necessary. Parents experienced convulsions of the country in search of their identity, they could not give anything to their children, they did not have time for that.
"But if the population of the USSR had ideals, then why did the country so quickly disintegrate, and no one mourned her at the time?"
- Any empire sooner or later falls apart. Our country was ruled by old men, they introduced ridiculous bans. Many at first did not realize the importance of what had happened. My father returned home and said, "Something strange is happening." And my mother replied: "You will see that everything will remain as before." My father shook his head and said: "I'm afraid not." It was Soviet idealism and immaturity, people believed that nothing bad could happen, that everything would work out. But it is still better than liberal hedonism.
- What are you offering?
- The nationalization of natural resources. It is also necessary to transfer the capital from Moscow to the Urals, to the part of the country that is losing population, and after all, on the other side of the border is China, whose government allowed families to have a second child.
- Putin does not match your model?
- The trouble is not in Putin's authoritarianism, but in neoliberalism. Putin is not a dictator, he is trying to demonstrate his strength, because he knows that this is what the people want. Indeed, there are political prisoners in the country, and it is impossible to form real opposition parties. But he is not a real dictator, it's only from Europe that he spends time shooting journalists. The modern Russian elite has all the interests, money, homes, children, dogs, mother-in-law — outside of Russia. This is not the Russian elite.
- The solution is nationalism?
- Absolutely not. The problem is not ethnic, but social.
-
I did not understand whether there will be elections in your new Russia?
- I think not. Other my colleagues think they should be. Oh, my God, as I think about Gorbachev and about this whole generation of idiots ... Stalin solved the problem by destroying them, although God forbid such a thing to us. Maybe elections are better.
-
And how about Stalin should be told in schools?
- Just as now, not avoiding light and shadows, as about any other historical and political personage. Enough cults.