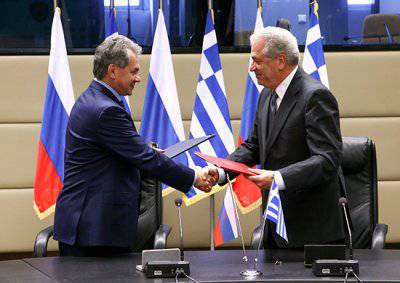 An agreement on the supply of military products has been signed between the governments of Russia and Greece, the press service of the Russian Defense Ministry reported to REGNUM 3 in December.
"We signed an agreement that opens new frontiers, new horizons for our future work in the field of military-technical cooperation," Sergei Shoigu, the head of the Russian military department, explained the essence and significance of the document. "It concerns both already supplied weapons systems and military equipment, their service, and new equipment."
Speaking about the results of the negotiations held in Athens, Army General Sergei Shoigu noted that the Russian military delegation "worked well and had quite productive negotiations with our Greek colleagues."
"We summed up the results of 2013 of the year on military-technical cooperation and reviewed the plan for the next year, which we plan to approve in the near future. Our experts are now thoroughly engaged in its details, they relate to various aspects of our cooperation, including along the lines of fleets explained the Minister of Defense of Russia.
In turn, the Greek Defense Minister Dimitris Avramopoulos stressed that "military cooperation between the two countries should be further deepened and strengthened, especially by promoting its qualitative aspect."
"We have an annual program of military cooperation, which was important to give a new dynamic. I am sure that the visit of the Russian Defense Minister will fully serve these goals. We will expand the horizons of our relations, find new fields for interaction. All this is ultimately directed to the benefit of our countries, to strengthen security in our rather troubled region, "said Avramopoulos.
An agreement signed in Athens between the governments of Russia and Greece on the supply of military products was also commented in a conversation with journalists by a member of the Russian military delegation, Deputy Defense Minister Anatoly Antonov: "This document will eliminate the existing barriers in military technology cooperation and optimize cooperation between defense enterprises our countries. "