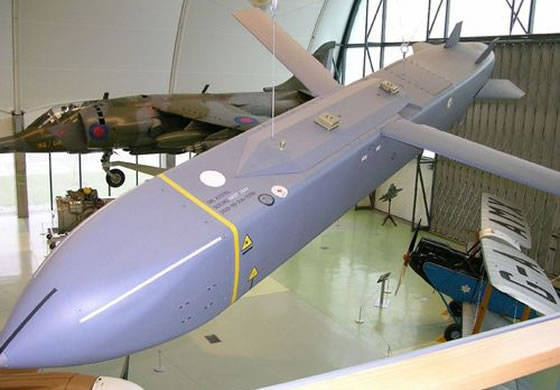 The company "Alenia Aermakki" announced the launch of a series of flight tests in order to integrate the Storm Shadow cruise missile made by MBDA aboard the Typhoon EF-2000 multi-role fighter.
Equipping the Storm Shadow fighter of the Kyrgyz Republic will significantly increase its combat capabilities.
The first flight took place on November 27 at the Alenia Aermakki flight test center at the Decimomannu airbase (Sardinia, Italy) with the support of the Eurofighter, BAe Systems (BAE Systems) and Cassidian.
The implementation of the flight test program began with a flutter test and the mutual influence of the on-board systems on the IPA2 pre-production sample equipped with measuring equipment, modified to the standard "1 phase of improvement" (Phase 1 Enhancement).
According to the Eurofighter representatives, the initial flight tests were successful. According to experts, the main problem with the integration of a cruise missile aboard the Typhoon is that a 1300 kg missile can be placed only on two middle underwing nodes of the suspension. This does not allow the installation of outboard fuel tanks and, accordingly, autonomously perform combat missions at long range. Earlier, representatives of Eurofighter stated that the optimal solution for performing long-range flights is to equip the aircraft, along with the KR Storm Shadow, with new conformal fuel tanks. All EF-2000 fighters of the 2 Tranche version, if necessary, can be equipped with them.
KR "Storm Shadow" is a subtle
aviation
long-range ammunition, allowing at any time of day and difficult weather conditions to hit important targets in the depths of the enemy's territory, including port facilities, command posts, missile launch sites, airfields and bridges.
Equipped with a turbojet engine, the CG "Storm Shadow" allows you to hit targets at ranges over 250 km. The length of the ammunition - 5,1 m, width - 0,63 m, height - 0,48 m, weight - about 1300 kg, weight of the warhead BROACH - 450 kg. It is assumed that Typhoon will be able to use ammunition from 2015 after completing the "2 phase of improvement" (P2 - Phase 2 Enhancement).
The missile has already been adopted by the Tornado aircraft of the Italian Air Force (Tornado IDS) and Great Britain (Tornado GR4). In addition, in March this year it was announced that Storm Shadow cruise missiles were delivered to the Saudi Air Force to equip the modernized Tornado aircraft.
The Saudi Air Force Command also conducted negotiations with Evofighter, BAe Systems and MBDA to speed up work on equipping the Typhoon with the EF-2000 Aircraft of the Kingdom.