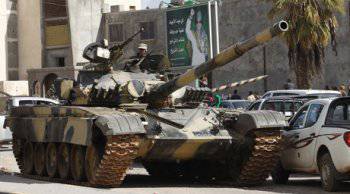 Libyan government forces launched an operation to establish control over the third largest city in the country Misurata, in the hands of the opposition. "The military leadership of the Gaddafi regime is gaining greater confidence in its own strength on the wave of successes achieved in the last 48 hours," one of the British military experts told BBC on a live broadcast on British television and radio.
According to available information, the command of the Libyan armed forces has now coordinated the actions of infantry, armored units with warships and
aviation
. Western military experts doubt that the opposition, which does not have well-armed groups in this part of the country, can defend the city. However, the fact that the population of the city reaches 300 thousand people will significantly complicate the task of taking the Misurata in a short time for government forces. According to British experts, the fighting for Misurata can become extremely bloody and cause even greater international isolation of the Gaddafi regime.
Meanwhile, according to military experts, the forces that have remained loyal to the Libyan government do not have the necessary potential to take the stronghold of the opposition - the city of Benghazi. "Before Benghazi, armed units have to walk about 300 kilometers across the desert from the west, which they are not capable of right now," the BBC said. "It should not be forgotten that there are about a million people in the city who are ready to resist
weapons
in hand".
Nevertheless, the government forces are not inactive in the area taken by the city of Ras Lanuf and are trying to build on their success in this crucial eastern direction. According to incoming information, they are now attacking the city of Marsa el-Brega, ITAR-TASS reported.
"The operational situation is now in favor of Tripoli," said a British military expert. In his opinion, the strategic objective of the current actions of the Libyan government is to establish control over the main objects of the oil industry, including fields, and try to impose an economic blockade on the eastern regions controlled by the opposition. "First of all, Tripoli seeks to deprive the eastern regions of electricity. This task is answered by the attack on Marsa-el-Bregu, where a large power plant is located," he said.
Government forces now control the cities of Ras Lanuf and Ben Jawad. The rebels retreated 70 kilometers from El Bregi, this town was almost empty. The army still keeps Az Zawiyu, where bloody battles took place for almost a week.