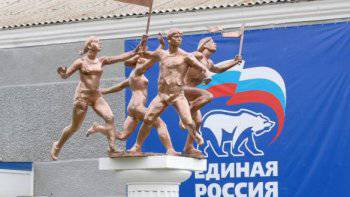 The most numerous party of Russia 1 December celebrated 12 anniversary. Happy birthday to the party congratulated her chairman Dmitry Medvedev. According to him, there are more than two million people in the party today, and the number is increasing every year. Who is the average member of United Russia today?
First, members of United Russia today are representatives of the bureaucratic class. Among the governors of the territories and regions, the heads of the republics of the Russian Federation, United Russia, an absolute majority. In addition to the heads of the subjects of the federation, the United Russia are mayors, their deputies, representatives of the judiciary - up to 95% of the total. If we consider the letter of administrative law, and more information about administrative law information is presented on the website
netadvokat.ru
then there is an administrative hegemony of "United Russia".
Secondly, for obvious reasons, the leaders of almost all budgetary educational and medical institutions have become members of United Russia. The system of voluntary-compulsory entry into the most mass party of Russia of school and technical directors, rectors of universities, chief doctors of medical institutions in many ways resembles a similar system with the CPSU. The slogan "who is not with us is against us" manifests itself very often, when people representing the administrative body of budgetary institutions and not joining the ranks of United Russia become, if not administrative, outcasts (with all the institutions or organizations that finance this) then people who are clearly under pressure from above.
Thirdly, recently, having caught the trend, those people who have decided that the very fact that they have the party card "ER" could save them from various checks and "arbitrariness" of law enforcement officers decided to become members of United Russia. In other words, United Russia criminal elements are not at all puff, but objective reality. The party itself seems to be trying to fight criminal elements trying to use the status of a member of United Russia as a barrier to self-administration of justice. One of these facts is the arrest of the mayor of Astrakhan.
Fourthly, a member of United Russia is a person who either wants to move forward along the administrative career ladder, or someone who just wants, roughly speaking, the ideologues of joining the party.
By the 12 anniversary of the party, it became obvious that it would be time for the "ER" to engage in better personnel work.