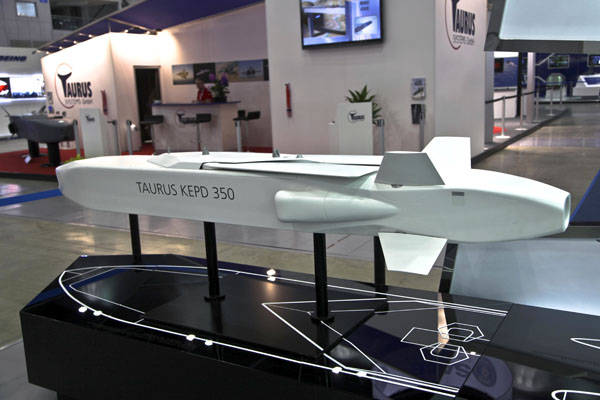 South Korea has decided to purchase several hundred air-to-ground Taurus KEPD 350 cruise missiles from the German-Swedish defense company Taurus Systems. The total amount of the transaction is estimated at about half a billion dollars. According to the Korean military, the missiles will significantly increase the strike force of their air force, allowing, if necessary, to attack targets in the DPRK capital from the depths of South Korea.
The decision that the European precision-guided missiles Taurus KEPD 350 will be adopted will be made at a meeting of the Committee on Defense, which is headed by South Korean Defense Minister Kim Gwan Jin. The exact number of purchased units is not disclosed, but the figure "a few hundred" circulates in the South Korean media. The total amount of the transaction is about half a billion dollars.
The manufacturing company Taurus Systems welcomed the decision of the official Seoul. "We are very pleased to see South Korea among the buyers of Taurus KEPD 350 and are proud to have earned the trust of the government of the country by offering such a technologically perfect look
weapons
"- said the vice-president of the German-Swedish company Kristoffer Drevstad.
It should be noted that the company took an active part in the defense exhibition ADEX-2013 recently held in South Korea Ilsan. Europeans did not hide their focus on winning the tender of the South Korean government. Apparently, their efforts were not in vain. For South Korea, the case is rare that Seoul favors non-American weapons. Until now, only American SLAM-ER missiles with a range of 278 kilometers were in service with the country's air force.
As Koreans note, Taurus KEPD 350 is a more advanced type of weapon. The range is about 500 kilometers. This will allow South Korean pilots to strike objects in the capital of the DPRK, while being on its territory in the area of ​​the city of Taechon. This weapon is designed to defeat well-fortified objects, as well as used in cases where very high accuracy is required. Bunkers, command posts, missile bases, bridges, troop positions - this is the list of "traditional targets" for the Taurus KEPD 350. This type of missile uses three targeting systems at once, which makes them invulnerable to various kinds of interference that the enemy can expose.