South Korea is going to hold another major tender for the purchase of weapons. Next year, Seoul intends to purchase four tanker aircraft for its air force. The total value of the contract is about one billion US dollars. "Flying tankers" will allow the South Korean air force to significantly increase the range of fighters.
The principal decision that next year Seoul will hold a tender for the purchase of four tanker aircraft was made during the 72 meeting of the Defense Development Committee chaired by South Korean Defense Minister Kim Gwan Jin. According to the approved plan, a tender will be announced from January 2014 of the year, applications from participants will be accepted, then there will be an assessment of applicants and negotiations with possible suppliers. The final decision on which aircraft will be purchased should be made in the middle of 2014, the "Flying Tankers" will begin to flow into the South Korean Air Force in the period from 2017 to 2019.
According to experts, the main contenders for the billion-dollar tender are in fact already known: this is the plane MRTTA33 of the European company Airbus Military and the KS-767 of the American concern Boeing.
According to the military, the acquisition of four tanker aircraft will increase for about an hour the time that South Korean fighters may be in the air. According to estimates, this is equivalent to an increase in the number of South Korean combat aircraft by 30 percent.
At the moment, South Korea cannot guarantee reliable protection of the remote islands - Dokdo (Takeshima) in the east and the space above the Iodo underwater rock in the southwest. And both of these regions are subject to claims from neighboring countries. Japan claims the first, and China claims the second. Departing from the nearest airbase with full tanks, the Korean fighter KF-16 has enough fuel to stay in the vicinity of Dokdo for 10 minutes, and in the case of Iodo only 5 minutes. For F-15K, the same figures are 30 and 20 minutes, respectively. Given this, the Korean pilots have long asked the government to buy "flying tankers."
If it is possible to refuel in the air, the time spent in the Tokdo archipelago for F-15K will increase to 90 minutes, and over Iodo - to 80 minutes.
Help "RG"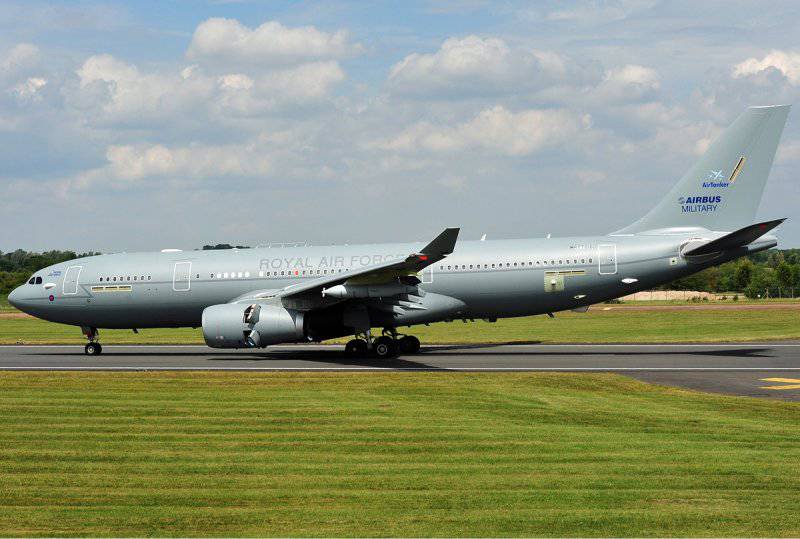 Characteristics of the aircraft MRTTA33
Manufacturing company: "Airbus Military" (EU)
Terms of commissioning: the first flight in June 2007 g., Work continues
Length-width-height (m): 58,8 - 17,4 - 60,3
Crew: 3 man (two pilots and one refueling operator)
Maximum load: 45 tons
Maximum take-off weight: tons 233
Volume of refueling tanks: 111 tons
Maximum speed: 880 km / h
Range: 14 800 km
Maximum height: 12 600 m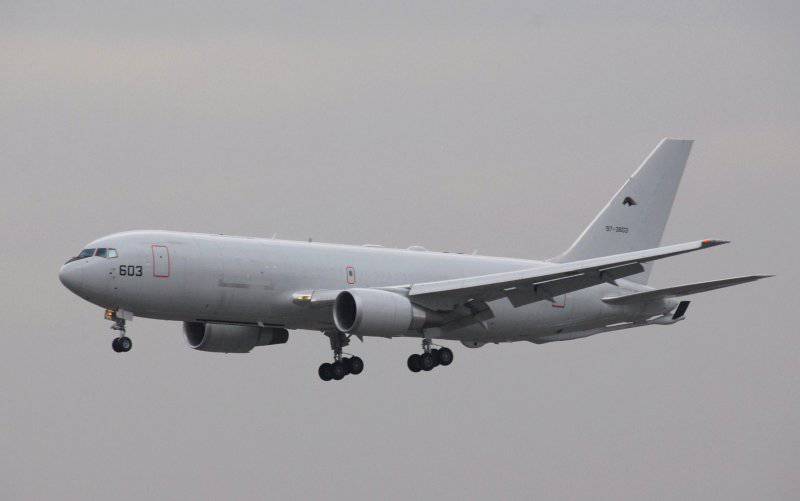 Characteristics of the aircraft KS-767
Manufacturing company: Boeing (USA)
Terms of commissioning: 2018 g.
Length-width-height (m): 50,5 - 15,9 - 48,1
Crew: 3 man (two pilots and one refueling operator)
Maximum load: 29,5 tons
Maximum take-off weight: tons 188,04
Volume of refueling tanks: 94,2 tons
Maximum speed: 915 km / h
Range: 12 200 km
Maximum height: 12 200 m