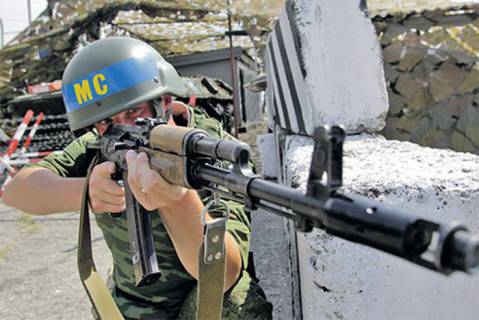 25 November 2013 has turned 40 years since the day our peacekeeping activities began. On this day in 1973, a solemn ceremony was held in Cairo to present the first group of Soviet officers of the attributes of uniforms of the UN troops - blue berets and scarves, as well as special identity cards confirming the status of UN military observers.
Since then, our country has been actively involved in international peacekeeping activities, including under the auspices of the UN. At the same time, the main motive for Russian participation in peacekeeping operations is the desire to help ensure military-political stability in the world.
In Western Sahara, Angola, Mozambique, Cambodia, Bosnia and Herzegovina, Kosovo and Metohija, Sierra Leone, East Timor, the Democratic Republic of the Congo, Côte d'Ivoire, Sudan, Ethiopia and Eritrea, Chad, Russian soldiers have shown themselves to be experienced and highly skilled peacekeepers, qualitatively performing the tasks.
Great responsibility for the Russian Federation lay on the preservation of peace and stability in the territory of the former Soviet Union. In all peacekeeping operations to maintain (restore) peace using the national military contingents of the CIS in the territory of Tajikistan, Abkhazia and South Ossetia, Russia played a leading role.
Today, as the press service of the Military contingent of the peacekeeping forces of the Russian Federation in the Transnistrian region reports, there is one peacekeeping operation in the post-Soviet space, in which the Russian military take an active part, in the Transdniestrian conflict zone. Since the launch of 1992 in July, Russian peacekeepers detained about 130 thousands of people for breaching the security regime, seized more than 250 small units
weapons
, about 160 thousand ammunition and more 1,4 thousand hand grenades, found and neutralized almost 14 thousand explosive objects. The peacekeeping operation in Transnistria is one of the most successful, productive and effective missions. The main criterion for such an assessment is the real world in the Transnistrian region.