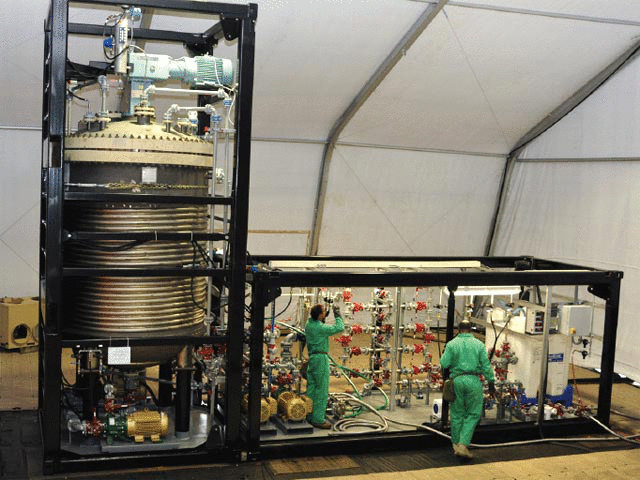 Syrian Chemical
weapon
can be destroyed in the international waters of the Mediterranean aboard the 700-foot (213-meter) dry cargo vessel Cape Ray, owned by the US Department of Transportation, an unnamed representative of the US administration told AP. At the same time, US warships will patrol the waters near the ship.
According to the plan, which is still to be approved, two mobile field hydrolytic systems (Field Deployable Hydrolysis System) will be placed on the bulk carrier to neutralize chemical materials so that they cannot be used for military purposes. The unit, developed by the Pentagon, is a titanium reactor, in which at high temperatures hazardous components are mixed with water and other chemical materials.
The system has not yet been used in a real operation, the agency said.
If the plan is approved, it will take some time to modify the Cape Ray cargo ship for this task and conduct a training session to make sure that the process can be successfully carried out at sea. As soon as everything is ready, the ship will be handed over to the control of the Shipping Command, which is responsible for organizing shipping by sea in the interests of the United States Armed Forces. On board will be with a civilian team.
The US National Security Council at the White House states that so far no decisions have been taken on this matter. However, they hope that they will not begin to drag out with him and that the process of weapons disposal will begin by the end of the year.
The question also remains as to how the Syrian chemical arsenal will be delivered to the cargo ship. In the US, they hope that some other country will provide its ship for transportation.
The project to destroy chemical weapons in international waters was born to Americans after the countries they had hoped for refused to accept it on their territory. Liquidation is carried out within the framework of the Organization for the Prohibition of Chemical Weapons (OPCW) plan, according to which all chemical arsenals of Syria must be destroyed before 30 June 2014 of the year.
Successful destruction of equipment at all 23 chemical facilities that were declared by Damascus, the OPCW announced October 31.
Recall that the process of ridding Syria of chemical weapons was launched in the framework of the Russian-American agreement, designed to deflect the US strike on this country.