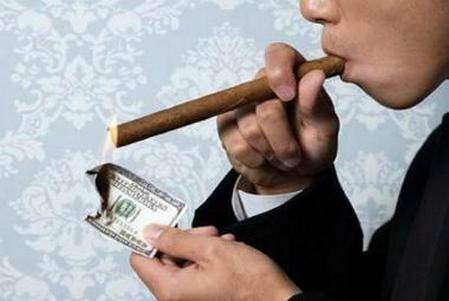 China blew up a real bomb, but the mainstream media in the US almost completely ignored it. The Central Bank of China decided that "the accumulation of foreign currency no longer meets the interests of China." In the third quarter of 2013, the Chinese foreign exchange reserves were approximately $ 3.66 trillion. And, of course, most of them consist of American dollars. Over the years, China has been accumulating dollars and has been trying very hard to keep the high value of the dollar and the low cost of the yuan. One of the goals of this was to reduce the price of Chinese goods on the world market. However, China has now announced that it is time to stop accumulating American dollars. And if this is actually the case, then many American analysts suggest that China will soon cease to buy American debts. It is hardly necessary to say that all this is extremely bad for the United States.
For many years, China has systematically maintained the value of the US dollar and kept the yuan at a much lower level. This has led to a massive influx of super-cheap goods from the Pacific region to the great delight of American consumers. For example, if you ever went to a store where all goods are sold for one dollar, have you thought about how someone manages to make a profit by producing these goods and selling them for just one dollar?
The truth is that if you turn these goods around, you will see that they are all manufactured outside the United States. In fact, if you are a typical American, then the words "made in China" are most likely written on almost everything that is in your home.
Thanks to our massively unbalanced trade with China, tens of thousands of enterprises, millions of jobs, and trillions of our dollars flowed out of the country and crossed over to China, left our country.
And now, China has obviously decided that it's already impossible to give a good deal of our economy and it's time to let the dollar roll. As I said above, China announced that it was going to stop accumulating foreign exchange reserves ...
The People's Bank of China says foreign currency assets no longer bring benefits to his country, which is another sign that policy makers will manage to buy dollars that hold back the appreciation of the yuan.
"It is no longer in the interest of China to accumulate foreign currency reserves," said Yi Gang, deputy head of the Central Bank, yesterday at the China Economists 50 Forum at Tsinghua University. Monetary authorities "mainly" will stop the usual interventions in the foreign exchange market and expand the daily corridor of the yuan, wrote Central Bank director Zhou Xiaochuan in an article explaining the reform decisions made last week after the Communist Party congress. Neither Gan nor Xiaochuan indicated a time frame for these changes.
This will not happen in a day, but the cost of the American dollar will go down, and all the cheap junk that you used to buy in Walmart and in stores of the same price will become much more expensive.
But, of course, this last step of China is much more important for the debt of the US government. Most Americans have heard that we are very dependent on other countries, such as China, which lend us money. At present, China owns almost 1.3 trillion dollars of our debt. Unfortunately, as CNBC notes, if China wants to stop storing our dollars, there is a chance that they will also stop accumulating our debts.
Analysts view this move as a sign that the People's Bank of China is hinting that it will allow its currency to fluctuate without intervention by the bank, thereby eliminating the need to hold large dollar reserves. And if the dollar is no longer needed, the bank may consider reducing the acquisition of assets denominated in US dollars, such as Treasury bonds.
"If they intend to reduce acquisitions in the future, then yes, try to find someone who will become a marginal buyer," said Richard McGwire, chief strategist for exchange rates in Rabobank, told CNBC in an interview.
"The Federal Reserve is manipulating bond purchases, and in addition it could potentially lead to a bearish forecast for Treasurys US Treasury bonds."
So who will buy all our debt?
This is a very good question.
If the Fed begins to manipulate treasury acquisitions, and China stops buying our debt, who will fill the resulting void?
If the demand for government securities falls, it will cause a significant increase in interest rates. And if they grow significantly from the current level, this will lead to the beginning of that nightmarish scenario, which I am constantly talking about.
In a previous article titled "How China Can Slay the Dollar and the Entire Financial System of the USA", "I described how China can do enormous damage to the US economy alone."
The volume of Chinese trade is the largest in the world, and the Chinese have accumulated more debt than any other country. If China starts dumping our dollars and our debt, then most of the planet will follow its example, and we will have a lot of torment.
And just this week, another important one sounded.
news
that China is preparing to take a major step against the US dollar. According to Reuters,
Crude oil futures on the Shanghai Futures Exchange may soon begin to be valued in RMB ...
The Shanghai Futures Exchange (Shanghai Futures Exchange - SHFE) can begin to evaluate all its contracts for crude oil in RMB and use medium-sulfur oil as a reference, the exchange president said on Thursday and added that they accelerated the preparatory work for obtaining regulatory approval.
China, which overtook the US in September and became the largest oil importer in the world, hopes that these contracts will become a standard in Asia, and said that it will allow foreigners to enter into contracts without creating local units.
If this actually happens, it will be a landmark event.
China is the main consumer of oil in the world, and it was just a matter of time when they would challenge petrodollar.
But even I did not think that something like that would happen so soon.
The world is changing, and most Americans have no idea what this will mean to them. When the demand for US dollars and bonds drops, the goods that we buy in the store will cost much more, our standard of living will decrease, and it will be much more difficult for each of us (including the US government) to borrow money.
Unfortunately, at the moment it is hardly possible to do something about this. When it comes to the economy, China plays chess and the United States plays checkers. And the consequences of the stupid decisions that have been made over many decades are now beginning to reach us.
The fake prosperity that most Americans enjoy today will soon begin to fade, and most of them will not know why this is happening.
The coming years will be very difficult, and I hope you are preparing for this.
21 November 2013.