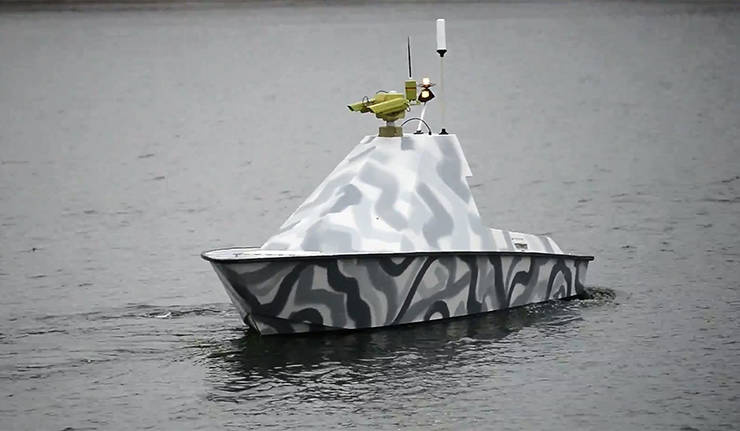 On the Tsnyansky reservoir in the north of Minsk, the tests of the first UAV motor boat built in the CIS have passed. Belarus, which has no access to the sea, expects to become a major exporter of unmanned combat ships. Two thirds of the ship is made in Russia and China.
The official name of the new boat: "Multi-purpose marine unmanned complex." It is noted that he was created under the auspices of the Business Club of the Shanghai Cooperation Organization (SCO), and Russia, China and Belarus took part in the project. The boat was designed by the St. Petersburg company Composite Shipbuilding, China supplied polymer armor, and the Belarusian company Kvand Is electronic ship stuffing.
The vessel, about 6 meters long and 1,8 meters wide, judging by the hull lines, was built using the stealth technology. The boat can move for 5 days with the distance from the coast 360 km. However, it can reach speeds up to 55 nodes (100 km / h).
The boat is controlled via satellite communication channel, and in case of its disconnection it must find its own way using satellite navigation, however, the built-in autopilot allows the ship to travel without it if the ship falls within the coverage of satellite signal suppression systems. Also, the ship has a good margin of survivability, its creators have noted that even if the armor can be pierced from the machine gun, it will not be possible to sink the ship.
As the director of Kvand Is, Sergey Tytsyk, told the Onliner.by portal that an unmanned vessel will be cheaper than a drone plane and may be of interest to Belarusian ministries, in particular, to protect water areas from poachers. However, the SCO Business Club plans to find major customers abroad. According to Interfax-Zapad, Vietnam has shown interest in purchasing the Multi-Purpose Marine Unmanned Vehicle.
It is assumed that a new boat with a length of up to 11 meters will be created for full sea trials, the start date of which is not reported. Currently, only the radar and cameras are installed on the drone, but in the future it can also be equipped with weapons, for example, a machine gun.
Currently, Israel (Rafael Protector, Elbit Silver Marlin), the United States (Seafox, Spartan Scout) and Sweden (SAM 3 and Piraya) have the most advanced programs for creating UAVs.