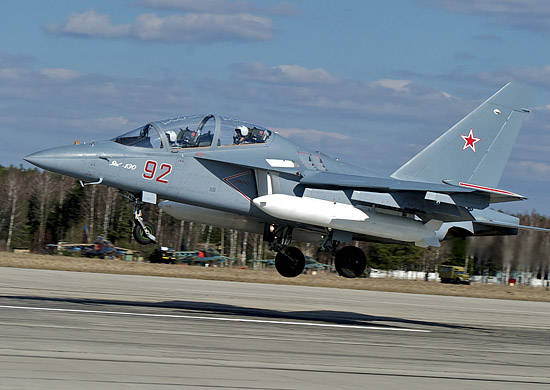 Pilots and engineering staff of the Borisoglebsk training
aviation
base of the military educational and scientific center (VUNC) of the Air Force "Air Force Academy named after Professor N.E. Zhukovsky and Yu.A. Gagarina "went to the factory of the open joint-stock company" Corporation "Irkut" to receive 3 combat training aircraft Yak-130.
During the reception of the airplanes, they are inspected, the technical documentation is checked, the engine is working in all modes, and the performance of all systems, electronic equipment, and mechanization is checked. And after this is a test flight.
Currently, the Yak-40 130 aircraft are located in the training aviation base.
The Yak-130 is a new-generation two-seat jet-combat aircraft designed for training and combat training of flight personnel, as well as for combat use in simple and complex meteorological conditions, for air and ground targets.
According to its flight-technical and maneuverable characteristics, this aircraft is close to the performance of modern fighters at subsonic flight speeds, which will solve the problem of training pilots for 4 + and 5 aircraft of generations. In addition, it is unpretentious to the conditions of basing and is able to sit on unprepared sites.
For the first time this year, on the basis of the Borisoglebsky faculty of the VUNC Air Force "Air Force Academy", practical training of cadets began on the Yak-130 combat training aircraft.
Equipping the Air Force with Yak-130 airplanes will allow pilots to be trained to the required level and prepare them for mastering the combat vehicles of the new generation.