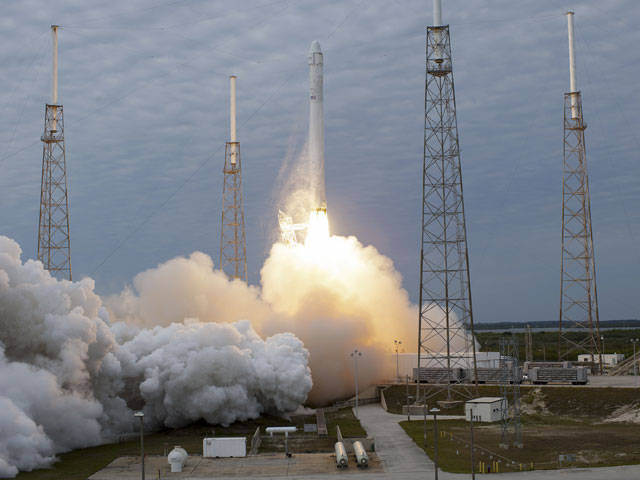 The private US company SpaceX has postponed the launch of the improved two-stage rocket Falcon-9, which was to put into orbit the first commercial satellite SES-8. The launch was to take place on November 25 from the launch site at Cape Canaveral (Florida) at 17: 37 local time (02: 37 26 November Moscow time).
The "launch window" was open within an hour, SpaceX operators started counting down three times, but each time the launch failed for various technical reasons. So, the last time a problem arose in the first stage of the rocket and was connected with the liquid oxygen supply system. The next time they try to launch Falcon into orbit on November 28, ITAR-TASS reports.
The Falcon rocket previously made six sorties. She launched cargo modules for the ISS three times into Earth orbit. The first demonstration launch of the modified rocket took place in September 2013 of the year at the American Vanderberg base in California. Then the Falcon carrier successfully raised six vehicles into orbit at once, including the Canadian-owned meteorological satellite.
The modified model uses Merlin 1D engines, the power of which is 60 percent more than the engines of the previous model. The height of the rocket - 68,4 meter, weight - 505 tons. The SES-8 satellite, which it should send into orbit, weighs 3,2 tons. It was developed by Orbital Sciences. The cost of the device - 100 million dollars. It is expected to provide communications for the Asia-Pacific region over 15 years.
The current launch of Falcon was to be the first launch in the interests of a private company - SES World Skies. Previously, she used the services of the Russian Proton and the European Ariane to output her satellites. SpaceХ promises that using Falcon rockets sending spacecraft to space will be much cheaper. For the launch of SES-8, SES World Skies paid SpaceX 55 millions of dollars.