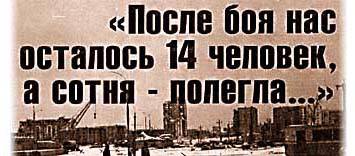 Let's go back to the middle of the 1990's. The first Chechen campaign has already ended, which, at the behest of the then leadership, became a shameful spot in the Russian
stories
. And the criminal regime in the Caucasus did not calm down and demanded from Moscow complete political independence and payment of fantastic reparations. And it seems that the rulers of our country were ready to go to the end in appeasement of bandits and terrorists. With the huge funds received, the Chechens will begin to arm themselves and buy Russian real estate, that is, an attempt will be made to invade Russia with Chechnya. And people who sacrificed their health for the Russian territorial integrity will remain on the verge of poverty - like Konstantin N., a resident of the Mordovian village, who lost his leg in this war. He does not want to give his last name: "I do not believe in the ability of the state to protect me and my parents." In those years, I repeatedly met with fellow countrymen who had gone through the Chechen war, and here is a story about one of them.
LEG
Prosthesis Kostya holds in the close corridor. A plastic model of a human foot, shod in an "Adidas" sneaker - takes pride of place among different-sized shoes. On the hanger - the memory of the service in the airborne assault battalion of the southern group of troops - blue takes the paratrooper. There are several holidays that he considers holy: 2 August, Airborne Day, is one of them. We are sitting in a small smoke-filled room, the boring August rain bangs on the window, Kostya, with his arms wrapped around his stump, recalls:
- First, I made the prosthesis with us. Rough, leather, with lacing on the eggs. Weighed 14 Kgs! I go to the store for cigarettes - I have a tongue, like a dog, on my shoulder. And then I was lucky: I got acquainted with the Afghan guys, and they gave me a ticket to the Rus rehabilitation center near Moscow. There he changed our prosthesis into German. Only the German "leg" is worth 12 million 800 thousand rubles. Thanks to the government of Mordovia - helped. And in five days I had an excellent prosthesis. Easy, comfortable, does not creak when walking. It weighs only 700 grams. I feel like a full-fledged person, I go without a stick. No one realizes that I am legless. There are some inconveniences: he rubs his leg, in addition the remaining fragments of the bone climb outside. Recently, the weather turned bad, because of this the leg became swollen and the prosthesis to put on became painful. But where to go - nobody will do my work. And if the weather is good, I can go all day. At home, the prosthesis in my body "rests": I jump more or less on my healthy leg or on my knees. Artificial leg is designed for seven years, but it needs to be repaired from time to time. Now the stump has become thinner, which means that it needs adjustment again. Again go to Moscow and pay half a million. Where to get money - I'll never know.
WAR
Now I remember the school, the lessons of the NVP, "Zarnitsa" ... It was called military-patriotic education, but there was never a thought that I would have to fight. Even when I was at the beginning of 80's urgent, I could not believe that I would shoot a machine gun at living people. And here you are - in the fourth decade turned out to be at war. Before being sent to Chechnya, we were told: "You will arrive in Totsk, there you will pass the training necessary for the war." And what?
Arrived at the location of the part. We, contract volunteers, were built on the parade ground, and one of the commanders gave a speech. Think he was talking about the upcoming service? As if not so. He asked us not to pester officers' wives. "The garrison is fully divorced, so fuck them."
We drank for ten days, then we were dressed, we drove a train, and that's it: hello, Chechnya. Runners have already appeared in Totsk. Some people understood that war is not at all what is shown in foreign militants, that they can easily be killed there. One kid, a former "Afghan", left after arriving in the area of ​​hostilities. All complained: "Something hard on the heart ...". When he returned home, it turned out that his brother had died. Another volunteer from Mordovia in Totsk constantly showed good physical fitness, everything hung on a horizontal bar. Ran the first. I remember the 37-year-old man, the father of three children. He went to Chechnya to earn money for the expensive operation needed for a four-year-old son. The battalion commander sent him home: "For money, mate, go to another place, or you won't earn money, and leave your kids to orphans."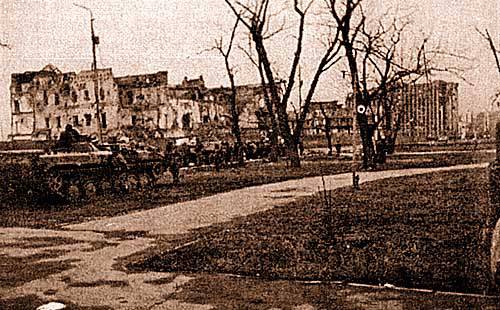 Square "Minute". In January, 1995, and in August, 1996, the fiercest battles took place here (photos provided by a member of the Chechen campaign)
Got to serve in one of the motorized rifle units of the federal group. I was appointed as the squad leader. Began combat everyday. Our part was considered one of the best in the group, so they threw us into the very ass. We traveled all over Chechnya - it is easier to name the places where we were not. A lot of time stuck on roadblocks in the mountains. During the day it is hot, even take off your clothes to your underwear, at night it's cold, you can wear cotton pants. With grub problems. Water - and that for hundreds of kilometers, almost from Mozdok driven. Militants all wells peretravili. We meet once as OMON fighters, such clean ones, they stand, they make fun of us: "Why are you so dirty as devils?" I answered them; "You are so smart, but for a couple of days in the mountains ..."
What turned the army? .. When served in Hungary, the mess, of course, was enough. And there was a hazing, and an officer's stupidity, but still it was felt that this was an army. And here - the boys-conscripts cannot fight a damn thing, they have never seen an automaton, and they have never been to battle.
FIRST BLOOD
Received the first wound under Shali. Smashed shard. Nothing - pulled out. It was hard there. The first bombardment - and from the 2-th battalion immediately 12 people killed. The second shrapnel wound - in the finger. During one of the sweeps, the Chechens faced each other. We turn the corner, and towards - bearded men (however, we also did not shave then), they have the same camouflage uniform, the same
weapon
bandages on foreheads. And we have on our heads - strips of matter, so that the sweat of the eyes does not flood. We froze, staring at each other. The Chechens woke up first, shouted: "Allah Akbar!", Opened fire at close range from machine guns. Two of our immediately put. We replied: "You fag, bitch!". There was no time to think. I hit a Chechen from a grenade launcher. He collapsed without even crying. Then another rushed at me, and I threw him with my fingers into the throat. Choked until it went limp. I do not remember how the third was soaked. But there was no pity, that's for sure. Until now, I can't figure out how in such a short time we've put the 12 Chechens in the eighth, losing two dead. There was no fear during the handwriting, but then the nerves began to twitch, the little hands trembled — half a step from death.
MILITARY TRICKS
Going to an operation, we never wore helmets in my life, and body armor is no good. Bullets their stitched the only way. Only in the region of the heart were four armor plates attached.
What on itself excess iron to drag? Than not neglected, so this ammunition. I was literally hung with hand grenades and shots to the grenade launcher, plus 14 stores to the machine gun. You'll throw a couple of disposable "Fly" grenade launchers behind your back, and that's all - ready Rambo.
Many kilometers across Chechnya wound on the BMP or, as we called them, "beshkah." Nice car, but thin armor. Her RPG grenade burns from side to side. Only our man will always invent something. Zinc boxes of ammunition were fastened to the sides, a hand grenade was placed in each such box — something like reactive armor came out. If you were in school NVP, understand. A cumulative jet, hitting a box with a grenade, is smeared, not reaching the armor, - a kind of body armor for the BMP. I had a personal car, wrote paint on board: "MOR-2". Such is, you understand, the rebus, which means that we are from sunny Mordovia.
"MONKEY"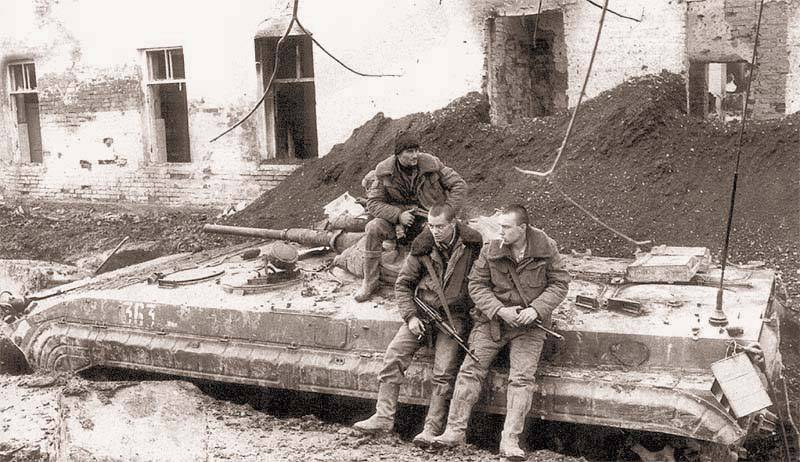 On many BMPs, the gunners-operators were conscripts. I called them "monkeys". Boys and there are boys. Sorry for them. They will break off with prodolom, they will be fumigated with grass and let us find out the relationship between themselves because of any nonsense. It's just that they still have a childhood ... So I had to teach them all the time, giving advice like: "Before you enter the house, throw a grenade". Then there was a lot of misinterpretation that, they say, the contract soldiers didn't get into hell - the conscripts were sent in front of themselves. And we took care of our boys, treated them if not as sons, then as younger brothers, that's for sure.
They also say that contract soldiers who fought in Chechnya are all drunks. I don't know how in other parts, but in our part I wasn't particularly keen on alcohol, although I myself heard how the commander of the unit advised to take 250 grams - as the best tool after the battle. It happens that you are so overwhelmed that vodka does not break through - your head is clear, like you are drinking water. We were also told not to leave all the wounded and dead, to take them from the battlefield. Yes, we ourselves always remember this.
We were all friends, became like relatives. I remember in one battle I carried out two wounded. We took one gorge. Three Chechen camps were occupied, stumbled upon a wall, struck it with "Beshkas", then the whole technique left, and the Chechens began to beat us up, the bullets near and shmyak: tsok, tsok. Somewhere in half an hour - 101 corpse, almost the entire company was destroyed! 14 man alive us then left. And they began to depart, I first delivered Yurka, then Leshka. Yurka, I do not remember his name, - the radio operator of our company. His nose pierced through, his eye flew out, his hand turned the whole explosive bullet. Ribs and polratsy completely demolished. At Lehi - he died later - half the ass grenade from an RPG tore off. Here are two of them I brought out. And one reptile - he still can't get to me in any way, otherwise I would let him have the guts out! - castle platoon, threw us when I was dragging two on myself. Thank you for one "Zem" from Saransk, from Svetotekhstroi, covered me. I hit the Chechens with three Flies. And then another kid arrived, from the 3 platoon, he took the wounded ...
Chechens
You can say nothing, the Chechens are fighting well. During one battle, our long attacked the house. A family sat there: a father and two sons. The youngest is 12 years. They seem to have been thrown with grenades, but when a BMP passed by, the lad slammed a grenade launcher over it. The officer who sat behind the armor was cut in half. Together with him six more of ours died. We then put a cross on this place, near the tower, which flew from the unfortunate "besh". I respect the good soldiers of the Chechens, but not the people. Killed - well, but why mock the corpses, why cut to pieces? These guys tied one guy and wrapped their own guts. Two others captured, lowered. They were then exchanged for a new KamAZ.
WOUND
As a mine exploded, I will never forget. There was a column - 9 machines, fired at us. I took a step to the side, and suddenly it crashes! I was about eight meters away. I am lying on the belly, I do not understand what happened. Guys throw a rope to me. When pulled out - he lowered his head down, I looked, but there was no left leg. Like a scissor cut off. I almost cried. What am I going to do now? Who needs me? The devil knows what kind of life will go on ... Immediately in the ass two syringes of promedol were injected, I swallowed alcohol, vodka. They put me on the BMP, and next to me there was another kid (he had broken fragments of his legs).
When carried, I understood - my war ended. I did not feel pain. Promedol is such a dirty trick, after it the sediment on the soul remains - drugs, in a word. At the "turntable" we were transferred to Grozny. There were no surgeons in the hospital - they left for Samashki. There, two armored personnel carriers were blown up on the mines, the wounded were not transportable, and the doctors provided assistance on the spot. We threw us in Vladikavkaz. What was there, I remember vaguely, as if from a big break. Before the eyes, some unshaven face appeared and said: "On his table." I let my hands fumble, look for the automat, and it was an Ossetian surgeon. He has my foot and trimmed. In the morning, he comes up and says: "Do you remember how you yelled at me yesterday?"
In the morning - again the plane. They sent me to one of the hospitals located in the depths of Russia. It is full of wounded, including children from Mordovia. One of Engels helped me a lot. I have to go to the toilet - and how will I sit on a point on one leg? So, he, among the nurses, has the keys from the office toilet; he is still easier to sit on my toilet than squat on the toilet. Somehow, because of bad weather, my leg ached, it was a chore in my soul. I asked - and I bought a bottle of vodka. Drank gram 150. Then the head of the office began to check the tables, spotted my bottle. "What, do you drink vodka?" I justify myself: "You don't give me pain medication." And he: "I prescribed you analgin". "Analgin shove his ass, no use to him." At the ligation of this surgeon to me, bitch, revenge. I thrust a hefty needle into the wound - the pain is so, and he, the scum, says: "What, drink vodka well?" I've given him another healthy one, as I drove into my chest!
So the guys themselves bandaged me, I took 100 thousand rubles and left. Now I live the life of an ordinary Russian disabled person. Well, that friends do not forget. There are no plans for the future, but there are no memories for the rest of my life ...