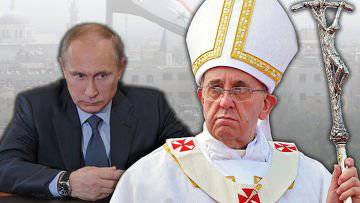 This afternoon Russian President Vladimir Putin will meet with Francis. This is not his first visit to the Vatican. Putin was adopted by John Paul II in 2000 and in 2003, and Benedict XVI in 2007, but today the scenario of meeting with the Pope, "come from the end of the world," has changed completely.
For the Kremlin, the audience takes on "special significance" after the common position taken in the past months by the Holy See and Russia in the Syrian crisis. Both sides opposed armed Western intervention and spoke in favor of a diplomatic initiative that allowed an agreement to destroy chemical weapons.
weapons
Asad. Francis, who wrote a letter to Putin in September of this year on the eve of the G-20 meeting in St. Petersburg, thereby recognized the role of Moscow on the world stage and its contribution to the resolution of conflicts. Putin, for his part, is interested in appearing as a defender of Christians in the Middle East. Putin and the Pope will mainly discuss the international situation, the situation in Syria, Iraq and the Holy Land. Putin wants to thank Francis for taking the role of a peacemaker for the Holy See. He will also focus on the position of Christian communities that are threatened by fundamentalists.
But the first meeting between the Pope-Argentine and the Russian president may also affect the development of relations between the Catholic Church and the Russian Orthodox Church. The prospect of a meeting between Francis and Patriarch of Moscow and All Russia Kirill seems increasingly real due to both the Pope's origin and his statement at the very beginning of his pontificate that he considers himself the bishop of Rome. In addition, the Pope said that the Catholic Church should learn collegiality from the Orthodox Church. Pope, to a lesser extent identified with the West and not a zealous supporter of the strategy of Catholic proselytism, may have easier access to Moscow.
Illarion Alfeev, the "Foreign Minister" of the Moscow Patriarchate, said a few days ago: "At the moment, we are not talking about the visit of the pontiff to Russia, but about the possibility of meeting Pope and Patriarch of Moscow and All Russia Kirill in a neutral country." Cyril, receiving a delegation in Moscow led by Cardinal Milan Angelo Skola, said that "our churches never had so much in common before", showed approval of the actions of Pope Francis and wished that "our
historical
disagreements ceased to play a critical role. "
After President Mikhail Gorbachev invited John Paul II to come to Moscow, Putin never renewed such an invitation. Many hope that the situation will change, that the president will help organize the visit. However, it should be noted that the Russian Orthodox do not want to create the impression that they are connected by a double thread with the Russian political authorities, and Kirill does not intend to give Putin the opportunity to take steps in this direction.