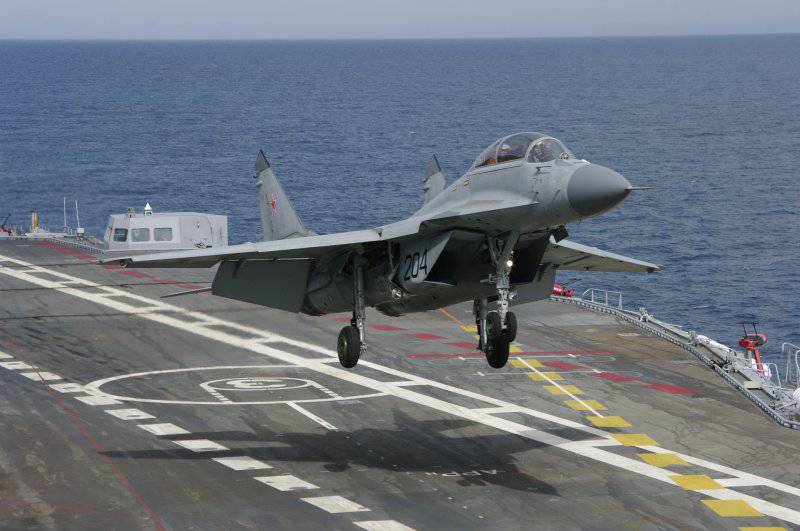 The first four serial ship fighter MiG-29K and MiG-29KUB delivered to the Naval
the fleet
Russia, according to the press service of the Ministry of Defense.
"Corporation" MiG "transferred to the Navy two single MiG-29K and two double MiG-XNUMHKUB", - clarified the military department, ITAR-TASS.
"During 2014 and 2015, we expect to receive another 20 MiG-29K / KUB to replenish the aircraft fleet of the ship's regiment"
According to the representative of the Navy, fighters are included in the ship
aviation
Northern Fleet and will be used on the aircraft carrier cruiser "Admiral Kuznetsov" along with carrier-based heavy fighters Su-33 and attack aircraft Su-25UTG.
"During 2014 and 2015, we expect to receive another 20 MiG-29K / KUB to replenish the aircraft fleet of the ship's regiment. They will also not come to replace Su-type vehicles, but will be used with them, "the Navy representative said.
"The training of pilots for MiG-29K / KUB carrier-based aircraft is being conducted at the Center for Combat Use and Retraining of Flight Personnel in Yeisk (Krasnodar Territory)," he added. and will be the groundwork for the future development of its ship component ".
As the Chief of Naval Aviation of the Navy, Hero of Russia Major General Igor Kozhin, in turn, reported, in February 2012 of the Ministry of Defense and RSK MiG OJSC signed a contract for the supply of 2015 MiG-24K and MiG-29KUB fighter to 29, Naval Aviation of the Russian Navy.
Aircraft defense orders are issued in a new technical face that meets the requirements of the military department. The first flight of the MiG-29KUB serial fighter built by the state defense order took place in October 2013. Adopted aircraft will come into service of naval aviation of the Northern Fleet.
MiG-29K and MiG-29KUB are multifunctional airplanes of the "4 two plus" generation designed for solving air defense tasks of ship formations, gaining air superiority, defeating surface and ground targets with controlled precision
weapons
day and night in all weather conditions. They have an improved airframe with a high proportion of composite materials, a digital integrated electrical wired control system with fourfold redundancy, a significantly reduced visibility in the radar range, an increased fuel system capacity and combat load, an open architecture of onboard radio-electronic equipment.
The first flight of an experienced MiG-29KUB fighter took place in January 2007. In 2009, MiG-29K / KUB aircraft successfully completed a series of test flights from the deck of the heavy aircraft-carrying cruiser "Admiral of the Soviet Navy N.G. Kuznetsov.
Note that earlier 45 deck fighters MiG-29K / KUB contracted and partially received the Indian Navy. In addition, the country planned to buy additional 20-24 deck fighters of this type.