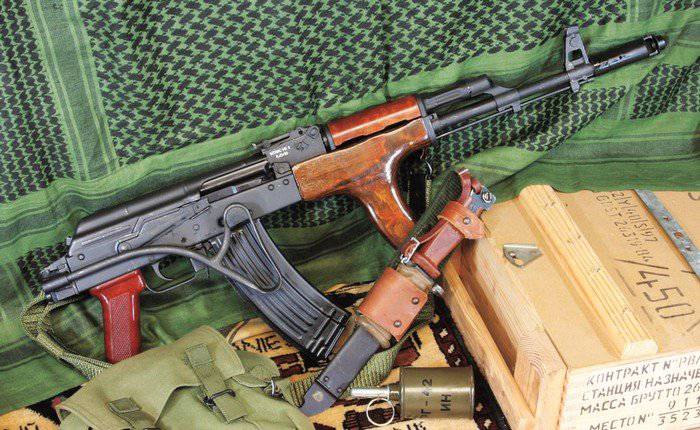 The AK-47, along with its many variants, is the most common army machine gun (automatic rifle) in the world.
It is in service in 45 countries and participated in all military conflicts that occurred after its creation in the 1940-ies.
Although its design has not undergone significant changes, many countries have made amendments to meet their needs. This article presents both the most popular and less well-known options.
All of these models are stored in the personal collection of Stuart McDaniel, a member of the Association of Collectors
weapons
Kalashnikov.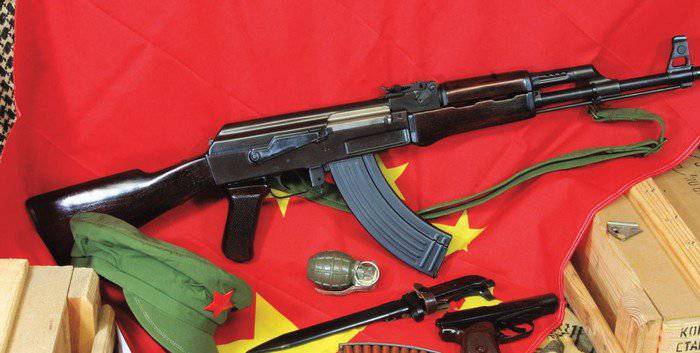 1. Chinese AK-47S. Semi-automatic version, milled receiver Type 56, chambered for 7,62x39mm. This is the most accurate copy of the Russian AK-47 Type 3, ever produced in China. Production Type 56 was adjusted with the help of machinery and technical support provided by the Soviet side.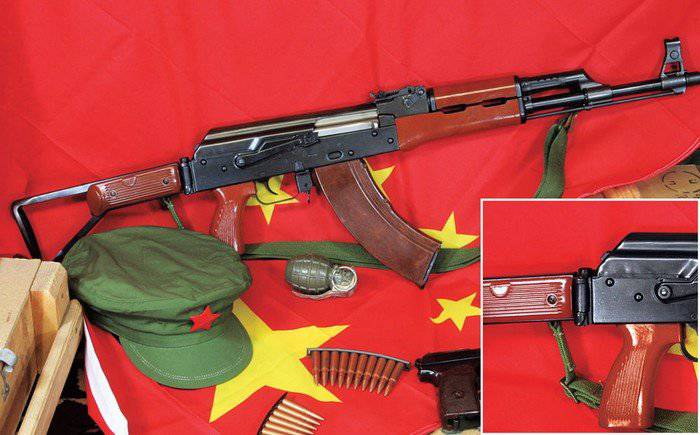 2. Chinese aks. Stamped receiver box, chambered for 7,62x39mm, side-folding butt. One of the rarest representatives of Chinese weapons in the United States.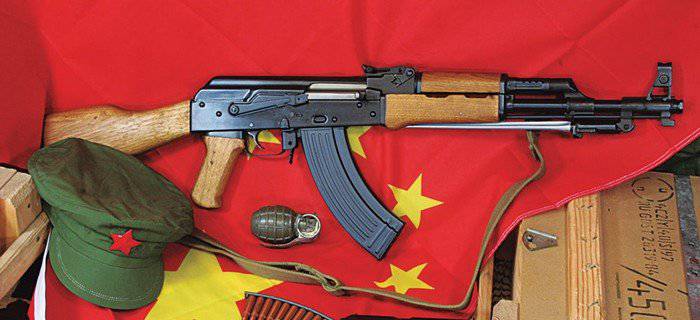 3. Chinese Type 56. The Chinese, after breaking off relations with the USSR, released their own version with a stamped receiver. Therefore, this model was developed by reverse engineering, without the participation of technical support from the Soviet side. The distinctive features of Type 56 are a closed front sight and a triangular bayonet. From 1950-ies, 10 to 15 has been produced in millions of units of this model.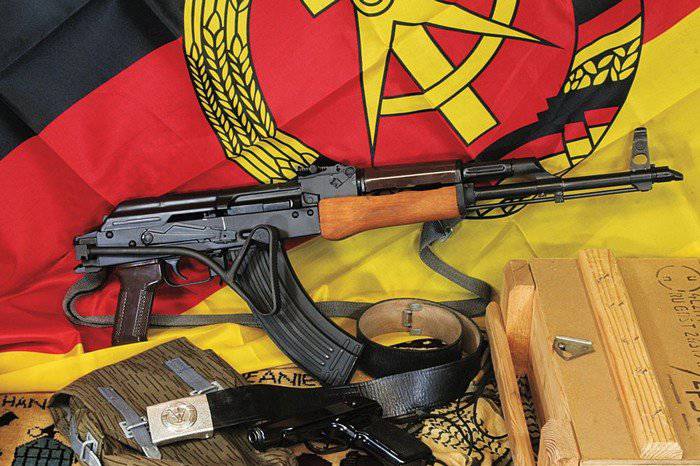 4. MPi-KMS72 from East Germany. A model with a side-folding butt, chambered for 7,62x39mm, was made at the Ernst Thaelman factory in East Germany. A model with a wire butt, a bakelite handle and an upper barrel flap, initially equipped with airborne troops and motorized infantry.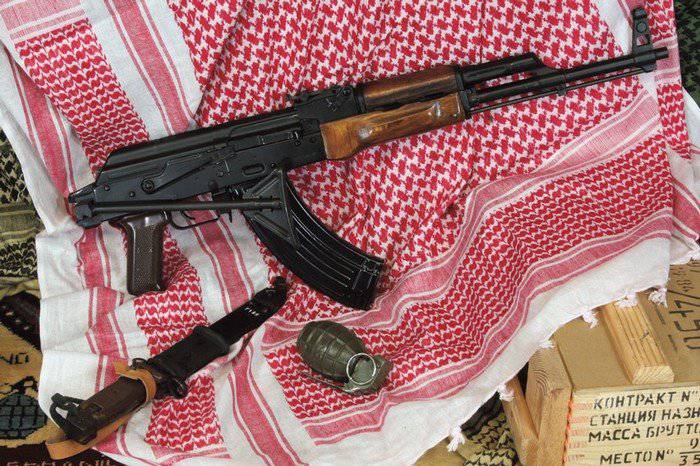 5. Egyptian ARM. The so-called Maadi, initially 80-x massively imported into the United States by Steyr-Daimler-Puch. Under the cartridge 7,62x39mm, stamped receiver, sideward folding wire butt. Very accurate copy of the Russian AKM.
6. Hungarian AKM-63. First produced in 1963, the AKM-63 is a full-size machine gun with a wooden butt and a metal forearm with a wooden front handle that helps to cope with recoil with automatic firing. Upper barrel lining no. Since only about 1100 units were imported into the USA, this is one of the rarest variants of AK in the USA.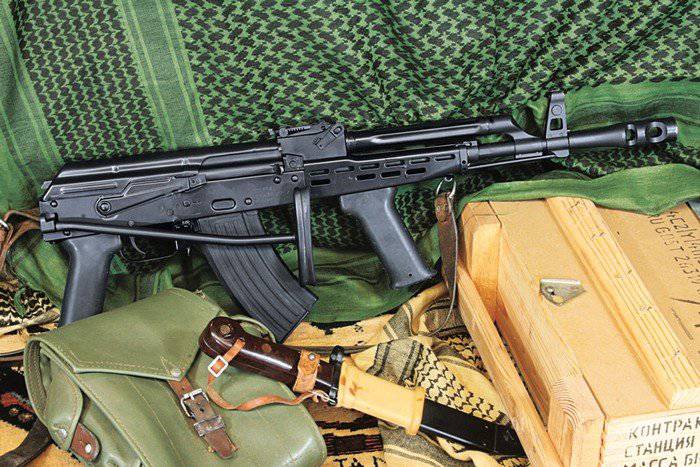 7. Hungarian AMD-65. Chambered for 7,62x39mm, a short barrel 12,6 inches long, with the same front handle as the AKM-63. It has a side-folding wire butt in order to make it more convenient to handle in tight spaces such as armored vehicles and
Tanks
. The shorter sighting line and barrel make it less accurate than the AKM-63, but the ease of handling outweighs the loss in accuracy. Pay attention to the magazine for 20 rounds.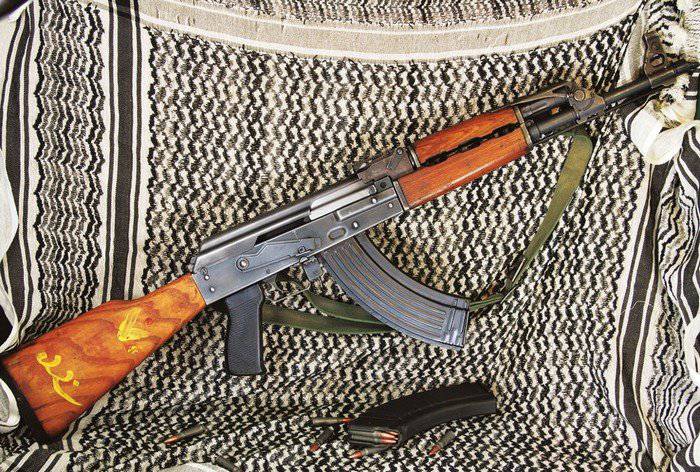 8. Iraqi carbine Tabuk. This Iraqi version of the Kalashnikov assault rifle chambered for 7,62x39mm was produced in Al-Qadisiyah. It is built on the basis of the Yugoslav M70B2, has a stamped receiver from the PKK, wooden lining, a rubber butt plate on the butt, a sight for a rifle grenade launcher, an oblique muzzle brake compensator. It can be installed grenade launcher. A large number of such models were seized by US forces during the operation to liberate Iraq and Operation Enduring Freedom.

9. Iraqi Tabuk DMR. Chambered for 7,62x39mm, semi-automatic Marxman version of the Tabuk carbine. The barrel length is 23,6 inches, and the 4xXNNXXmm rifle scope is set to hit targets at medium distances. The Russian PSO-24 scope is installed here, but also Romanian LPS Type 1s and the Yugoslavian ZRAK are also encountered. This model is often confused with a more powerful sniper rifle chambered for 2x7,62R. But in essence, this is the PKK with a telescopic sight.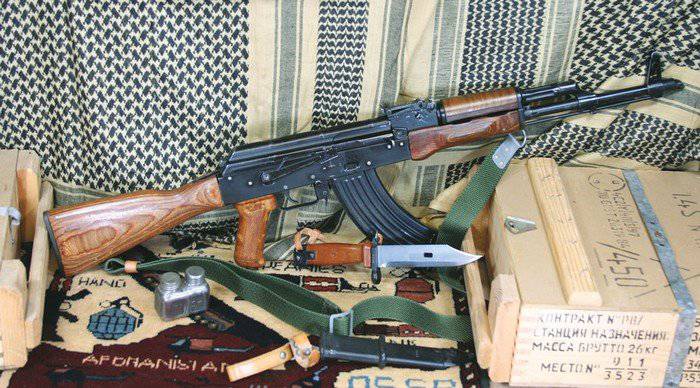 10. Polish PMKM. Under the chuck 7,62x39mm, this is the most accurate copy of the Russian AKM. Stamped receiver box, laminated wooden butt, beaver tail forend, synthetic pistol grip, bevelled compensator. The photo also shows a Polish bayonet and a bottle of oil.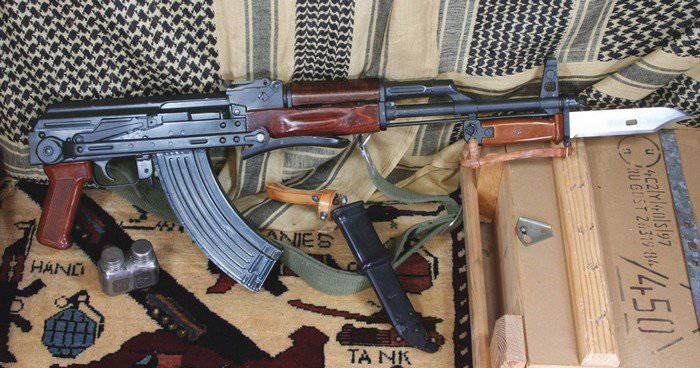 11. Polish PMKMS. Under the chuck 7,62x39mm, a stamped receiver with a folding butt, a beaver tail, forearm, bevelled compensator and a Polish bayonet.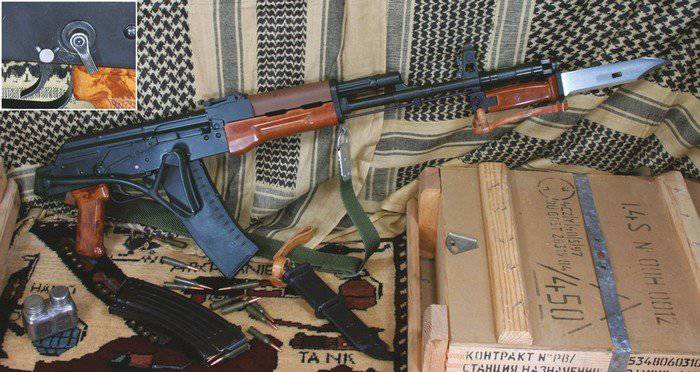 12. Polish Tantal WZ88. Under the cartridge 5,45x39mm, it stands out because, in addition to the automatic and semi-automatic mode, he can shoot in bursts of three shots. He has a unique switch on the left of the receiver and a folding butt for greater mobility. A night aiming device, a special muzzle brake compensator with a mount for an under-barrel grenade launcher, was installed. There are also bakelite barrels.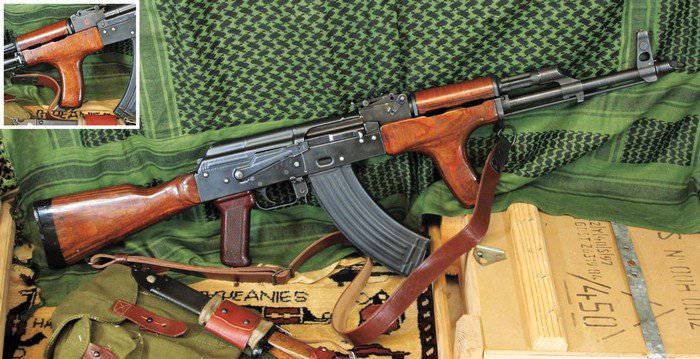 13. Romanian AIM-G. In 1989, in Romania, an 700-thousandth "patriotic guard" was formed, which was equipped with PM md semi-automatic machines. 63 engraved with the letter G on the left side of the rear sight. This is the most popular version among Romanian automata, and more than 20 thousands of pieces were imported to the USA. It is made under the cartridge 7,62x39mm and has a distinctive wooden front vertical handle.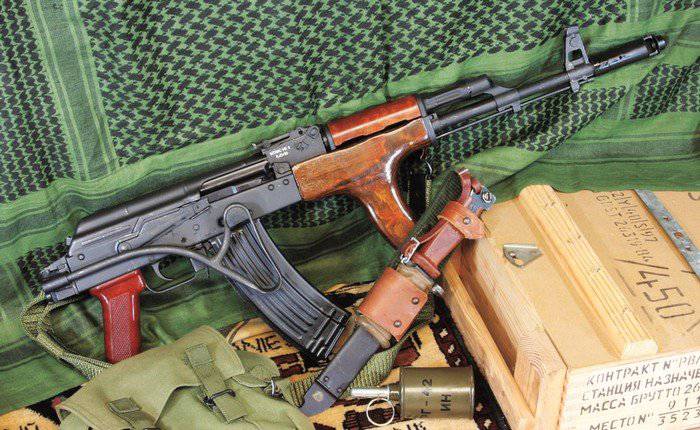 14. Romanian AIMS 74. This option is PM md. 63 chambered for 5,45X39mm also has a wooden front vertical grip and a side-folding metal stock. To reduce recoil installed muzzle brake-compensator like the AK-74.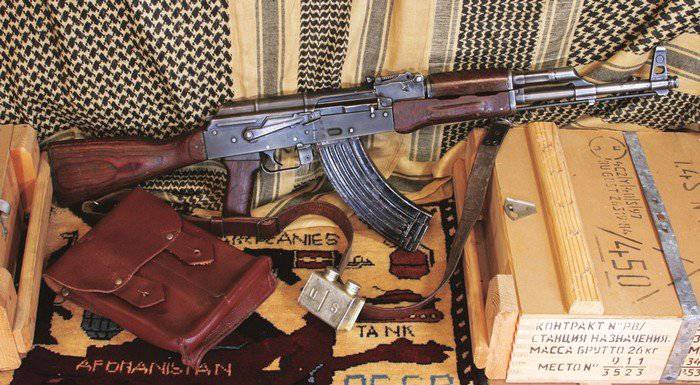 15. Romanian PM md. 63. It was first produced in 1963, and is the first Romanian version of AK under the cartridge 7,62X39mm. It is almost identical with the Russian AKM, but differs in the chrome-plated bolt, chamber and drummer. It is also equipped with a stem barrel coupling like the AK-47 and a wooden pistol grip.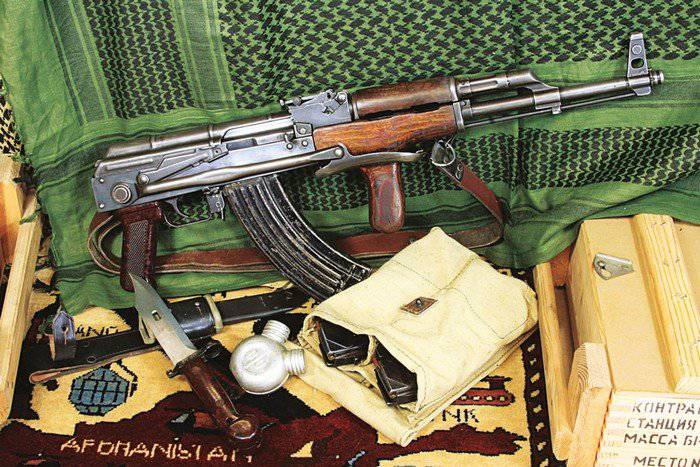 16. Romanian PM md. 65. The first model with a folding butt from Romania is identical to the original PM md. 63. Under the cartridge 7,62x39mm, stamped receiver and a vertical front handle.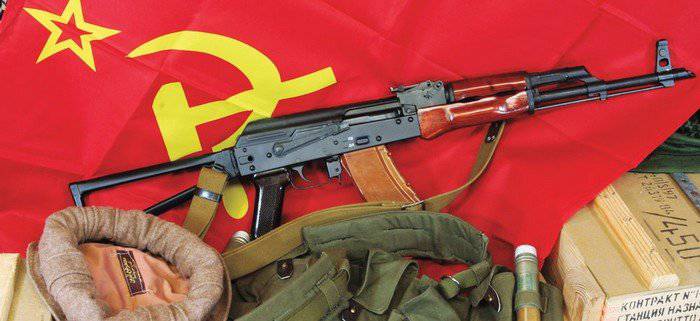 17. A copy of the Russian AKM called Khyber Pass. The Khyber Pass is a region between Pakistan and Afghanistan where most of the trade routes pass. Usually these machines are made in basements of scrap materials. Made chambered for 7,62x39mm, has a side-folding butt like that of AKS-74. It was from him that the deceased Osama Bin Laden shot on many videos with his participation.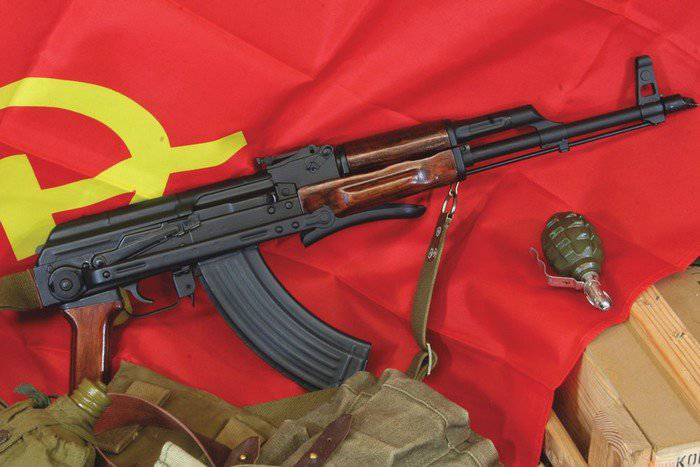 18. Option Soviet AKMS. This is a version of the Soviet AKM with a folding butt. Made chambered for 7,62x39mm, stamped receiver. It has a metal butt like a German MP-40 submachine gun, a forged chrome-plated barrel with a length of 16,1 inches, laminated wooden lining, a synthetic pistol grip and a beveled muzzle brake compensator. The machine shown in the photo was made from parts that were removed by Israel from the Palestine Liberation Army during the conflict in Lebanon in the 80s.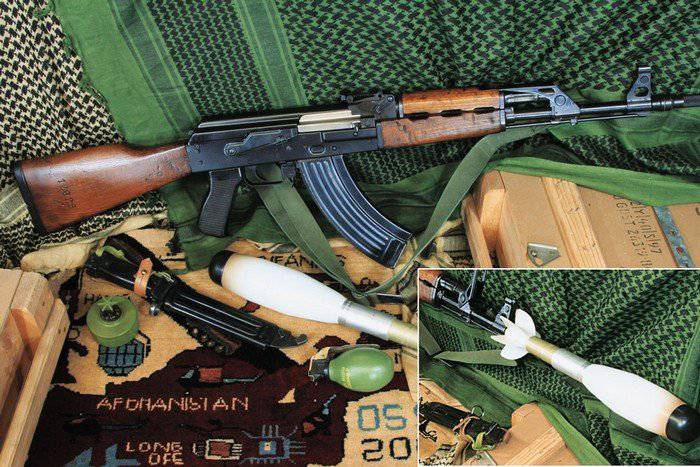 19. Yugoslav M70-B1. Made chambered for 7,62mm, was in service with the army of Yugoslavia. Built on a heavier receiver from the PKK thickness 1,5 mm. It has wooden lining, rubber back plate on the butt and sight for a grenade launcher. In the photo, he is shown with the anti-personnel mine M52P3.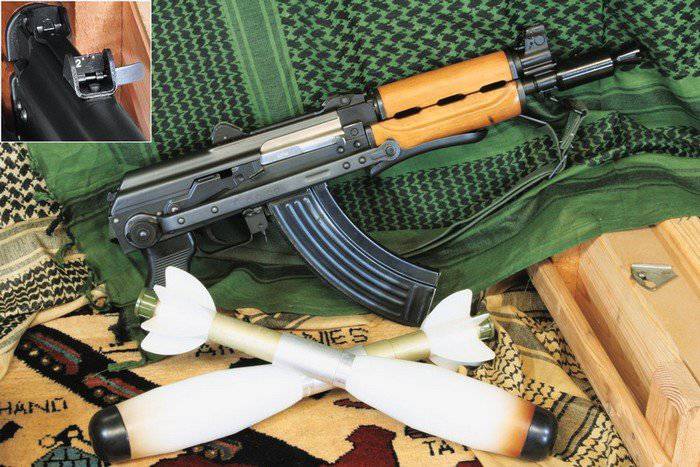 20. Yugoslav M92. This short barrel AK chambered for 7,62x39mm was used by Yugoslav special forces. Built on a stamped receiver, has a two-position rear sight, mounted on the top cover, folding butt and expansion chamber of the muzzle brake-compensator.