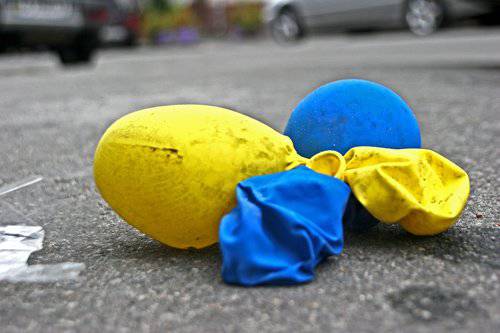 In a new interview for Controversies - a conversation with the editor-in-chief of the information-analytical site "Alternative" Andrei Vajra about the meaning of Ukrainian politics, about the hetmanship of Viktor Yanukovich and why "Freedom" needs the faith of Ukrainians in Bandera.
- On your Facebook page you recently wrote that Ukrainian politics is meaningless. Why do you think so?
- Politics is a struggle of interests and a struggle for interests. It is a struggle between individuals and human communities of different sizes, from the smallest social groups to peoples and multiethnic conglomerates. The state, which is the subject of political relations, is the main instrument for protecting the interests of individual citizens, social groups and society as a whole. Therefore, the policy of a state that is unable to protect the interests of individual citizens and society as a whole is meaningless.
For more than twenty years of its existence, the Ukrainian state has clearly demonstrated to its population and the whole world that it is unable to protect the interests of Ukrainian society. Neither domestically or internationally.
I will not once again list a huge number of facts that demonstrate the absolute impotence of the Ukrainian state, or more precisely, the project "Ukraina". Anyone who is interested can refer to my articles, saturated with similar facts.
I will give only one, the most recent example - the level of purchasing power of Ukrainian citizens. According to this indicator, in accordance with the research of the international company GfK, our country is in the penultimate place in Europe! The worst situation only Moldovans. Similarly, the situation with the GDP per capita. Ukraine is practically the most impoverished country in Europe!
Absolutely helpless, incompetent Ukraine and in foreign policy. In the international arena, the Ukrainian state could not find subjectivity. Ukraine is an empty place in world politics. That is why her elite and dreams to find a new owner in the person of EU officials. This would fill Ukrainian politics with at least some meaning. Though a stranger.
And now let's ask ourselves: if Ukrainian politics is not capable of protecting the interests of Ukrainian citizens and Ukrainian society, then what is the point of this policy? Where is he? Where is the politics of the Ukrainian state pursued by the Ukrainian "panstvo" for more than twenty years, at least some sense?
The secret does not exist.
If one assesses the Ukrainian policy by its results, then it is a continuous process of destruction of the country and its population, accompanied by enrichment of the ruling elite. Or the destruction of Ukraine and its population is the meaning of Ukrainian politics?
- Does Russian or European politics have any meaning?
- There is. To do this, you just need to look at the Russian and European achievements, at the financial and economic statistics of Russia and Europe. The Old World is a global giant. The Russian Federation is an intensively growing giant. Despite all their difficulties, problems and crises, they have their own goals, and they progressively move forward. Unlike Ukraine, which is moving backwards, striving for self-nulling. It distinguishes it from both Russia and Europe.
- Will Russia or the EU help give meaningfulness to Ukrainian politics?
- Not. You can borrow money, but you can not borrow brains. The senselessness of the Ukrainian policy stems from the senselessness of the Ukraina project itself. From the outside it is impossible to bring meaning into it. Russia or the EU can only absorb Ukraine and thereby attach it to their political meanings.
- In your opinion, Ukraine as a separate state does not make sense?
- Well, what sense can Bavaria, for example, have in proclaiming its "neutralization" from Germany? The only meaning in this case is the preservation of this "Nezalezhnosti" at any cost, even if it contradicts the interests of the inhabitants of this German land and common sense in general.
What will the ruling Bavarian elite do? Its first president will most likely write a book "Bavaria is not Germany", and the Bavarian intelligentsia based on the Bavarian dialect will come up with a non-German Bavarian literary language and will force it into the society, simultaneously telling the Bavarian population how many centuries Germany enslaved and oppressed Bavaria . That sounds absurd. But we are accustomed to such an absurdity, but we seriously believe after Pan Kravchuk, Pan Kuchma, Pan Yushchenko and Pan Yanukovych that Ukraine is not Russia.
Therefore, the whole point of Ukraine is to strive at all costs to prove to itself and the whole world that it is not Russia.
- For what?
"If you do not take into account the passionate desire of the so-called Ukrainian elite to" nezalezhno "" saw "the country and rob the local population, then Ukraine's aspiration to prove that it is not Russia is a psychiatric mystery. I have repeatedly written that the existence of the project "Ukraina" is a psychiatric phenomenon. It is impossible to understand from the point of view of common sense.
The meaning in Ukraine would be if it gave something to the population of the former Ukrainian SSR. But the situation is such that the project "Ukraina" only takes away everything that can be taken from it. "Nezalezhnist" is
история
losses of citizens of Ukraine, but not acquisitions. Only the present "seniority" and "hetmanism", fiercely hated by the common people, grow fat on "neutrality". And this simple people wither and bend. Then what's the point in Ukraine? Why does she need the common people? For what?
- Eurointegration of Ukraine - the light at the end of the tunnel or the train that will bring down standing on the tracks? Who will benefit from European integration, who will lose
?
- There is no European integration. And never was. This is a myth, a fairy tale, a bluff, a lie ... The so-called Ukrainian European integration does not belong to reality in any way. Ukrainian European integration is only a set of official papers signed by Kiev and Brussels. In reality, European integration does not exist. This is a picture on the TV. And for ordinary people, European integration is a dream. The dream of a full, comfortable and happy life. This is something like the myth of the paradise bushes and the communist utopia.
I have repeatedly said that modern Europe is very different from the Ukrainian ideological tale about it, which Ukrainian politicians tell Ukrainian citizens. That Europe, about which the Ukrainian visionaries dream, does not exist, never existed and never will exist.
In addition, Ukraine as a full member of the EU is not needed by Europe. And not because the Europeans are evil, but because the Ukrainians for them are substandard individuals in every sense of the word. We are for them wild, stupid, lazy and greedy barbarians. Between us and the Europeans - the abyss. There is an insurmountable gulf between us in mentality, culture, economy, lifestyle, worldview, values ​​and other very important things. It is irresistible! Only a fool can not understand!
And no signed papers with the EU will eliminate this objective irresistible. No associations will make an average European out of a "peachy" Ukrainian.
The whole theme of European integration is empty chatter. There is nothing to discuss here, because the European integration process itself does not exist. This is a fairy tale invented by the ruling Ukrainian elite for ordinary citizens so that they do not become hung in large numbers from Ukrainian longing and despair. Europe is for us as the kingdom of heaven. We are all told to endure the horrors of the Ukrainian "Nezalezhnosti" because this "Nezalezhnist" is supposedly the main condition for "ascension" in the EU. People suffer. Torment. Then they die. But the EU is not getting closer. Rather the opposite. Eurointegration is a hoax.
- Where would Ukraine be better in the CU, the EU? Or would she rather be non-aligned?
- Ukraine would be better not to be. But I tell you a secret.
- In what sense not to be?
- Ukraine is better not to be in the same way as not to be non-German Bavaria. Negerman Bavaria is nonsense. In the same way as the existence of non-Russian Russia in the form of a so-called. Ukraine is also nonsense.
I will ask you another question: would it be better for Russia to be Rus, Nerus / Anti-Rus or to remain nothing? It seems to me that the answer is obvious.
If we take the purely economic aspect, Ukraine has no choice between the CU and the EU. For objective reasons, it can only be part of the Russian economic space. Like it or not, but the Wishlist doesn't matter in this case. The fish live in the water, the birds in the trees, and the worms in the ground. You can, of course, throw the fish into a tree, and bury the bird in the ground, but this will only be good for worms.
- Will Yanukovych become an obedient vassal of the EU or will he bend his line?
- Will not. Any true Ukrainian vassal wants to betray and sell his overlord. We are already seeing the process of avoiding agreements with the EU. And even earlier, Yanukovych betrayed the Russian Federation. Before that, he betrayed his voters. Viktor Fedorovich is a real Ukrainian hetman. And that's it.
Betrayal is the main algorithm and driving principle of Ukrainian politics. Therefore, you should not worry, Yanukovych will not be anyone's vassal, he will lie to his political end, dodge, break promises and betray. "The Kozat family of Nem Peevod" ...
- Zharikhin said that the EU will soon realize what a delight it is to deal with Ukraine. Is he right? Will Yanukovych be able to beat (or, more simply, throw) the European Union?
"My God, what nonsense ... Why did Zharikhin suddenly decide that the EU does not know what Ukraine is? Why such naivety? In Europe, everyone knows for a long time and there are no illusions on this score. They just play their game. Yanukovych will not be able to beat Europeans. For this, brains are needed. Therefore, in this sense, I am absolutely calm for Europe.
- Are there parties in Ukraine in the classical sense of the word? If not, why not?
- In Ukraine, there are only trade political brands. And their owners make money on these brands.
But there are no political parties as such in Ukraine, because the needs of Ukrainian citizens are reduced to cheap sausage and vodka. Ukraine managed in the shortest possible time to build a perfect consumer society, where all ideas, including political ones, are reduced to the idea of ​​unlimited consumption. A politician may be a liberal, a communist, a conservative, a nationalist, but whatever rhetoric he uses, everything will ultimately be reduced to an "idea" to eat a hearty meal, and I apologize, to poke thickly. If according to Pelevin, then practically everything in Ukraine became one continuous "rotozhopia".
But in order to differ from this "rotozhopia" from each other, politicians need branding. Someone leads the population to the triumph of "rotozhopii" under the flags of liberalism, someone of communism, and someone suggests believing in Bandera, without which the supposedly final victory of "rotozhopii" on Ukrainian soil is impossible.
We live in the postmodern era, where meaning has given way to form, and literally everything becomes a commodity. Therefore, when a politician (with a "pika" that does not fit on a television screen) starts broadcasting you beautifully from a high rostrum about some idealistic principles, you can immediately send him to ... because he is trying to "sniff" his trading brand in exchange for your vote, which is equivalent to a certain amount of money.
- Can a nationalist party carry a positive idea?
- Positive can be found in everything. Including in nationalism. There would be a desire. Nationalism is the same idea as everyone else. But that is not the problem. The problem is that Ukrainian nationalism is exactly the same snag for fools as, for example, Ukrainian communism.
Only a weak individual can believe that at the moment there are Ukrainian nationalists. The last Ukrainian nationalists MGB finished off in caches in the 50-s of the last century in the forests of the Carpathians. And those individuals who are now positioning themselves as Ukrainian nationalists are only cynical traders of the nationalist brand. They just make money on the bones of the "warriors" of the UPA.
The large-scale nationalist propaganda launched now in our society is only an advertising and marketing expansion of the political market of traders with a nationalist brand.
In this sense, Liberty VO is the most successful business project.
The more Ukrainian citizens will believe in the greatness of Bandera, the more luxurious will be the palace of Pan Tyagnibok near Kiev and the more expensive his personal "avtivka".
We live in such times, when in order to become a millionaire, you must either organize your pseudo-religious sect, or pseudo-political party. For Ukrainian conditions, this is the best business option.
People by nature do not like to think (it is difficult), but they like to believe (it is simple). No need to strain. Just believe in something, and you will be happy. That is the reason for the success of the "Embassy of God", Sunday Adelaja and IN "Freedom" Oleg Pyagnibok. In our troubled, psychoneurotic times, the faith of the masses is easily occluded.
- Does VO "Freedom" have a future? And, actually, does each of the country's largest political forces have a future?
- The future of Freedom is directly related to the scale of neuroticism in Ukrainian society. The more extensive the neurotization of the masses is, the more triumphantly Ukrainian nationalism will march around the country. I have already said that the project "Ukraina" is a largely psychiatric phenomenon.
True, this whole neurotic process goes nowhere. The project "Ukraina" is ineffective, incapable and doomed under any political brand.
In my opinion, it makes no sense to consider the future of political parties in Ukraine. If only because there is no future for Ukraine itself. Ukraine is a long-term disintegration process. No wonder that in 2005, I began my cycle of articles on Ukraine under the general title "Decay". Then, few understood this, now it is obvious, if not all, then to the majority of citizens of Ukraine.
- What is your opinion about modern Ukrainian culture?
- What is it? ...
What you call Ukrainian culture is practically no different from Ukrainian politics. T.N. Ukrainian culture is an empty place of world culture.
Is Ukrainian culture the choral chants in embroidered shirts and fervent dances in bloomers? Or is Ukrainian culture a dozen modern Pysmennykiv, whose books are completely unreadable? Or is Ukrainian culture the variety of psycho-sexual deviations that are periodically displayed at the Pinchuk Art Center?
In my opinion, Ukrainian culture is only a unique material for psychiatric research, which, perhaps, once will help doctors understand the essence of such a mass neurosis as Ukrainians.
- What negative trends do you see in Ukrainian society? And in Europe? In the world? Is it possible to overcome them, and if so, how?
- I do not divide the world into negative and positive. Although people who are prone to Manicheism very often see in my words just the desire to reduce something to a positive, and something to a negative.
Black-and-white images in which the forces of light fight against the forces of darkness are nothing more than a modern version of the philistine mythology from the "our" series is good, and "not ours" is evil. And the funny thing is that even if we accept the black-and-white philosophy of good and evil, we will have to admit that Ukraine is not able either to indulge in evil, or to ascend to the heights of holiness. We are dominated by grayness, incapable of either good or evil.
For me, the main thing is to understand the meaning of what is happening, to see its hidden mechanism and call things by their proper names. Often it looks impartial. But I never reduce anything to a black and white picture. It is not interesting.
For example, when I say that Ukrainian culture does not exist, I say this not because I don't like what is now called Ukrainian culture, but because from the point of view of cultural studies, Ukrainian culture really has not been formed, that now only exists in certain intellectual circles, the speculative idea of ​​the existence of Ukrainian culture. There is no negative or positive. Here is just a statement of fact, which may seem offensive to someone.
I am not interested in dividing the world into negative and positive, into black and white. In addition, I do not consider the world black and white. In my opinion, the world is a collection of an infinite number of shades. And these shades do not have to be overcome, since they themselves overcome each other in a natural way. This is the essence of life as such.